In August, Alpha Manufacturing held its first ever Recruitment Open Day. With up to 30 positions available in a range of skilled and unskilled roles, candidates were offered the chance to interview for their preferred role on the day.
Offering robust training schemes and professional development opportunities, a Group bonus scheme and competitive salaries, the Open Day was a great success with over 70 potential candidates attending over three time slots throughout the day, and almost all roles filled, with some candidates being offered the job on the day.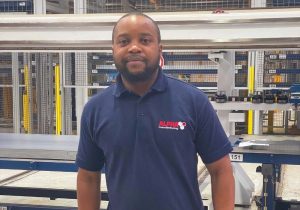 Amongst the attendees on the day was Roffy Chitumba, a recent Masters graduate in Advanced Product Design, who was looking to start his career in the engineering industry. Roffy picks up his story from here: "As early as I can remember I have always had a passion for engineering, always wanting to understand how machines and moving parts work, but growing up in Zimbabwe there were not many higher education pathways for me to develop the knowledge and skills required.
"After moving to England to pursue my education, I attended University to study Aeronautical Engineering in Manchester. Once I graduated, I worked in technical support for a consultancy for a while, but I wanted to continue my education in engineering and manufacturing, to give myself the best start to my career in this area, which is why I pursued my Masters degree in Advanced Product Design.
"I found out about the Recruitment Open Day at Alpha Manufacturing through social media, and it came at the perfect time for me, having recently completed my Masters degree. I was so impressed with Alpha's Apprenticeship Scheme, Higher Apprenticeships and training opportunities it seemed like a company that really invested in its employees.
"At the Open Day, I took a tour around Alpha's facilities and was fascinated by the scale of the factory and the world-class machinery.  It's exactly the kind of place I had dreamed of working, somewhere I can get stuck in and put my theory knowledge into practical experience, learning every part of the production process.  Meeting the wider team, including an interview with Operations Manager, Neal Lafford, was really interesting and after a nervous week waiting to hear news, I was absolutely thrilled to be offered the position of Quality Inspector with the goal of becoming a Production Engineer. My skills, knowledge of CAD design and modelling, made me the perfect fit for this area. I couldn't believe it when I got the offer. It was a dream come true, to be offered the role I applied for with the scope to progress.
"The first month has been a whirlwind experience. I took part in a two-week induction, working on the factory floor operating machines, welding, polishing and getting some hands-on involvement of the journey in which parts go through in the production line. This week, I am finally in the Quality team and I'm already loving it. Through a combination of the knowledge learnt during my degrees and getting to know the manufacturing methods on my induction, this has helped me to get into the mindset of a Quality Inspector; being able to spot possible areas within the production of a component where issues may occur and working with the Production Engineers to find solutions.
"I already feel a part of something special here at Alpha and am looking forward to doing the best possible job I can do for the company.  My advice to anyone who is worried about applying for their dream job, just go for it! Never give up, as there may be the perfect opportunity out there for you, like this one at Alpha is to me. If you're willing to work hard and get stuck in, then good things will happen. Follow your dreams!"
Are you looking for your dream job? Take a look at our available positions on our careers page.
Find out more about our Quality Team, meet Ben Austin and Peter Ricketts.