Are you an Electric Vehicle Charge Point Manufacturer looking for a leading British subcontract sheet metal fabricator?
Known for our state-of-the-art production facilities, our commitment to quality and our complete in-house fabrication and assembly solutions, Alpha Manufacturing are the perfect partner supplier for your Electric Vehicle Charge Point products.
With a wealth of experience supplying various components in large volumes to our sister company Bri-Stor Systems for the conversion of electric vehicle fleets, we have the experience, capabilities and know-how to assist with everything from prototyping to fabrication and assembly of your Electric Vehicle Charge Unit.
Our capabilities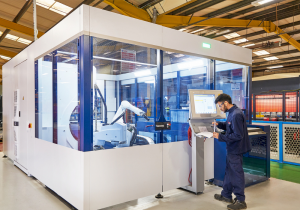 Our state-of-the-art machinery includes our robotic fold and weld facilities, CNC laser cutting, CNC punch, automated panel bending and a machining centre, enabling us to easily manufacture various components such as stands, metal plates, box units and more for the manufacture of Electric Vehicle Charge Points.
Our 85,000 sq. ft factory also features the longest integrated STOPA Storage System in the UK, allowing us to hold a wide variety of material thicknesses and components for manufacture of custom Electric Vehicle Charge Points products.
Weatherproofing and corrosion resistance

Occupying a shared site with our sister company Atlas Coating, we are able to offer industry leading power coating services for your EV charge unit, salt spray tested for over 1,000 hours making sure that your EV charge unit is weatherproofed and exceptionally durable. Our innovative five-stage pre-treatment process utilises Oxsilan, which is an organic based solution, as opposed to more harmful Zinc or Phosphate alternatives used by many powder coaters. This allows us to significantly reduce our environmental impact, whilst still offering unbeatable corrosion protection and durability.
Graphics Application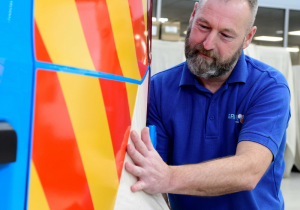 Our dedicated in-house graphics department HEX Graphics enable us to be able to offer a graphics printing and application service, from consultation to design, manufacture and fitting.
The HEX team are highly experienced and skilled in all aspects of commercial graphics, from vehicle wrapping and branding to wall and product signage.
This enables us to be able to offer electric charge unit branding and graphic application in house, from logos to safety information.
Assembly & Integration

Not only are we able to offer the fabrication of components, but we are also able to provide assembly and integration services. Alpha's dedicated in-house assembly department have vast experience in assembling complex products, working to technical drawings, SOP's and stringent quality standards. Recently, we opened up our new division, Alpha Manufacturing Integrated Solutions, which operates from a facility at a nearby premises. This demonstrates that Alpha Manufacturing is well on track in the delivery of its ambitious five-year growth plan which includes an investment of over £8m in production capability.