Last week Alpha Manufacturing and Bri-Stor Systems welcomed our next generation of engineering apprentices on site for their induction, before they are due to start their course this September.
The Apprentices were met by Group Apprenticeship Manager, William Davies-Hill who talked them through their programme of study for the next three years and to receive all relevant work equipment, PPE and safety instructions. They were also taken on a tour of the Bri-Stor Group 35-acre site and state-of-the-art facilities.
Speaking about this year's apprentice intake, William said: "I'm thrilled to have now inducted our next cohort of talented engineers to the Bri-Stor Group. This is always an exciting time for both the apprentices themselves as they take the next step in their career, but also for the company as we look forward to welcoming this new group of budding engineers into the company to start their official training with our trusted partner, the JCB Academy, and eventually on site to add their skills to our workforce."
Having worked hard to pass the rigorous interview process, these young engineers were selected over ninety-five other potential candidates. As of September, they will begin one year of studying at JCB Academy four days a week with one day per week with their respective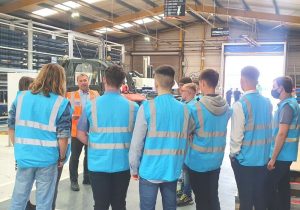 companies. Following this first twelve months, they will switch to four days with their companies and one at the academy for another twenty-four months.
The JCB academy have been training partners of the Bri-Stor Group for the past five years, providing the ideal setting to nurture local young engineering talent. The majority of those who have passed through the academy and onto either Alpha or Bri-Stor are now employed full time and making important contributions to their businesses.
Other apprentices have gone on to further education alongside their employment, such as Production Engineer Gemma Smith, who completed her degree in advanced engineering at Derby University, and Corey Hammond, who has made the leap from qualified engineer after the completion of apprenticeship, to Technical Sales Engineer, and is now pursuing a degree in Business and Management from the Open University.
This year, we will also be welcoming our first intake of Higher Apprentices, as we expand our Apprenticeship Programme to support more areas of the business such as Purchasing, Graphics and Marketing.
As well as a robust schedule of training, featuring a rotation programme allowing the apprentices to spend time in each area of the production process, the Apprentices will also have other activities to look forward to, such as designing and building soap box carts, reviewing areas of the business and analysing lean Manufacturing processes and a trip to Wales, where they will partake in team building activities. Some of the biggest challenges the apprentices will face are personal ones as they develop from school leavers into young men and women of the working world, but with our tried and tested programme in place, they will be supported every step of the way.