Ben Austin Brings Decades of Experience to Alpha Quality Team
Ben Austin has been appointed Alpha Manufacturing Quality Manager after twenty years with the company, bringing with him a vast amount experience and knowledge.
Having joined the company back in 2000 as a programmer, Ben quickly rose into management and has since been involved in various areas of the business. Becoming Programming Manager shortly after joining, Ben then moved in a new role for Alpha as New Product Introduction Manager in 2018. He has also acted as Production Manager on various short-term production projects.
Ben now takes charge of one of the most important departments within Alpha – Quality, where his diverse experience and understanding of sheet metal fabrication processes, gathered over twenty years, will prove vital. Quality has always been central to Alpha's service and customers are accustomed to industry leading standards, which Ben will be responsible for maintaining. Heading up the Quality Department he will oversee the daily management of Alpha's Quality Engineers and Inspectors, as well as ensuring Alpha maintain ISO9001 accreditation, with strong process control and performance analysis to ensure total quality management for Alpha's customers.
Ben aims to bring his own unique style to the role, with excellent man management and communication key to his approach. This partnered with a wealth of sheet metal fabrication knowledge and keen eye for detail, combined with a strict adherence to process and systems will aid Ben in maintaining the standards across the entire quality team.
"Quality Manager is a huge role here at Alpha with a lot of responsibility. Quality is vital for us as a business, we're judged ultimately on the quality of our products, efficiency of service and reliability. If we fail in quality, we fail as a business because customers rely on us to be consistent and trustworthy, which we always have been. I want my team to build on the great work done here previously and maintain the levels, whilst constantly looking for opportunities for further improvements in processes and efficiencies."
Now in his twentieth year at Alpha, Ben joins a growing group of Alpha veterans with fifteen-plus years at the company, many of whom have risen into management leadership roles as the company has grown. Earlier in the year, Robin Eley was announced as Commercial Director after sixteen years with the company, while Paul Clews had previously become Managing Director after nine years at Alpha. This latest promotion for Ben once again highlights Alpha's commitment to recognising and developing talent, rewarding individual's hard work, and pushing the company forward as a result.
Alpha Manufacturing "Reboot" Following COVID-19
As the social and economic shock-waves caused by the 2020 COVID-19 global pandemic begin to subside, Alpha Manufacturing are among the many UK companies currently rebooting and picking up from the point that lock-down struck.
The majority of Alpha's workforce have now returned to their positions, with the remaining few still furloughed due to return in the coming weeks. The Alpha factory never completely stopped production throughout the entire lock-down period, due to demand from customers involved in supporting key workers or directly supplying the NHS. A skeleton crew was deployed to ensure supply to these key sectors remained uninterrupted. As many of Alphas regular customers have begun to return to their operations and demand has risen, the workforce has been recalled gradually and now stands at around 80% capacity.
New Normal
During the lock-down, much work was done to ensure the safe return of all employees when the time was right, as the company grappled with ever evolving guidelines. The result today is a host of social distancing measures, new S.O.P's and processes which are designed to safeguard all employees and visitors to the Alpha facility. These include mandatory wearing of face masks in and around the factory, the implementation of one-way systems in high traffic areas, social distancing messaging in all areas and numerous hygiene stations in and around the premises.
Constant communication from the company both during the lock-down and on return to work, reassured employees that every possible measure had been taken to ensure their safety. Now, procedures that had seemed alien at first have indeed become the "new normal"
The Way Forward
Unlike many unfortunate UK businesses that were blind-sided by the crisis, Alpha are in the enviable position of being financially robust enough to weather the storm and to even come back stronger. With no debts leveraged against the business, no mortgaged properties and years of shrewd accounting to fall back on, Alpha have been able to be agile and carefully navigate through the most turbulent of times.
Thanks to this, the current outlook for Alpha is much brighter than that of many other businesses. Even with the most pessimistic forecasting, there is a definite steady route back to business as usual. This should be a reassurance to current and potential customers reliant on a consistent, quality sheet metal fabrication service.
A New Plan
At the point that the world ground to a halt, Alpha were on the final straight, approaching the finishing line of an ambitious five-year investment strategy. Work had begun on the final machinery installation – an extension to the existing automated STOPA storage system. Despite the obvious hurdles to overcome, this installation was completed and is now the proud centre piece of Alpha's shop-floor, which has also had a dramatic re-vamp in recent weeks.
Alpha's facilities are now unrecognisable from the setup of 2015 when the investment plan was announced. The goal of creating an industry leading state of the art automated sheet metal production facility has been achieved, despite this years' events.
As the company moves forward from the recent crisis, a new strategic plan is being formulated to consolidate Alpha's current position and build from its solid foundations, ensuring its ability to weather any future storms as confidently as it has 2020.

Alpha's Factory Re-vamp the Finishing Touch to Investment Plan.
Work has begun on a large-scale paint out of Alpha's factory this week, following the completion of Alpha's latest STOPA system installation.
The STOPA extension marks the end of Alpha's five year strategic investment strategy which was launched back in 2015 and has seen close to £4 million worth of state-of-the-art machinery purchased to elevate Alpha's factory to the forefront of sheet metal fabrication.
The finishing touch will be to refresh the entire factory shop floor with a paint out to reflect the high the machinery it now houses. A new modern colour scheme has been chosen with white and shades of grey selected to create a modern, clean look. This replaces the traditional, red, green & yellow palette used for years. The new design should better reflect the high-tech status of the factory.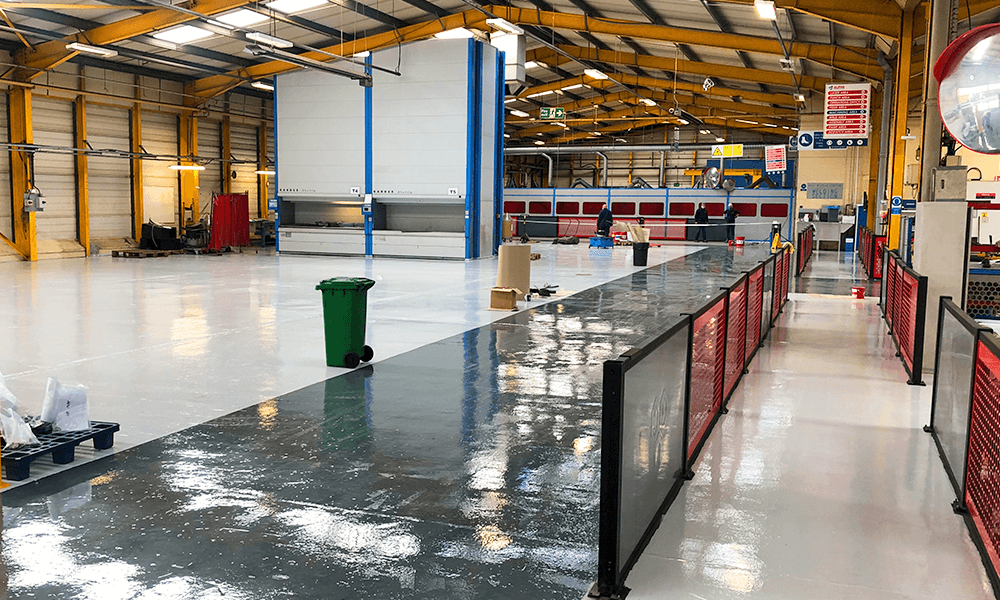 The paint out, which is usually an annual event, is an important process in terms of maintaining health and safety standards, with clearly designated walkways, storage spaces and restricted areas crucial to employee and visitor safety. This also helps in terms of maintaining Alpha's 5S standards, which in turn, improves efficiency and productivity across the factory.
Once the process is complete later in the week, Alpha will boast a truly industry leading manufacturing facility, both in terms of capabilities and presentation.
A Guide to Metal Fabrication Technology
Processes and technology used in sheet metal work
A finished product can either be fabricated from standardised parts or manufactured from raw materials, start to finish. The different processes involved will depend on the product requirements and will dictate the company chosen to complete the work. Alpha Manufacturing provides the complete range of sheet metal services, enabling customers to fulfil all their requirements with one supplier.
So from design to delivery, here is a guide to the stages and processes that can be involved in the fabricated metal products industry, and the different technology used for each…
Design
A crucial stage in sheet metal fabrication, the design phase involves the design team working closely with a customer to determine the specific requirements of a project and the best manufacturing approach. At this stage, a thorough process of value analysis/ value engineering takes place to fully optimise the product for manufacture. At Alpha Manufacturing, customers have the opportunity to supply design specifications before working with an in-house team using the latest computer-aided design (CAD) software.
Using CAD software, the design team will:
Produce precise designs.
Create 3D models for customer approval.
Quickly make changes to a design.
Link and export to other computer programs.
Document the design process.
New Product Introduction (NPI) team members are included in the design process to ensure design specifications and high-quality standards are met throughout.

Prototyping
While not a necessary step in every project, sheet metal rapid prototyping is invaluable as a tool for testing a new design before it is put into production. Alpha Manufacturing uses state-of-the-art machinery to deliver quick turnaround times for prototypes while still ensuring accuracy.
Programming
There are a few aspects to be aware of in the programming process:
Once a CAD design model has been formalised, it needs to be translated into a language that a computer-controlled machine can understand – this is known as computer-aided manufacturing (CAM).
Programmers create 2D shapes based on the 3D CAD design, then nesting software is used to efficiently position those parts onto a 2D sheet of metal so that as much of the material is utilised as possible. Alpha Manufacturing uses 'multi-part nester' software called Radan for this part of the process.
The programming process applies to several of the below processes including cutting, punching and turning.
Programmers are also responsible for considering factors such as material type and machine capability as well as calculating manufacturing times per product.

Cutting
While traditional cutting techniques are available, laser metal fabrication technology offers precise and versatile cutting of a range of materials including coated and stainless steel, aluminium, wood and plastics. The innovative CNC (computer numerical controlled) laser cutting machines use the CAD/CAM files optimised in the design and programming stages to guide cutting of the material.
At Alpha Manufacturing, both CO2 and fibre lasers are used:
The Bystronic BySpeed 3015 CO2 laser machine utilises a high power 4400 W laser for rapid cutting of medium to thick materials.
The Bystronic BySprint Fibre 4020 is a fibre laser machine offering unparalleled parts production and first-class cutting quality, particularly for thin to medium thick sheet metal.
The TruLaser 3030 fibre laser, the most recent of our three laser cutting machines, is at the cutting-edge of fibre laser technology. It allows us to offer an unbeatable level of high-speed precision profiling.

Punching
Punching is the process of creating perforations or forms such as number stamps, ribs, louvres or countersinks in components by applying high force to a tool to 'hit' the metal sheet in order to indent or sheer through it. Machinery called a Turret Punch uses a hydraulically-powered tool to follow the programmed design, time and time again with no loss of accuracy or quality.
Thanks to consistent significant investment in recent years, Alpha Manufacturing's CNC punching services are some of the most advanced in the UK. The combination of the fastest machine on the market, the Trumpf TruPunch 5000s12, with the ever-reliable Pullmax 720, allows us to offer a flexible and dynamic CNC punching service depending on the specific needs of individual customers. Alternatively, the TruMatic 6000 Laser / Punch provides the technology to perform cutting and punching in one seamless process, reducing production time and increasing efficiency.
Folding
Folding, also referred to as bending, is pretty much what it sounds like – metal plates are folded in various ways to achieve the desired shape. This can be done using manual press brakes, automated panel folding machinery and/or automated robotic folders to suit any project scope.
Depending on variables such as material, size, quantity and complexity of the parts required, the team at Alpha will use one or a combination of the following machines to perform the job:
Trubend 7000 – fully automated robotic bending cell with automatic part picking and finished part scanning. Ideal for high volume, smaller part production.
Amada Astro 100NT – completely unmanned, automatic robotic bending system integrated with a 110-ton hydraulic press brake. Designed for high-precision part productivity through reduced cycle times.
Salvagnini P4 Lean Panel Bender – fully automated, highly versatile and flexible panel folding machine using smart technology to maximise productivity and efficiency.
Manual Amada Press Brakes – manually programmed and operated by CNC fold operatives. Essential for folding parts that are unsuitable for automated alternatives: for example, longer or heavier components.

Machining
Machining involves removing material from a solid piece to achieve the desired shape either by turning, drilling or milling. CNC machines like the Mazak Nexus 250 MSY, the Quick Turn Smart 200M or the Mazak VTC-300CII are employed to produce complex precision shapes at high throughput rates.
Welding
Welding is the process of applying extreme heat to separate pieces of metal to melt and fuse them together. There are various techniques, some manual and some automated, including MIG welding, TIG welding, spot welding, projection welding and robotic welding. Alpha Manufacturing's experienced manual welders are qualified to a minimum standard of BS4872, and our robotic welding system boasts high accuracy and repeatability for customers requiring high volumes.

Powder coating
Powder coating involves applying electrostatic powder to a charged metal component before curing at heat to produce a durable coating and finish. Benefits of this process include material protection, colour changes and environmental conditioning. Alpha Manufacturing uses a five-stage OXSILAN® metal pre-treatment technology.

Assembly
Assembly can mean anything from simple weld assemblies to complex electrical integrations (including wiring looms, PAT testing and hardware installation) or those requiring insertions (including pressing studs, nuts or other components to fasten the product together).
Alpha Manufacturing uses a variety of technology and setups to deliver a range of assembly needs such as automated production lines, tower storage systems and engineering drawing displays. CMM technology is then used as part of the quality assurance process to maintain high standards for all finished products.
Latest fabrication technology
Having the most advanced metal fabrication machinery is important to keep up to date with what customers need and what technologies can offer. But this doesn't stop with the machinery mentioned above. Alpha Manufacturing uses a number of add-on technologies to help improve the speed and quality of product output:
Automated Sheet Masters are added to load raw material and unload finished parts.
Automated STOPA storage system to further improve processing time.
90-station automated tool stations remove the need for manual tool changes by operators, further increasing production speed.
Automated 'lights out' production means that projects can continue over 24-hours with no need for shift work.
For further information about our metal fabrication processes and what Alpha Manufacturing can bring to your project, please get in touch with one of our expert team members.
Alpha Meeting Demand in the Fight-back Against COVID-19
Alpha Manufacturing have recently completed a project to rapidly manufacture and assemble 3500 hand sanitizer stations destined for pubs and restaurants across the UK.
The enquiry came to Alpha from a retail POS manufacturer who was struggling to meet the unprecedented demand for the units from the leisure and hospitality sector as a result of the current pandemic.
In terms of sheet metal fabrication, the units required laser cutting, CNC folding, welding and powder coating before being assembled complete with dispenser and internal fixings and finally branded with vinyl graphics.
Since the order was placed, Alpha have produced around 450 per day to meet the demand with new production lines created and additional assembly operatives allocated to ensure a constant flow of finished units.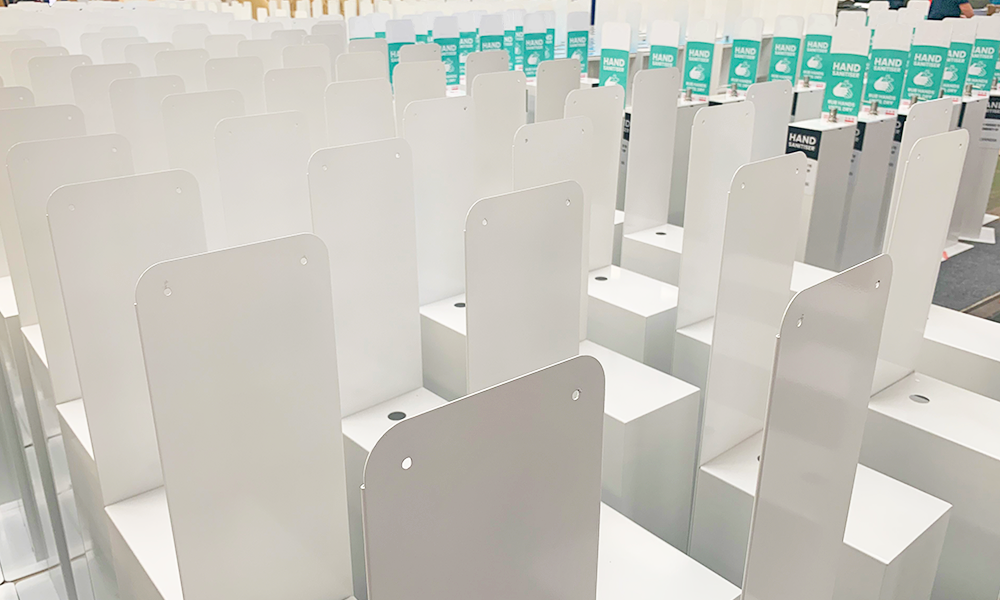 Alpha Manufacturing Announce Latest £1 Million Machinery Investment
Alpha Manufacturing have an announced the latest in a series of manufacturing machinery investments, which will see a brand new £1 million Salvagnini P4 Lean panel folder added to their existing CNC folding department.
This latest investment is a continuation of Alpha's long-term investment strategy which has seen installations of a STOPA storage system, TruPunch 5000 S12, TruLaser 3030 and Trubend 7000 machine take place over the past 18 months. It also comes shortly after work began to build a brand-new office and canteen facility on their 35-acre Hixon site.

Why Invest in a New Panel Folder?
The P4 Lean will replace the outgoing Amada TBZ panel folding machine which has been in operation for 15 years and will hugely increase Alpha's sheet metal folding capabilities. A host of additional features and systems have been specified with the P4 to maximise productivity and efficiency, including Salvagnini's latest interactive programming suite – Streambend, which allows programmers to run a virtual simulation of the part in a 3D environment before any material is processed. Alpha will be one of the first sheet metal fabricators in UK to use this software.
Streambend offline programming software, combined with the P4's ability to integrate with Solidworks CAD software will dramatically increase Alpha's panel folding capacity. By moving away from manual shop floor programming to offline office-based programming, Alpha will now be able to offer a much more efficient panel folding service.
Key Features of the P4 Lean:
The ABA blankholder automatically changes its configuration and its length according to the dimensions of the panel to bend without any input from an operator.
The CLA tool allows the P4 to make multiple positive and negative short bends to the same part, engaging and disengaging quickly and automatically between the blank and bending blades. This function is ideal for creating upward and downward tabs.
The P tool allows for the handling of very narrow profiles and creating tubular, hidden or radiused bends. It also allows for preformed parts to be folded easily and automatically.
MAC 2.0 (Material Attitude Correction) detects any material variations by the panel bender and, if values are outside the tolerance range, automatically compensates by adjusting the blade movements.
An automated loading/ unloading carriage positions the raw sheet in the machine whilst simultaneously pushing finished parts towards the unload conveyor.

Thanks to Salvanini's clever automated tools, the p4 is able to fold much more intricate and complex parts, where limitations to the TBZ had previously seen these types of components folded manually on press brake machines. Complex parts with details such multiple positive and negative bends, tabs or embossing have until now been manually re-positioned by an operator for each bend. The P4 however,  enables all of these to be achieved in one seamless process, dramatically reducing processing time and manual handling.
Long Term Plan
As with all of Alpha's recent investments, the P4 forms part of a long-term factory development plan which will eventually see it integrated into the STOPA storage machine. This will further automate panel folding capabilities as raw material is fed into the P4 and removed once processed without any manual handling.
 "The TBZ machine had served us well but the time came to replace it and as with all of our recent investments, we looked at the bigger picture when choosing a new machine. We don't just want a like like-for-like replacement but an upgrade which opens up new capacity and opportunities for us whilst also fitting into our overall long-term plan for the business. The P4 ticked a lot of boxes for us in terms of its capabilities and what this allows us to offer our customers."
Paul Clews – Alpha Manufacturing Operations Director
Installation of the Salvagnini P4 is scheduled for early 2019 and will take around 6 weeks to complete. In the meantime, Alpha's panel bend operatives and programmers will undertake intensive training on the new machine. Programs will be created well in advance of the machine installation so that production on the P4 can begin immediately.