This week saw the build of Alpha's new operations offices begin with staged deliveries of pre-assembled modular units to site.
All twelve 7m x 4m units have now been craned into position ready for electrical installation and plumbing works to begin. Alpha's entire office staff including management, design, operations, sales and administration teams will be based on the second of two stories, with canteen space, toilets and changing facilities for all 100+ shop-floor staff housed on the ground floor.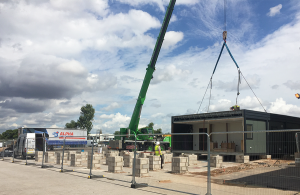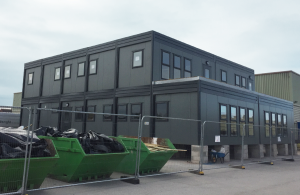 Why invest in new offices?
As part of Alpha's long-term growth strategy, factory shop-floor space will be maximised with further investment in new machinery planned over the coming years. In particular, the automated STOPA machine, installed in 2016 will be extended to run the entire length of the factory with all processing machines being integrated.
This means changes to the shop-floor layout, including relocation of the operations office, which currently sits at the centre of the factory. By relocating the office, valuable space is freed up for the continued development of the factory.
In addition, the new offices have been designed with collaboration, interaction and productivity in mind. Open meeting spaces, built in office kitchen facilities and even a communal balcony have been specified to encourage a positive, productive work environment. 5s principles will be implemented, with a clean desk policy and single waste management facility replacing individual under desk bins.
Paul Clews, Alpha's Operations Director is excited by the project:
"Aside from the need to relocate the office to facilitate our plans for the factory, the benefits in terms of productivity and efficiency through creating a good work environment are clear. We try to give our employees all the necessary tools to perform to their best and our aim with the new offices was no different."
Build completion
Once electrics and plumbing are completed, an entire suite of modern office and canteen furniture will be installed before landscaping, pedestrian walkways and car parking facilities complete the project in around 6 weeks' time. Alpha's staff are eagerly anticipating the move and looking forward to starting work in their new space.