Alpha's Factory Re-vamp the Finishing Touch to Investment Plan.
Work has begun on a large-scale paint out of Alpha's factory this week, following the completion of Alpha's latest STOPA system installation.
The STOPA extension marks the end of Alpha's five year strategic investment strategy which was launched back in 2015 and has seen close to £4 million worth of state-of-the-art machinery purchased to elevate Alpha's factory to the forefront of sheet metal fabrication.
The finishing touch will be to refresh the entire factory shop floor with a paint out to reflect the high the machinery it now houses. A new modern colour scheme has been chosen with white and shades of grey selected to create a modern, clean look. This replaces the traditional, red, green & yellow palette used for years. The new design should better reflect the high-tech status of the factory.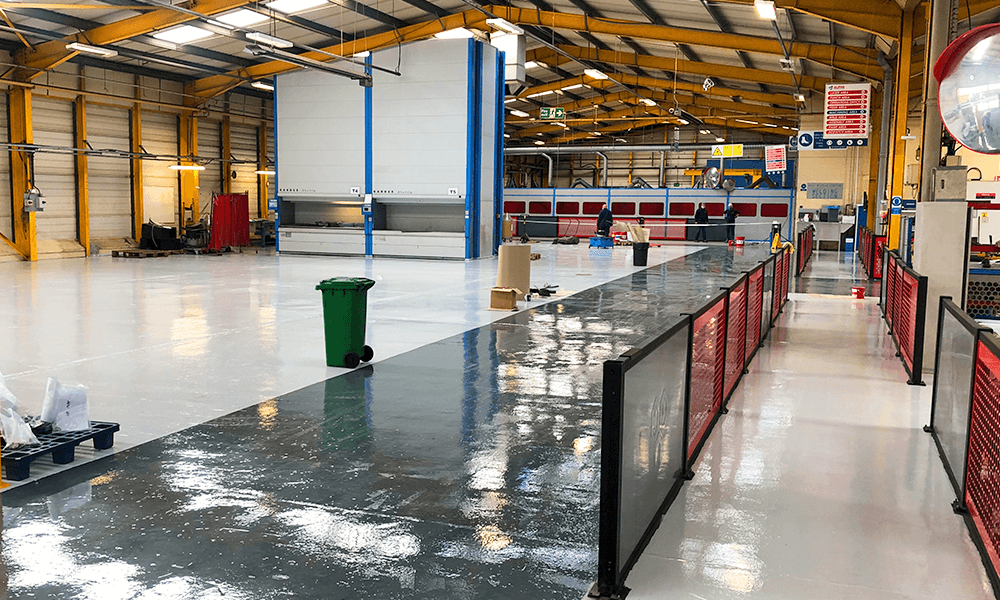 The paint out, which is usually an annual event, is an important process in terms of maintaining health and safety standards, with clearly designated walkways, storage spaces and restricted areas crucial to employee and visitor safety. This also helps in terms of maintaining Alpha's 5S standards, which in turn, improves efficiency and productivity across the factory.
Once the process is complete later in the week, Alpha will boast a truly industry leading manufacturing facility, both in terms of capabilities and presentation.
Protective Screens from Alpha Keeping UK Fleets Safe
Alpha Manufacturing recently designed and manufactured a range of protective screens to help protect workers and customers against COVID-19 whilst inside commercial vehicles.
These particular screens were fitted into roadside recovery vehicles of one of the leading UK breakdown specialists. Our customer, a leading commercial vehicle management company, had an urgent requirement to supply and fit protective screens in their client's fleet vehicles. Alpha were able to quickly design an effective solution to fit the Renault, MAN and Mercedes vehicles in their fleet.
The Perspex screens were laser cut to size before being branded in house with vinyl decals. All fixings and bracketry were laser cut, punched, folded and powder coated on site at Alpha to a high quality. Each screen also came complete with detailed installation instructions and illustrations tailored to each vehicle model.
In addition to these screens Alpha have also worked with sister company Bri-Stor Systems to develop partitions which divide driver and passenger in the cab for added protection. These are simple self-fit and available for all makes and models of commercial vehicle.

Bri-Stor Group Future Apprentices on Site for Induction Day
The next intake of Bri-Stor Group Apprentices were on site last week to complete their induction day ahead of their official commencement of studies in September.
The young engineers spent the day familiarising themselves with the Bri-Stor and Alpha facilities and apprenticeship programme in general. Having received their PPE and work equipment, they were given a full guided tour of the site by group apprenticeship manager Will Davies-Hill.
They were also given their induction packs and a breakdown of all the upcoming events and activities that they can expect in their first year, including a week long team building trip to Elan Valley in Wales, as well as the annual Soapbox derby project and other charity events.
The group now have a few weeks to prepare for the beginning of their course, before the official start date of 2nd September.
Salvagnini P4 Begins Part Production in Earnest
Alpha Manufacturing's latest £1 million machinery investment is now fully operational following a three-month installation and training program.
Purchased as an upgrade to the existing Amada TBZ machine, the P4 Lean Panel Bender takes Alpha's folding capabilities to another level in terms of productivity, efficiency and flexibility. It also allows Alpha to offer a broader range of product options thanks to its many technologically advanced automated features.
The installation comes as part of a major restructuring of the Alpha factory layout which has also seen office staff relocated to a brand new, modern office and welfare facility. The previous office space, located within the factory has been re-purposed and will become a dedicated stainless-steel sheet metal department.
Other machines have been relocated to accommodate the Salvagnini with long term integration of the panel bender into the STOPA storage system in mind. Full factory automation remains the end-goal for Alpha, with the existing STOPA system set to be extended. The Salvagnini machine, along with various others, will then take raw materials and part-processed products form the tower system before returning it to storage once it's process is complete, ready for the next process.
Shop floor operatives have now completed an intense period of training, provided by Slavagnini, to ensure that the machine is able to run at maximum capacity. With plenty of new work secured already for the machine, the investment is already beginning to pay dividends.
A New Era for Alpha Manufacturing as Paul Clews Appointed Managing Director
As of January 2019, Alpha Manufacturing begins a new chapter in its relatively short but successful history, as Paul Clews takes a leading role as Managing Director.
Paul will continue to build on Alpha's recent successes, growing the company as part of the Bri-Stor Group as well as developing its own sub contract customer portfolio.
The appointment comes as part of a wider strategic re-structuring across the Bri-Stor Group which will also see Simon Webb become Bri-Stor Systems Managing Director. Group Managing Director Andrew Humphrey will retain his position with Paul and Simon reporting into him.
The appointments reflect the outstanding growth of the respective companies over recent years and allows both Alpha Manufacturing and Bri-Stor Systems to fully capitalise on solid foundations through individual stewardship, whilst still retaining a Group focus through Andrew's leadership.
For Paul, this latest appointment is the culmination of a rapid career assent since joining Alpha Manufacturing 9 years ago. Having started out as an apprentice engineer with another midlands-based manufacturer, Paul went on to become design engineer, production engineering manager and eventually manufacturing manager over a 17-year period, before making the switch to Alpha in 2010.
Originally bought to Alpha as manufacturing manager, he quickly set about improving all aspects of production and such was Paul's impact on the company, having introduced lean manufacturing principles and a dedicated professional ethos, he was appointed Operations Director in 2014.
Again, Paul excelled in this role, leading the company to record turnover and award-winning service levels. After nearly 5 years in this role, it was decided that Paul would be the ideal candidate to lead Alpha's continued evolution over the coming years.
Paul commented on the key objectives in the coming years and vision for the company overall:
"My primary focus is to deliver our 2020 vision, this is our five-year plan that will see us double the turnover as was in 2015, whilst also achieving world class levels of service to our customers. In line with our business goals we will continue to develop our manufacturing facilities with state-of-the-art automated equipment, underpinning our position as one of the most technically advanced Sheet metal facilities in the country.

Developing the engineering knowledge within our workforce is key to our success, we will further improve the training we give to our current employees and increase our intake of engineering apprentices to ensure we continue to have a robust engineering knowledge base within our business." 
Staff and employees are currently settling into a new £600k modern office and welfare facility, completed late in 2018, while 2019 is already looking extremely bright for the precision sheet metal fabricators, with excellent sales forecast and various developments planned throughout the year.
Final preparations are underway ahead of a £1 million installation of a brand-new Salvagnini P4 Lean panel bender which will bolster Alpha's existing CNC fold department. In addition, detailed plans are currently being finalised which will see a dedicated stainless-steel fabrication cell added to existing factory facilities.
New Year Makeover for Alpha's Manufacturing Facility
Alpha's 2019 began with an annual paint out as part of a continual improvement program centred around Kaizen principles of organisation, standardisation and cleanliness.
As part of the process, all working, pedestrian and storage spaces are redefined and clearly marked with designated colours. The entire factory shop floor is re painted with hard wearing industrial paints – around a 65,000 square feet area in total. The process is an important factor in maintaining standards both in terms of lean manufacturing practices and health & safety.
In addition to the paint out, work has begun on improving factory lighting through cleaning of skylights throughout the entire factory. A major undertaking, the project will be ongoing over the coming months, resulting in a much better working environment for shop floor operatives.
As in previous years, 2019 will see some major developments to the Alpha factory as work continues towards the 20/20 vision outlined back in 2015. Building work has begun on a brand-new stainless-steel processing cell, while preparations are ongoing for the installation of a Salvagnini P4 Lean panel folder, announced by the company late in 2017.
Alpha Manufacturing Announce Latest £1 Million Machinery Investment
Alpha Manufacturing have an announced the latest in a series of manufacturing machinery investments, which will see a brand new £1 million Salvagnini P4 Lean panel folder added to their existing CNC folding department.
This latest investment is a continuation of Alpha's long-term investment strategy which has seen installations of a STOPA storage system, TruPunch 5000 S12, TruLaser 3030 and Trubend 7000 machine take place over the past 18 months. It also comes shortly after work began to build a brand-new office and canteen facility on their 35-acre Hixon site.

Why Invest in a New Panel Folder?
The P4 Lean will replace the outgoing Amada TBZ panel folding machine which has been in operation for 15 years and will hugely increase Alpha's sheet metal folding capabilities. A host of additional features and systems have been specified with the P4 to maximise productivity and efficiency, including Salvagnini's latest interactive programming suite – Streambend, which allows programmers to run a virtual simulation of the part in a 3D environment before any material is processed. Alpha will be one of the first sheet metal fabricators in UK to use this software.
Streambend offline programming software, combined with the P4's ability to integrate with Solidworks CAD software will dramatically increase Alpha's panel folding capacity. By moving away from manual shop floor programming to offline office-based programming, Alpha will now be able to offer a much more efficient panel folding service.
Key Features of the P4 Lean:
The ABA blankholder automatically changes its configuration and its length according to the dimensions of the panel to bend without any input from an operator.
The CLA tool allows the P4 to make multiple positive and negative short bends to the same part, engaging and disengaging quickly and automatically between the blank and bending blades. This function is ideal for creating upward and downward tabs.
The P tool allows for the handling of very narrow profiles and creating tubular, hidden or radiused bends. It also allows for preformed parts to be folded easily and automatically.
MAC 2.0 (Material Attitude Correction) detects any material variations by the panel bender and, if values are outside the tolerance range, automatically compensates by adjusting the blade movements.
An automated loading/ unloading carriage positions the raw sheet in the machine whilst simultaneously pushing finished parts towards the unload conveyor.

Thanks to Salvanini's clever automated tools, the p4 is able to fold much more intricate and complex parts, where limitations to the TBZ had previously seen these types of components folded manually on press brake machines. Complex parts with details such multiple positive and negative bends, tabs or embossing have until now been manually re-positioned by an operator for each bend. The P4 however,  enables all of these to be achieved in one seamless process, dramatically reducing processing time and manual handling.
Long Term Plan
As with all of Alpha's recent investments, the P4 forms part of a long-term factory development plan which will eventually see it integrated into the STOPA storage machine. This will further automate panel folding capabilities as raw material is fed into the P4 and removed once processed without any manual handling.
 "The TBZ machine had served us well but the time came to replace it and as with all of our recent investments, we looked at the bigger picture when choosing a new machine. We don't just want a like like-for-like replacement but an upgrade which opens up new capacity and opportunities for us whilst also fitting into our overall long-term plan for the business. The P4 ticked a lot of boxes for us in terms of its capabilities and what this allows us to offer our customers."
Paul Clews – Alpha Manufacturing Operations Director
Installation of the Salvagnini P4 is scheduled for early 2019 and will take around 6 weeks to complete. In the meantime, Alpha's panel bend operatives and programmers will undertake intensive training on the new machine. Programs will be created well in advance of the machine installation so that production on the P4 can begin immediately.
Alpha Apprentices Visit Wolverhampton University School of Engineering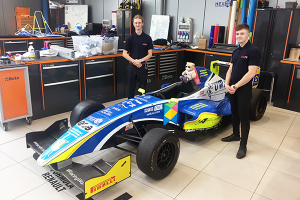 Alpha Manufacturing apprentices Sam Weaver & Owen Jones were last week invited to Wolverhampton University for a tour of their school of engineering and UWR Motorsport facility.
With both Owen & Sam soon to start further education in the form of Mechanical & Manufacturing Engineering and Electrical Engineering courses respectively, the visit gave them valuable insight into a wide range of advanced manufacturing techniques.
The two young engineers where given the opportunity thanks to the ongoing relationship between the Bri-Stor Group, of which Alpha are a part and the UWR team. Over the past few years the group has supported both F3 and formula student teams with graphics supplied by Hex Signs & Graphics and various vehicle components manufactured by Alpha.
The UWR programme offers young engineers a unique opportunity to combine theoretical studies with real world, hands on engineering within a competitive environment. Competing in a range of championships including the F3 cup, Formula Student Cup, AR Morgan Challenge and British Hill-climb Championship, the UWR team relies heavily on sponsorship and support from companies such as the Bri-Stor Group.
Alpha Apprenticeship Programme Developing Young Talent.
Alpha's commitment to developing young engineering talent through our apprenticeship programme continues to pay dividends as apprentices from the 2016 intake begin to make a real impact within the business and build solid foundations to their own careers.
As Alpha's 2016 group of apprentices complete their official training and move into full time employment with the business, they begin their career in earnest as they start to develop individual skillsets and specialise in specific areas.
Some, for example have shown an aptitude towards programming and are set to begin RADAN training which will equip them with the skills needed to work within the office programming team. Others, such as Faisal Kahn will take on greater responsibilities within specific departments. Faisal spent time working alongside Alpha's dedicated Robotic fold programmer on the TruBend 7000 machine and will now take on greater responsibility in this area, able to run the machine solo going forward thanks to his rapid progression.
Two members of the class of 2016 will go one step further, undertaking additional education alongside their work with Alpha to achieve extra engineering qualifications which will help them further specialise in their careers. Owen Jones will be attending Stafford College as of August this year, where he will be studying towards a level 3 NVQ in electrical engineering over 3 years. During his apprenticeship with Alpha, Owen has developed impressively, showing particular potential in electrical engineering having worked alongside Alpha's maintenance manager for the past 6 months in tending to Alpha's machinery and systems repairs.
"I've really enjoyed working on all the different machinery around the factory and learning how different things work. Once I finish my college course I want to take different courses specific to each machine so I know them inside and out. My ultimate goal is to become an Alpha maintenance manager and be responsible for keeping the factory working."
Sam Weaver will also be undertaking further education at Derby University, where he will take a 3-year foundation degree in mechanical and manufacturing engineering which will see him progress onto a masters degree in manufacturing and production. Sam has already begun to make an important contribution to Alpha's operations by creating a 5S implementation plan which he's delivering to all departments through a series of 1-hour training sessions. Once training is complete, Sam will be responsible for ensuring that 5S disciplines are implemented and adhered to around the factory shopfloor regularly, with the aim of improving organisation and ultimately productivity.
 "The training has been really well received so far and people seem enthusiastic to improve their organisation and efficiency. I'm looking forward to seeing the work I'm doing at the moment start to take effect within the company over the next few months. Once I've completed all the training sessions, there'll be a series of shutdown days where we can really start to implement the changes."
The impressive progression of these Alpha apprentices is further vindication of the company's commitment to training and development, with young engineers already showing the promise that they can contribute positively to the business. With the 2018 intake just recently beginning the theory portion of their apprenticeships with the JCB academy, Alpha are already anticipating another fresh influx of raw engineering talent ready to be moulded when they begin their practical training at the manufacturing facility.