Group Apprenticeship Manager Will Davis-Hill, has guided over 100 apprentices through their studies and in that time has read hundreds of
CV's, conducted interviews and provided advice to many students nervous about their application.
Whether you're looking at your apprenticeship options, preparing to apply for your dream apprenticeship, or are getting ready for your interview, Will has listed some of his top tips when it comes to applying for apprenticeships.
Stand out from the crowd
Your CV is your opportunity to show the employer who you really are, why you want to pursue that particular opportunity and what you can offer the company. It's also to give the company the chance to get to know who you are and what makes you different. Tell your story, this could be; what your hobbies are, what are your hopes and aspirations or even an achievement you're proud of.
Are you part of a football team? Or perhaps you're into gaming, dancing or reading. You may have made prefect in school or have done some work experience at the weekend. All of these things help to make you stand out in the mind of the apprenticeship employer and show your personality. You are the expert on you, so make sure you tell the best story of yourself that you can.
Make a good impression
If you've made it to the interview stage of your application – well done! This is now your time to shine and show the hiring manager why you would make a great asset to their team. It is important to the employer that their apprentices represent their company, are professional and well presented.
Therefore, it all starts with dressing smart and looking the part. No matter what the role it is you're applying for, make sure you give the best first impression possible to show the interviewers that you are someone who is professional and serious about the opportunity.
This also means making sure you're on time and well prepared too. It's always a good rule of thumb to arrive 10minutes early for an interview, this gives some room for possible delays and allows you to take a minute to re-read over your CV, make sure you're feeling calm and displays to the interviewers that you're punctual.
Be prepared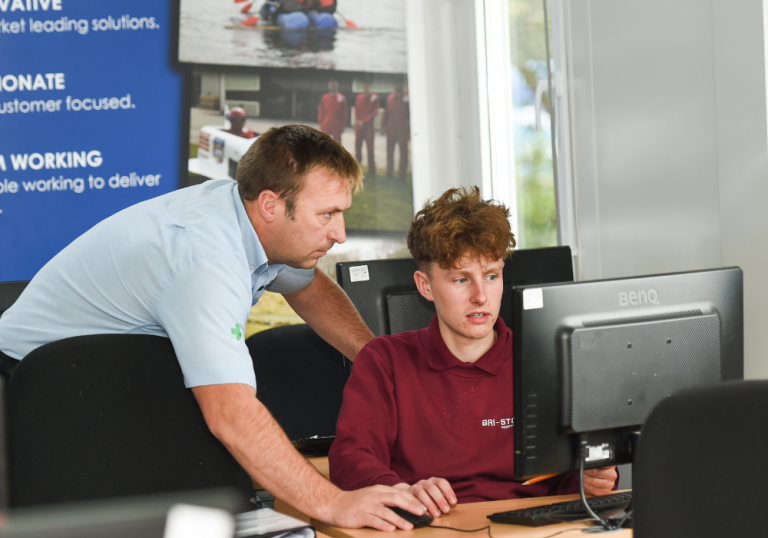 When applying for an apprenticeship, it's not only about why the company should hire you, but the employers also want to know why you want to work for them. It's important that you do your research on the company you're applying for right at the start of your application journey. Find out about what they do, the history of the company, read their latest news articles or take a look at their social media. This way you can really tailor your CV to include skills they may be looking for.
For example, in your application for Bri-Stor Systems, mentioning that you have seen on the website that some vans have electric elements and this is something you would love to learn, would demonstrate your knowledge of the company and your passion for working here.
When you're in an interview, this knowledge of the company will also help you when answering questions. For example, if the interviewer asks where you see your future, and you've seen an exciting article on Alpha Manufacturing's website about their new Chemical Technologies factory, answering that you have recently seen that the company is expanding and you'd love the opportunity to work at the new factory would demonstrate your knowledge and passion for what the company do.
Before an interview, make sure you spend some time drafting some possible answers for questions. These may be answers to standard questions such as: "Why do you want to do this apprenticeship?" but also question's that may make you think a bit more deeply, such as "What are your key strengths?" or "What skills would you like to develop through this apprenticeship?" By being prepared with answers for these questions, you'll feel more confident in your interview.
Interviews are not easy, but do your best to look the interviewer in the eyes, smile and show them why you would be perfect for the job.
If you're interested in applying for an apprenticeship at Bri-Stor Systems, visit https://www.bri-stor.co.uk/apprenticeships/.
For apprenticeships at Alpha manufacturing, visit https://www.alphamanufacturing.co.uk/contact/apprenticeships.
If you would like more information about our Group apprenticeship scheme or have any other questions, email apprenticeships@bri-stor.co.uk.