I'm Charlotte Allen, I am a first-year Level 3 Engineering Technician Apprentice with Alpha Manufacturing. I am your typical 17-year-old girl that likes fashion and shopping. I have just bought my first car and I have recently started to learn how to play golf.
Growing up, I was always fascinated with my dad's job as an engineer. He started as an engineering apprentice when he left school and has since spent the last thirty-five years working in the surface finishing industry as a Project Manager. Hearing about my dad's job is where my passion for engineering came from.
Throughout school, I felt as though sixth form and college were my only options after completing year 11. Since like most fourteen-year-olds, I had no idea what I wanted to do or what GCSEs to take, I did what I enjoyed the most and later left school having passed: dance, drama, health & social care and geography along with math's, English and science. If you were to tell me at fourteen that almost 3 years later, I would be working in steel toe cap boots I probably would have laughed at you!
Knowing A-level couldn't be the only choice for my future, my dad and I found Bri-Stor Group Apprenticeship Scheme through Made in the Midlands and it was like all my wishes had been listened too, finally I had found somewhere that I could gain experience, recognised qualifications and have the bonus of earning myself a wage slip at the end of the month.
Coming straight from school to a work environment definitely takes some getting used too.
Our first day consisted of getting to grips with JCB Academy, where the first year of our course is predominantly taught, and learning what day to day life would be like there. At first, if somebody had asked me if I could use a file, I would have shown them my nails. From getting the coach to learning how to take apart an air compressor, using hand tools to then operating a milling machine, my first month has been a whirlwind to say the least.
On our second day we went on a trip to Alton Castle where we carried out lots of activity to become closer as a group and push ourselves outside of our comfort zones.
The rest of my days are filled with learning about how to work all the different machines in the workshops and experimenting with CAD software.
Whilst being on site at Alpha we have been learning about all our health and safety responsibilities whilst in the workplace and starting our soapbox ideas in preparation for next march. As a small group we have settled on doing a Star Wars themed soapbox and will be starting the process of replicating it in the weeks to come.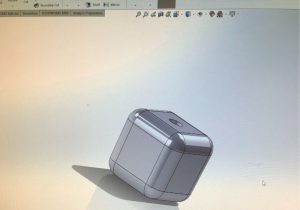 With everything we have learnt over the month I have partially enjoyed the business side of the course, for example, business improvement and organised efficiency where we are looking at different types of production and currently creating our own standard operating procedures. My SOP covers the manufacturing of a golf club, so maybe you'll see me playing in the golf society with my very own made golf club. It is really interesting to see what goes into the manufacturing process of everyday items that we all recognise.
Moving forward in my career I would like to branch out into the business side of things, such as Technical Sales or Marketing but it is important to me first before moving into that area of the business to know as much about the products we sell as possible. I am so exciting about the future of Alpha Manufacturing and would love to get the opportunity to work at the new Chemical Technologies site in Stafford opening next year!
Another one of my passions since moving into this industry is raising the profile of women in engineering and possibly going into schools to talk to pupils about all they can gain from an apprenticeship after leaving school. It is important to me that young girls can understand and visualise a modern engineering environment like Alpha, and see it as a space where you can achieve anything and go into so many exciting areas from aerospace to automotive and manufacturing. I believe that the different routes into industry should be projected more to children before leaving school who don't think the traditional education only route is for them.
In the end, I hope to have a long and successful career in this industry and maybe even one day be like famous engineer Thomas Telford, a Managing Director like Paul Clews or even our very own Alpha Manufacturing welder Chloe Sales! Only time will tell, but what I do know is I will have full support from Alpha every step of the way in my future as an engineer. Watch this space…