The business has won four awards at two events recognising local business success.
Staffordshire based sheet metal manufacturer Alpha Manufacturing, part of the Bri-Stor Group, has become a multi award-winner after scooping four accolades at local business awards.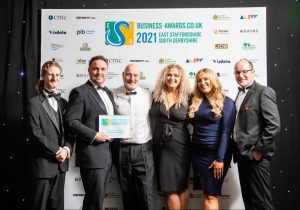 The business, which offers full in-house design and fabrication services to the UK and European market, was named Manufacturer of the Year 2021 by award sponsor The Greenbank Group at the East Staffordshire and South Derbyshire Business Awards on 11th November.  And just one week later was named Manufacturer of the Year 2021 by award sponsor Michelin Tyres, at the Staffordshire Chamber of Commerce Business Awards.
Both sponsors spoke about the innovation displayed by Alpha during the pandemic, where the business geared up its operation to support the hospitality and leisure industry and NHS covid testing centres as the UK re-opened after the first UK lockdown, with the manufacture of hand sanitiser units and protective screens.
Not only did the business take home these awards, but Alpha's Production Engineer and former Higher Apprentice Gemma Smith also took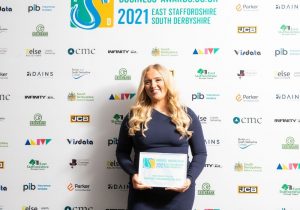 home the Young Employee of the Year award at both events, for her work raising awareness of Apprenticeships and women in engineering, as well as her quick progression through the business while committed to her degree and charity work.
On the recent success, Alpha Manufacturing Managing Director, Paul Clews said: "We're still on such a high after winning these awards. These awards have come at such an exciting time for our business as we experience significant growth with the opening of two new sites, including our Beacon Park, Stafford facility, Chemical Technologies in collaboration with global company INEOS Electrochemical Solutions.
"But it's the team that are truly award-winning at Alpha, we're so lucky to have a business with such dedicated and committed people who never fail to go the extra mile.  I am proud to be part of this incredible team, there are so many great opportunities ahead of us, it's a great time to be Team Alpha.
"A huge well done to Gemma too who bagged another thoroughly deserved Young Employee of the Year award, it's been a privilege to see Gemma achieve so much in the past five years at Alpha, she is testament to our Higher Apprenticeship programme, and I know she has such a bright future ahead."
Gemma Smith said: "Winning one award was a shock, never mind two! First of all, massive thank you to Alpha Manufacturing for everything they have done for me in pursuit of my dream engineering career. I have benefited greatly from being given opportunities often outside my comfort zone, but those opportunities have served me well.
"Finally, a huge thank you to the judges from East Staffordshire & South Derbyshire Business Awards and Stafford Chamber of Commerce for believing in me and choosing me for this award. You don't know how much it means to me to be recognized for my achievements and I feel proud to be recognized amongst a group of equally talented finalists and flying the flag for Apprenticeships, they are the future."