In August, Alpha Manufacturing held its first ever Recruitment Open Day. With up to 30 positions available in a range of skilled and semi-skilled roles, candidates were offered the chance to interview for their preferred role on the day.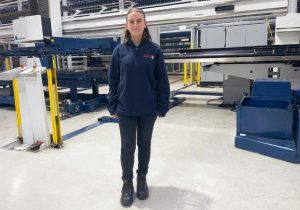 In attendance at the Open Day was Libby Mellor, a former Mechanical Engineering Apprentice who found her passion in the Quality Department at Perkins during her apprenticeship and had progressed to the role of Quality Inspector in her fourth year at the company.
Libby attended the Open Day with the aim of finding out more about Alpha Manufacturing and the roles available within the Quality Department. Speaking about her new role, Libby said: "I think it's fascinating to see how other companies work, whether you're looking for a job or not, and so it was great being able to take a look around the factory at Alpha and see all the facilities first hand.
"I had heard a lot about the progression opportunities available at Alpha and how they support people through education and training, and as I was ready to take my next steps in my career, Alpha seemed like the perfect place.
"At the Open Day, I spoke with the management team about looking for my next challenge within the industry, and it wasn't long afterwards that I was offered the position of Trainee Quality Engineer. I was so thrilled to have been offered the perfect next step that I was looking for, at a company that I had been so impressed by.
"Having worked here a couple of weeks now, I'm still learning the ropes but am so excited to get stuck into my role. The main thing I'm looking forward to is planning and investigation, where I will be evaluating potential quality risks before they arise to contribute to the company's high-quality standards.
"My overall hope for the future is to keep learning and progressing in my career, hopefully working my way from Trainee to Quality Engineer and eventually I would like to manage a team and go into the Quality Management side of things.
"At the moment, I'm really enjoying getting to know all of the processes and the team here, who have all been so friendly and welcoming! My advice to anyone wanting to take their next steps in their career is to go for it. By taking a chance you could find the perfect job for you like I have at Alpha."
We wish Libby all the success in her new role and it's great to have her as a part of Team Alpha.
Find out more about our Quality Department, or meet Quality Manager Ben Austin and Quality Inspector Peter Ricketts.