Shortlisted as a finalist in both the Manufacturer of the Year and Innovation & Technology category, with an employee also shortlisted as a finalist for the Young Employee of the Year Award.
Staffordshire sheet metal manufacturing company, Alpha Manufacturing has been announced as a finalist in three award categories at the prestigious East Staffordshire and South Derbyshire Business Awards.
The company is proud to have been selected as a finalist for the Manufacturer of the Year and Innovation & Technology Awards, with Production Engineer Gemma Smith also shortlisted as a finalist for the Young Employee of the Year Award.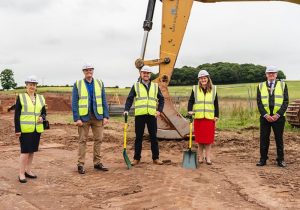 The award comes at an exciting time for the business, which has seen significant growth in the last 18 months despite the challenges brought about by the pandemic. Since the start of this year, Alpha Manufacturing has seen a surge in demand for quality UK sheet metal manufacturing, resulting in the opening of two new divisions; Alpha Integrated Technologies and the most recent being Alpha Manufacturing Chemical Technologies, a 35,000sq ft purpose-built manufacturing facility in Beacon Park, Stafford in partnership with global chemical company INEOS Electrochemical Solutions.
The growing company's production facility is the most technologically advanced in the UK.  The recent extension of its STOPA storage system makes it the longest installation of its type in the UK and allows it to offer an unrivalled level of service in terms of efficiency and value.  Commenting on the news, Alpha Manufacturing Managing Director, Paul Clews said: "What fantastic news! Being selected as finalists for these awards alongside other fantastic local businesses is a credit to the hard work and dedication of the Alpha Team who have worked tirelessly throughout the last 18 months to not only keep the business running through the pandemic and supply essential COVID safety products to customers across the UK, but to open two new sites since the start of the year, in response to unprecedented demand for our services.
"Our long-standing Apprenticeship Programme continues to produce some incredible young engineers and will continue to drive our business into the future.  Gemma is the perfect example of a talented, dedicated and exceptional young individual whose commitment to everything she does makes us proud to have her as a part of our team."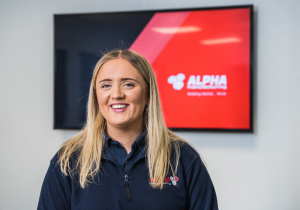 Production Engineer and former Higher Apprentice Gemma has been selected as a finalist for the Young Employee of the Year Award due to her achievements in her career so far, her commitment to raising awareness of STEM pathways for young women and her charity work. Gemma said: "I'm so happy that Alpha Manufacturing has put me forward for this award – it feels like a dream! Since completing my degree at Derby University through my Higher Apprenticeship at Alpha Manufacturing, I have worked hard to progress my skills and knowledge while also aiming to be a role model to other young women who want to pursue an engineering career. It just shows where hard work can take you!"
As well as being recognised for her performance and skills in her role at Alpha, Gemma has also raised money for local hospice Katherine House through a Unicycle Challenge and even climbed Mount Kilimanjaro for an African Children's Charity while completing her degree.
The winner for each award will be announced at an Awards Evening at the Pirelli Stadium in Burton-on-Trent, home of Burton Albion FC, on Thursday 11th November.