The future of your career is only limited by your ambition and your drive to succeed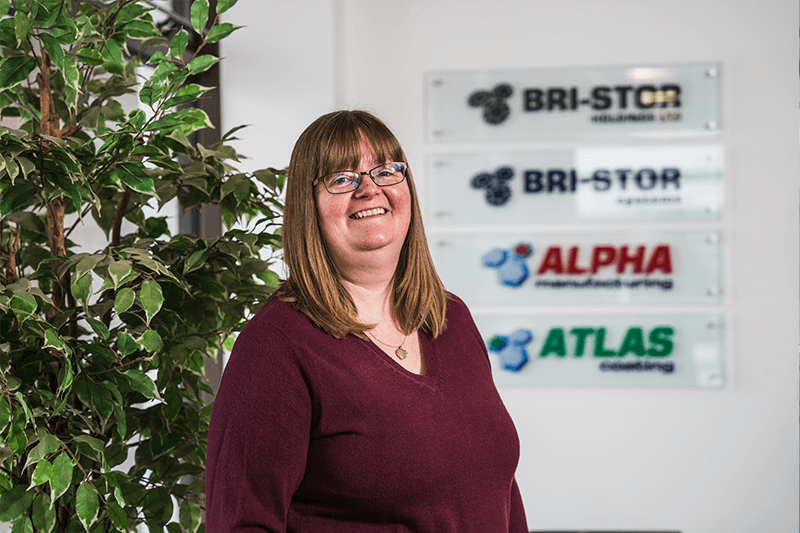 At just 17, Karen joined the Bri-Stor Group as a receptionist. Unsure of her career path at that point, she loved the vibrant atmosphere of the Bri-Stor Group. Today, almost three decades on, Karen holds the most senior HR position across the Group, looking after the employment rights and welfare of almost 500 people as well as leading on recruitment and the Group's career development programme.
Working closely with the senior management teams across all three of the Bri-Stor Group businesses and also supporting Apprenticeship Manager, Will Davies-Hill, Karen never takes for granted the opportunity she has to positively influence the career path of people joining the Group.
Karen tells us more about her role and her passion for people development: "When I joined the business, I guess I wasn't really sure where I was heading. I loved the 'front of house' part of my job and engaging with colleagues and visitors and in many ways my role in the business naturally evolved. Back in the 90s the company was very different to the Bri-Stor Group of today and people often 'flexed' in their positions to fulfil a range of duties. My HR role started just like that. Initially I got involved in admin work, supporting with some payroll duties but I quickly realised that I loved the HR element of my role and that's how my career kicked-off."
Recognising Karen's natural flare for HR, the business sponsored her to complete the CIPD Human Resource Management qualifications which, along with an ongoing programme of professional development, has resulted in Karen becoming a highly accomplished and skilled HR practitioner. Yet, setting aside the essential work she completes to keep the Group's HR function operating at extremely high standards, Karen remains personally and professionally committed to the development of every colleague in the business, including the Apprentices.
Karen continues: "When I joined the business, I was given every opportunity to advance my skills, and therefore my career and I feel passionate that every member of the Bri-Stor Group family can access the same opportunity. I work very closely with Will Davies-Hill to ensure that our Apprenticeship Scheme meets the needs of young people coming into the workplace and I take this responsibility very seriously. In truth, you're in work for a very long time and as I know from personal experience, the opportunities you seek out in your early career-years really shape your future."
In 2021, the Bri-Stor Group will recruit 15 Apprentices across Bri-Stor Systems and Alpha Manufacturing and Karen has these words of advice: "The Group is a dynamic, pacey environment where you'll learn fast and get maximum support and opportunity. That said, you'll be expected to bring your 'A Game' every single day – but the rewards are there for those Apprentices seeking an exciting future in engineering. We're looking forwarding to meeting you."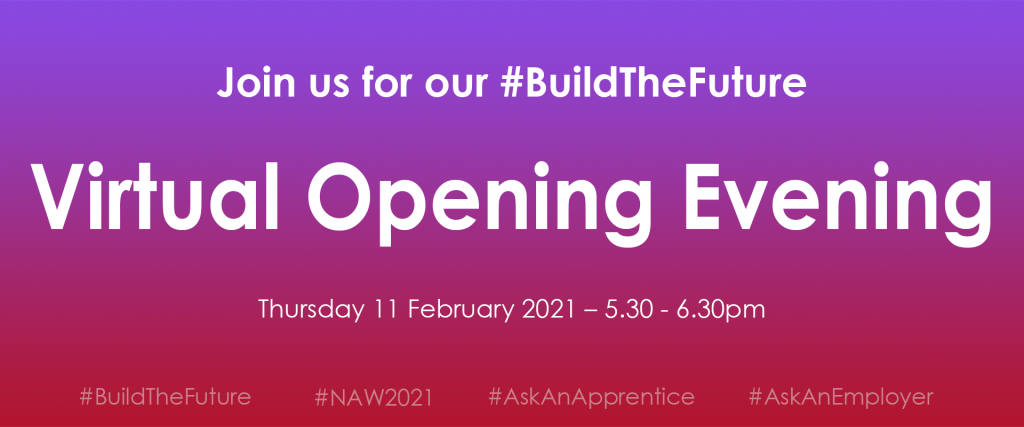 I take every opportunity to nurture our Apprentices – this is my opportunity to give back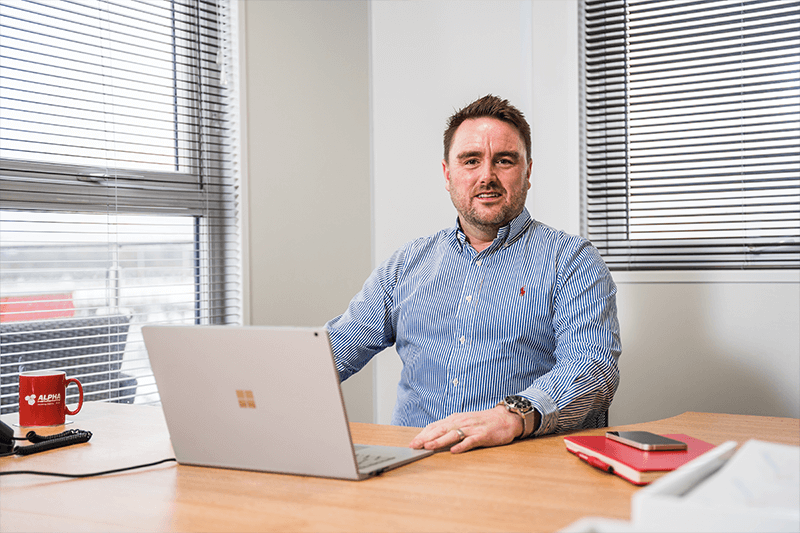 When Paul Clews started his career at 16 as an Apprentice Engineer little did he know that by 43 he'd be the Managing Director of two of the region's most dynamic engineering businesses – Alpha Manufacturing and Atlas Coatings. With a career very much grounded 'on the tools', Paul's hard graft and determination has earned him immense respect from colleagues across the Bri-Stor Group.
This is Paul's story. A bright lad with big ambitions, Paul had a passion for mechanics and design engineering. Completing his GCSEs, he had every option open to him to advance his education but struggled to see how A Levels and a degree would suit him. Paul shares his thoughts on his early career choices and how it has influenced his career today: "Right the way up to the completion of my GCSEs I thought I'd take the A Level and Uni route – I was pretty committed to an engineering degree, but something didn't feel right. It was through talking to a neighbour that I heard about an Apprenticeship Scheme at Belle Engineering and the penny dropped – the opportunity to earn money and gain engineering skills sounded like the perfect combination."
Gaining an Apprenticeship at Belle Engineering with just two places available and 30 applicants was gruelling and Paul, tenacious even back then, gave it his all to secure a valuable place, Paul continues: "I worked hard to get onto the Apprenticeship, and this really spurred me on, I thought if I can be successful doing this, what else can I achieve? The next four years were hard graft splitting my time between work and studying for my BTEC National Diploma in Engineering, but everything started to click. Learning while working gives you such a solid grounding and I embraced every opportunity to learn all the shopfloor skills.
"In year three and four of my Apprenticeship I moved into office functions which really whet my appetite for all things design, it was in these two years that I really decided that I wanted to focus on becoming a Design Engineer. By year four, I'd achieved my HND in Engineering and if I'm being brutally honest the only poor choice I've made in my education and career was not grasping the opportunity to complete my full engineering degree. I think by that time I was really ready just to focus on work."
For the next 10 years Paul progressed rapidly through his career from Tooling Design Engineer to Production Manager in just a few years. It's in his role as Production Manager that Paul cites the implementation of Lean Manufacturing principles as a career highlight – an accomplishment that is considered world-class amongst the manufacturing community. In 2010, Paul makes his move to Alpha Manufacturing as Production Manager and it's here his career advances even further. Paul continues: "I've got so much respect for Belle Engineering; at the time I was there I was given every opportunity to further my career and that's what drew me to the Bri-Stor Group and the role at Alpha Manufacturing. The opportunity to grow and achieve your full potential is a value that really stands out in this business."
Today, Paul retains the same strength of character that spurred him on in his early career days as a 16-year-old Apprentice, and while he carries the huge responsibility of leading a team of over 200 people, he remains committed to the professional development of the people around him, he concludes: "Everybody deserves a chance to succeed and achieve their ambitions if they're prepared to put the hard work in. I look back on my own career and I'm thankful to all the people that took the time out of their own day to show me the way. Now, almost 30 years on, I take every opportunity to nurture the Apprentices in this business, this really is my opportunity to give back."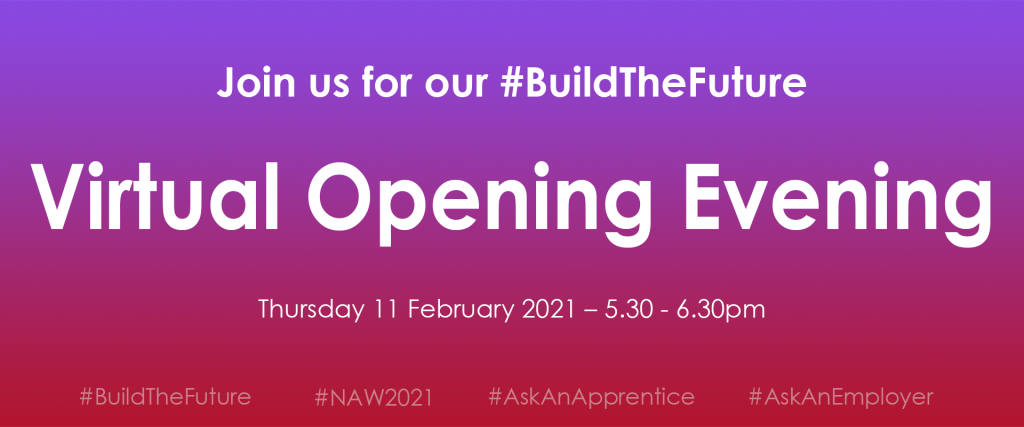 Joining the Bri-Stor Group is an Exciting Opportunity
Growing up in Staffordshire, just a few miles from the family business, Martin Smith spent much of his childhood watching his parents build Bri-Stor Systems Limited (Bri-Stor is an abbreviation of British Storage). Today, as CEO of the Bri-Stor Group, he reflects on his own career and the tough lessons he learned along the way.
"Growing up in the 80s and 90s I didn't see a lot of my parents; they were always at work and I suppose looking back I didn't really have a full appreciation of their hard work and what it meant for my future. At that time, I spent a lot of time playing sport, in particular cricket and hockey and enjoyed playing at a reasonably high level. As for school, I was a challenging lad to say the least, I was a bright kid and I loved my school, but I was quite mischievous and was often looking for clever ways to distract my mates and the teaching staff. That said, I did pretty well in my GCSEs and A Levels, and the turning point really came for me when I was 18 and took up a place on a four-year degree at Bath University, studying International Business and Foreign Languages."
In year three of his degree Martin started a role at Peugeot, based in Paris, a turning point in his future, as he explains: "my role at Peugeot really changed my view of the workplace. I'd always done well academically but this was my first opportunity to really get stuck into something outside of education. It was an incredible experience and built my confidence no-end. It was never a given that I would work for Bri-Stor Group, far from it, my dad's view was "you make your own way son" so that's exactly what I did. I worked flat out at Peugeot, rarely seeing anything other than the inside of the office or my tiny flat – but it was a solid grounding."
Graduating from Bath University and gaining experience in the world of manufacturing and engineering, Martin felt he was set for a career in the family business, he tells us what happened next: "I can recall the conversation with my dad about joining the business and he was adamant that I had to go and find out what my value was in the world of work. What he meant was, go and get three job offers and we'll talk about a job at Bri-Stor Group. So that's what I did, I got offers from three global management consultancy businesses and my dad's response? "Well done son. You can have half the salary and you can start in the paint shop, on the night shift" – so that's exactly what I did."
For several years Martin worked night shifts, day shifts and a combination of the two. He worked in all departments learning the shopfloor skills required to run the business and eventually became Production Manager in Alpha Manufacturing, he continues: "It was pure hard work, but to this day I remind people that you shouldn't expect somebody to do something you wouldn't be prepared to do yourself. That mindset has stayed with me throughout my career in the Group and is a strong part of our culture today. I look at how hard the teams work throughout the business, but what really stands out is the strong team ethic that underpins it all. As we welcome new Apprentices into the business, I know we are giving them the very best opportunity to develop a successful career. In truth, if you're wondering if an Apprenticeship will broaden your horizons, then read about Paul Clews' career – he is the very essence of how an Apprenticeship can pave the way for a bright, successful future."
What are you looking for in this year's Apprentices?
"As with every cohort of Apprentices, we expect to see determination and the willingness to try new skills. For many of this year's intake, regardless of age, they will have experienced a really disruptive education, so we are looking for Apprentices with a really strong, positive mindset. Joining the Bri-Stor Group is the start of an exciting chapter."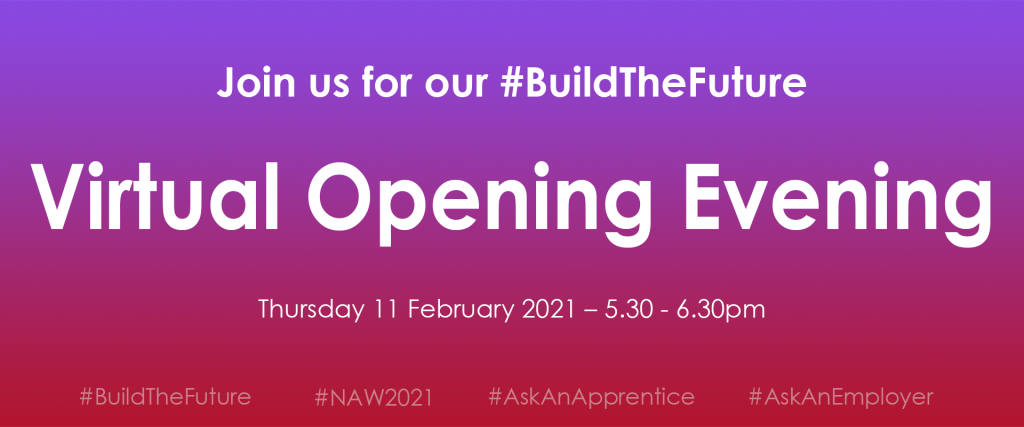 The tutors really respect us as working guys – not pupils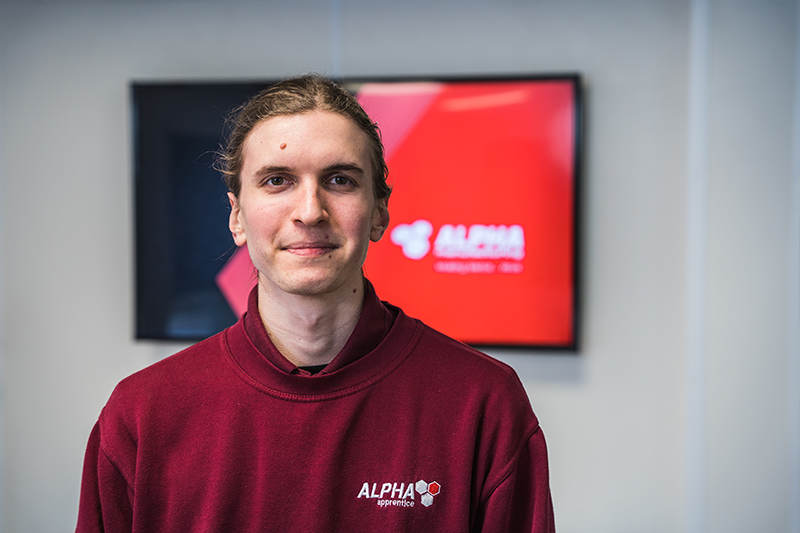 Nearing the completion of his NVQ in Mechanical Engineering at college, Stephan was weighing up options when he met Bri-Stor Group Apprenticeship Manager Will Davies-Hill, as he tells us: "I wasn't really sure what I wanted to do after completion of my NVQ but when Will visited my college and told us about the opportunities at Bri-Stor Group as an Apprentice I was really intrigued."
Stephan took part in the Bri-Stor Group Open Day and was struck by the scale and professionalism of the business. Immediately drawn to the manufacturing capabilities of Alpha, Stephan applied to join as an Apprentice in 2019. Stephan tells us more: "We got the opportunity to see all the manufacturing equipment in action and I was really impressed by the Stopa and in particular the Bend Cell – seeing the huge levels of automation really changed my perception of sheet metal fabrication. I think in my mind I was picturing a dirty workshop with a few bits of kit but Alpha couldn't be further away from that perception – it's a world-class business and as a consequence we're involved in the manufacture and production of some pretty impressive fabricated products."
Stephan really enjoyed year one and although there is a lot of classroom time at The JCB Academy, the relaxed, informal approach to teaching was perfect for Stephan's learning style, as he expands: "we learnt a lot in year one but it didn't feel like learning. The tutors really respect the fact that we're working guys, not kids, and that makes such a difference."
In year two the Apprentices are part of the Rotation Programme and get the opportunity to experience every operational function in the business. "I'm enjoying some departments and process areas more than others, but that's what this is all about – seeing what you like, and how that matches up to your skills," explains Stephan.  "By being part of every function in the business, regardless of how much you like it, you can see the total process which is important.  Understanding the impact of one process on another dramatically improves efficiency and removes mistakes."
Would you recommend the Alpha Manufacturing Apprenticeship Scheme? "It's a tough world right now and I feel secure in my role at Alpha. I know the business is successful and being part of the Bri-Stor Group gives me huge confidence that I can pursue my career here and hopefully continue to gain higher qualifications."

When I say to people "I love sheet metal" I'm sure they think I'm mad, but I really do!
Gemma has big ambitions at Alpha Manufacturing and she has every reason to be excited about her career. In just four years, having come through the Higher Apprentice route, she is now a fully-qualified Production Engineer with no limits to her capability and career aspirations. This is Gemma's story, a story that will inspire other students considering an Apprenticeship or Higher Apprenticeship.
When Gemma was at school, she always knew she wanted to get into business and more specifically engineering but wasn't entirely sure what this path would look like. She certainly didn't anticipate that just four years into her career and still in her early 20s she'd be running the production engineering for some of Alpha's most complex jobs. As well as the production side of her role, Gemma has built her confidence and skills to be able to guide and direct many colleagues on the shopfloor, often working in a dynamic and high intensity environment.
Gemma tells us: "If somebody had told me four years ago that I would be a fully-fledged Production Engineer I wouldn't have believed them. To no longer wear the badge of 'Trainee' is just mind-blowing, when I changed my email footer I was just overwhelmed, it's a tiny thing but it was poignant. I'm not an overly emotional person but all that hard work just felt worth it.
"All the way through school I knew I wanted to get into a job and start my career early but I also wanted to combine it with training and ultimately a higher-level qualification such as a degree so when I learned about Alpha Manufacturing's Apprenticeship Scheme it ticked all my boxes and more."
Gemma spent two years at the The JCB Academy combined with her role at Alpha Manufacturing and after completing her foundation degree, Alpha sponsored Gemma to complete her Manufacturing & Production Engineering Degree at Derby University, which she completed in 2020. Gemma tells us more: "Combining my role at Alpha as a Higher Apprentice and furthering my studies at Derby University has worked really well for me. I guess I wanted the best of both worlds – I wanted to start my career and begin earning money but also wanted to gain the skills and education to be able to really advance my career at Alpha. When I say to people "I love sheet metal" I'm sure they think I'm mad, but I really do! I love the fast pace at Alpha too, I'm surrounded by brilliant people who have really helped me nurture my skills. I've had to learn very quickly about how to adapt my skills to get the best out of others, but I've grown in confidence in a relatively short period and now I can hold my own in most situations."
For Gemma, her future is bright and she's excited to see what will come next, she concludes: "Right now, I'm loving my job, every day I come into work with a smile on my face and I look forward to the next challenge. I'm much further ahead in my career than others of the same age and I'm glad I jumped onto the Higher Apprenticeship route – it's put my career path right on track."
What's the best thing about being an Alpha Apprentice? "You learn very quickly, there are so many talented people to guide and support you. There are tough days when you've got so much to take in, it can feel overwhelming but then it all just falls into place, you adjust to that very quickly. I love working in the world of manufacturing and engineering – there are limitless opportunities for people that just want to work hard and build a career. This is the place to do it."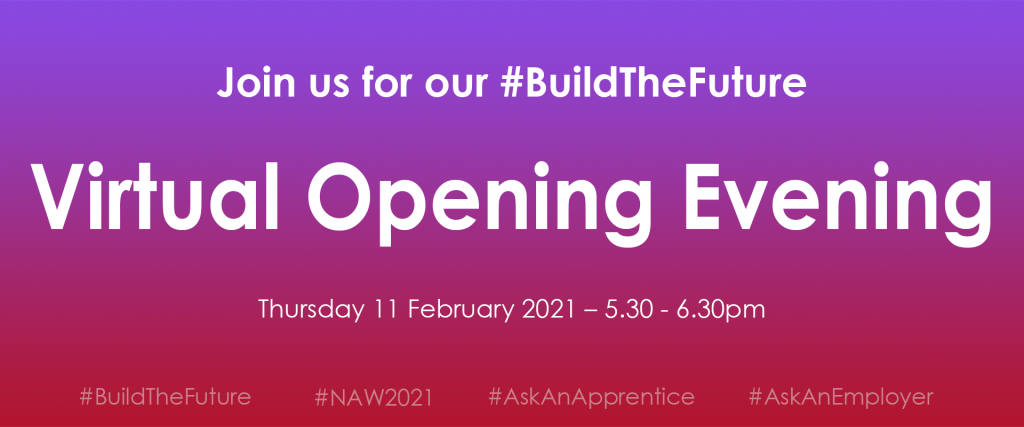 An Apprenticeship is the perfect opportunity to accelerate your career and earn a living.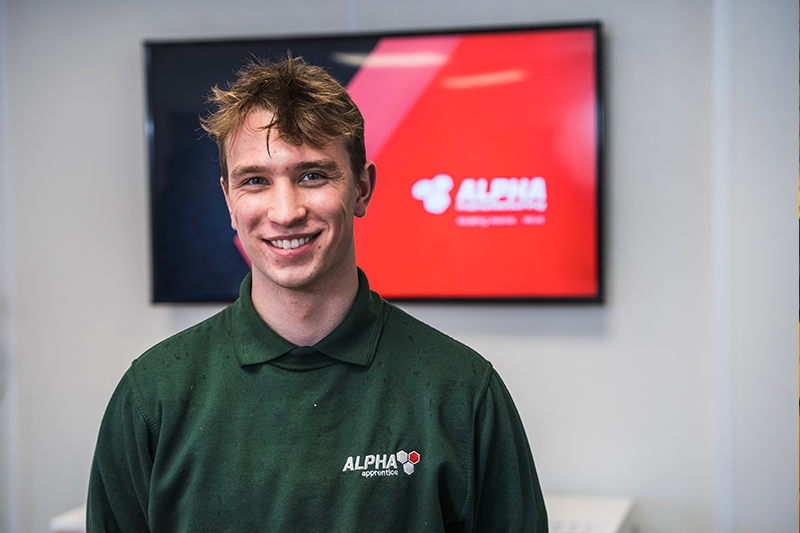 "After my GCSEs I was pretty set on sixth form to be honest, but I felt like I was getting swept along with other students, rather than what I wanted to do", explains third year Alpha Manufacturing Apprentice, Dan Gill. "All my mates were choosing A 'Levels and I really wanted to get away from the classroom and start earning a living. The opportunity to get paid to learn really appealed to me so joining an Apprenticeship seemed like the perfect option."
After finishing his GSCSEs Dan visited a few firms to look at their Apprenticeship Scheme and weighed up all his options, as he explains: "I looked at a few Schemes and immediately dismissed any Scheme that was too classroom-based. I wanted a Scheme that would feel like hands-on work, accepting that I'd also have a lot to learn. When I visited Alpha, I was completely overwhelmed by the world-class machinery and automation of the entire manufacturing process. My dad's an engineer and I've always been fascinated by anything with moving parts – even watches fascinate me, so Alpha completely bowled me over. Another factor that swayed me was meeting our Apprenticeship Manager, Will Davies-Hill, he's nothing like a teacher but is a really strong mentor and I felt immediately that Alpha was exactly what I was looking for."
Now in his third year and reflecting on year one and two of the Apprenticeship Scheme, Dan is keen to tell other students considering an Apprenticeship that the Bri-Stor Group approach is way beyond the 'school' approach, as he continues: "I looked at the prospectus for Bri-Stor Group and I had many questions about year one at The JCB Academy, to be honest I still had some reservations on day one, but all those were set aside after the first few hours! The teaching is so engaging and it's so hands-on, it feels like the best DT lesson you've ever had, and then you come back into the business and apply all that learning to the real-world, it's so rewarding."
Dan is an exemplary Apprentice and has shown grit and determination to succeed from the get-go, with a promising career in Alpha Manufacturing ahead of him, Dan is keen to continue with his education and balance a career, he says: "I love the maintenance rotation and the quality department is pretty cool, I'm learning all the time and because we're getting such a well-rounded introduction to Alpha Manufacturing it'll make it much easier to choose my eventual career path."
Would you recommend the Alpha Manufacturing Apprenticeship Scheme? "If you're not a fan of the classroom this is the perfect opportunity to really accelerate your career and earn a living at the same time. I made the perfect choice by coming to Alpha and I know I've got a bright future ahead."

We are giving young people the opportunity to put their ambitions first
After a twenty-year career in the Army, retiring as a Warrant Officer in 2015, Will Davies-Hill was ready for the next chapter in his career.  Joining Bri-Stor Systems and securing a position in the electrics team, Will slotted straight into the fast-paced and dynamic culture of the business and was immediately struck by the firm's attitude towards career progression and personal development, as he explains:
"Having spent two decades of my life in the military I'm well aware of the importance of discipline and personal improvement and these are two values that I recognised in Bri-Stor Group, so when the opportunity came up to advance my own career as the Apprenticeship Manager I jumped at the chance. I'd already observed the fantastic opportunity our Apprentices were being given but I knew, with the right support, I could take the Scheme to the next level."
Six years on and Will and the wider teams in the Group have developed a fully accredited Apprenticeship Scheme, recruiting approximately 15 students each year to join one of the region's fastest growing businesses. With strong ties to both engineering and manufacturing disciplines the Bri-Stor Group Apprenticeship Scheme is in high demand, Will continues: "My dedicated role is all about nurturing and developing young talent. We attract applicants from across the county who can see the diverse and exciting nature of our Scheme and I believe that's because we've embedded the real ethos of Apprenticeship into our scheme – giving young people the opportunity to put their ambitions first.
"My own career experience in the military has given me a unique insight into what drives and motivates young people, often in challenging situations, so I have brought this experience to Bri-Stor Group and today, we are delivering what I believe is a solid blend of learning, experience and the opportunity to use initiative and self-discipline. It has to be said though, we know how to have fun and we love the comradery amongst the Apprentices – we give them ample opportunity to let off steam and really bring their personalities to the work place. There is space in this business for everybody, our role is simply to nurture their talent."
While year one and two of the Scheme are focused on learning and experiencing different roles, in year three, the Apprentices are getting stuck into a role which matches their ambition, talent and the needs of the business. According to Will, this transition can be more challenging for some than others, but Will has this to say: "whether an Apprentice is joining us at 16, 18 or even older, we understand that coming into the work place can be a daunting prospect. In year one we spend a lot of time focusing on business etiquette and expected behaviour – these are essential skills that need to be acquired but we do it in a subtle way and by year two, they've seamlessly transitioned from pupil to colleague."
With the pandemic affecting both education and workplace training for almost every business in the UK, Bri-Stor Group has adapted its Scheme to ensure Apprentices can stay on track, Will comments: "It's been a challenging time, no question, but we have a robust plan in place to ensure year one Apprentices can continue with the three-year plan. That's just one of the benefits of joining Bri-Stor Group, our fully accredited Apprenticeship Scheme is highly regarded but our intake numbers enable us to flex as situations beyond our control change. That said, I am incredibly proud of the resilience our Apprentices have shown in the last 12 months – these are incredibly challenging times and it's testament to their attitude and team-spirit that they all continue to grow and develop their business skills."
What are you looking for in this year's Apprentices? "We are in tough times and we are keen to see how applicants have responded to the uncertainty of education through a pandemic. Those that have continued to show determination to succeed will thrive at the Bri-Stor Group."