Salvagnini P4 Begins Part Production in Earnest
Alpha Manufacturing's latest £1 million machinery investment is now fully operational following a three-month installation and training program.
Purchased as an upgrade to the existing Amada TBZ machine, the P4 Lean Panel Bender takes Alpha's folding capabilities to another level in terms of productivity, efficiency and flexibility. It also allows Alpha to offer a broader range of product options thanks to its many technologically advanced automated features.
The installation comes as part of a major restructuring of the Alpha factory layout which has also seen office staff relocated to a brand new, modern office and welfare facility. The previous office space, located within the factory has been re-purposed and will become a dedicated stainless-steel sheet metal department.
Other machines have been relocated to accommodate the Salvagnini with long term integration of the panel bender into the STOPA storage system in mind. Full factory automation remains the end-goal for Alpha, with the existing STOPA system set to be extended. The Salvagnini machine, along with various others, will then take raw materials and part-processed products form the tower system before returning it to storage once it's process is complete, ready for the next process.
Shop floor operatives have now completed an intense period of training, provided by Slavagnini, to ensure that the machine is able to run at maximum capacity. With plenty of new work secured already for the machine, the investment is already beginning to pay dividends.
Alpha Featured in Manufacturing Today Europe Article
Alpha Manufacturing have been featured in the latest issue of industry magazine – Manufacturing Today as part of a series of articles which have tracked the company's rapid progression since 2016. 
The last Manufacturing Today article to focus on Alpha manufacturing was back in July 2017 and took an in-depth look into the company's robust investment and innovation strategy, set out in 2015. Coincidentally, the timing of the article came exactly at the half way point in a 5-year plan to double turnover by 2020.
The article covered Alpha's vision of a cutting-edge automated factory and the machinery investments that had been made to date in order to achieve the goal. A state of the art STOPA storage system had been installed early in 2017 along with a TruLaser 2020 fibre laser machine and TruPunch 5000s CNC punch machine. Alongside the investment plan, Alpha had set out 5 key indicators to measure the success of the plan – Safety, quality, cost, delivery and people.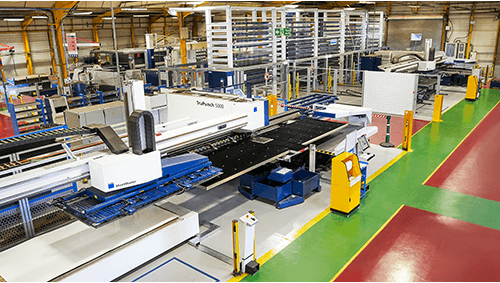 Another article followed in May 2018 where Alpha's Commercial manager Rob Eley explained the positive impact of the new investments and innovations, which by this time also included a TruBend Cell 7000 robotic folding machine.
"We have been very successful in terms of winning new business. Within a three-to four-month period we won long-term contracts to supply three new customers, each from different sectors and each with significant annual spend. The set up for these new customers was challenging from an operations perspective as they were all relatively complex products, which required high levels of assembly."
Now, almost two years on from the original feature and approaching the end of the 2020 plan, Manufacturing Today Europe have revisited Alpha to see how the precision sheet metal fabricator's project has progressed. Much has happened in the time since the first article. Not least the appointment of a new Managing Director, Paul Clews in January 2019.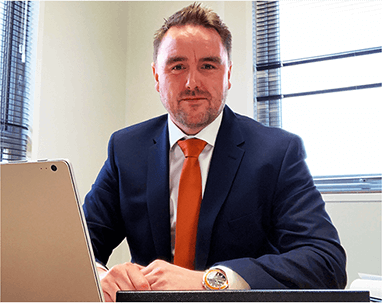 Paul reflected on the current position of the company and his vison for the future: 
"We are presently operating at industry-leading levels in terms of our key performance indicators – quality, cost and delivery – and we continue to win large new customers, including two from within the construction sector – each of which is involved in pre-fabricated, modular assemblies – and one within the IT sector, specialising in commercial server cabinets."
At the time of the latest feature, a number of exciting developments had either been recently completed or nearing completion. Alpha's staff had just relocated to a brand new, purpose built, £800,000 modern office and welfare facility. The old office space, located on the factory shopfloor had been earmarked for a dedicated stainless-steel department and work was progressing well on it's build. This isolated cell would open up new potential markets for Alpha, as it would be the first time the company could offer specialised stainless-steel capabilities. Further investment 0f £1 million had seen a state-of-the-art Salvagnini P4 Lean Panel Bender installed, vastly increasing Alpha's folding capabilities through huge increases in efficiency, flexibility and automation.
Currently, Alpha are working to complete the stainless steel cell, with new specialist stainless customers already secured and products assigned to the area. The Salvagnini is currently running and taking on more and more fold work. Training of Alpha operatives is nearing completion and the Salvagnini will soon be operating at full capacity. With the end of the 2020 plan nearing, Alpha are on target to achieve their initial goals and with exciting new enquiries arriving during early 2019, the future again looks bright for the precision sheet metal fabricators.
Alpha Manufacturing Announce Latest £1 Million Machinery Investment
Alpha Manufacturing have an announced the latest in a series of manufacturing machinery investments, which will see a brand new £1 million Salvagnini P4 Lean panel folder added to their existing CNC folding department.
This latest investment is a continuation of Alpha's long-term investment strategy which has seen installations of a STOPA storage system, TruPunch 5000 S12, TruLaser 3030 and Trubend 7000 machine take place over the past 18 months. It also comes shortly after work began to build a brand-new office and canteen facility on their 35-acre Hixon site.

Why Invest in a New Panel Folder?
The P4 Lean will replace the outgoing Amada TBZ panel folding machine which has been in operation for 15 years and will hugely increase Alpha's sheet metal folding capabilities. A host of additional features and systems have been specified with the P4 to maximise productivity and efficiency, including Salvagnini's latest interactive programming suite – Streambend, which allows programmers to run a virtual simulation of the part in a 3D environment before any material is processed. Alpha will be one of the first sheet metal fabricators in UK to use this software.
Streambend offline programming software, combined with the P4's ability to integrate with Solidworks CAD software will dramatically increase Alpha's panel folding capacity. By moving away from manual shop floor programming to offline office-based programming, Alpha will now be able to offer a much more efficient panel folding service.
Key Features of the P4 Lean:
The ABA blankholder automatically changes its configuration and its length according to the dimensions of the panel to bend without any input from an operator.
The CLA tool allows the P4 to make multiple positive and negative short bends to the same part, engaging and disengaging quickly and automatically between the blank and bending blades. This function is ideal for creating upward and downward tabs.
The P tool allows for the handling of very narrow profiles and creating tubular, hidden or radiused bends. It also allows for preformed parts to be folded easily and automatically.
MAC 2.0 (Material Attitude Correction) detects any material variations by the panel bender and, if values are outside the tolerance range, automatically compensates by adjusting the blade movements.
An automated loading/ unloading carriage positions the raw sheet in the machine whilst simultaneously pushing finished parts towards the unload conveyor.

Thanks to Salvanini's clever automated tools, the p4 is able to fold much more intricate and complex parts, where limitations to the TBZ had previously seen these types of components folded manually on press brake machines. Complex parts with details such multiple positive and negative bends, tabs or embossing have until now been manually re-positioned by an operator for each bend. The P4 however,  enables all of these to be achieved in one seamless process, dramatically reducing processing time and manual handling.
Long Term Plan
As with all of Alpha's recent investments, the P4 forms part of a long-term factory development plan which will eventually see it integrated into the STOPA storage machine. This will further automate panel folding capabilities as raw material is fed into the P4 and removed once processed without any manual handling.
 "The TBZ machine had served us well but the time came to replace it and as with all of our recent investments, we looked at the bigger picture when choosing a new machine. We don't just want a like like-for-like replacement but an upgrade which opens up new capacity and opportunities for us whilst also fitting into our overall long-term plan for the business. The P4 ticked a lot of boxes for us in terms of its capabilities and what this allows us to offer our customers."
Paul Clews – Alpha Manufacturing Operations Director
Installation of the Salvagnini P4 is scheduled for early 2019 and will take around 6 weeks to complete. In the meantime, Alpha's panel bend operatives and programmers will undertake intensive training on the new machine. Programs will be created well in advance of the machine installation so that production on the P4 can begin immediately.