How Latest Machinery Investment Sets Alpha Apart
Alpha Manufacturing's latest machinery installation was recently completed with the final sections of the STOPA automated storage system added to the existing structure.
This large-scale installation concludes an ambitious five-year investment strategy outlined back in 2015, with the aim of making Alpha the foremost precision sheet metal fabricator in the UK. The focus of this plan was on utilising high-tech machine automation to realise a "smart factory" vision. Now, close to £4 million has been invested to secure Alpha's position as one of the most technically advanced factories in the industry. The STOPA system has been integral to this, with the first installation taking place back in 2016 alongside a state of the art Trumpf TruLaser 3030 fibre-laser machine. This laser machine and an existing Trumpf TruPunch machine were integrated into the STOPA at the time.
The STOPA system allowed Alpha to begin the process of automating stock storage, movement and transfer between machines, with all raw sheet metal stored in the towers and able to be called on at the touch of a button. This had an immediate positive affect on Alpha's performance in terms of efficiency and capacity with a dramatic reduction in WIP movement around the shop floor combined with significantly better stock control and management.
Since then, further investment has seen installations of more state-of-the-art automated sheet metal processing machines such as the Trumpf TruBend Cell 7000, TruPunch 7000 and Salavagnini P4 Lean Panel Bender to further bolster Alpha's levels of automation. The final stage of the five-year plan was to extend the STOPA system further, increasing its storage capacity and removing all WIP from the shop floor. It was also integrated into all areas of production including laser cutting, punching and folding.
The entire system now runs 62 meters down the centre of the Alpha factory and houses in excess of 600 tonnes of raw material and part-processed items with a total of 207 pallet spaces available. The completion of the STOPA marks the culmination of Alpha's journey to automation which now sets them apart within the industry.
Managing Director Paul Clews explains the strategy and what it now means in terms of Alpha's service offering:
"We've achieved everything we set out to do and more, investing close to £4 million in the right technology and this final investment will take us to where we aimed to be in terms of automation and efficiency. We're not unique in buying the best machinery, a lot of companies also have high spec technology. Where we aim to differentiate ourselves is in our operations, through the highest levels of efficiency and productivity. What this system gives us is the ability to identify, locate and deliver any piece of sheet steel, punched/laser part or folded sub assembly to any given location by the touch of a button. In doing this we will dramatically reduce the amount of waste from our current processes in terms of both movement of people and transportation of parts."
With all planned investment as part of the five-year plan now completed, Alpha will continue working to best utilise the machinery and systems in order to achieve total stock/ material handling automation. A new Sage Enterprise MRP was recently implemented, further streamlining the stock replenishment and management process.
Works Begin on Major Alpha STOPA Investment
The installation of a £600k extension to Alpha's existing STOPA automated storage system got underway this week. Groundworkers are on site preparing to lay foundations over the Christmas break.

Over the next two weeks, 80 cubic meters (160 tonnes) of concrete will be poured ready for the machine construction to begin in January, with an expected completion date of 30th March
The extension will see a further 10 bays added to the existing 6, increasing storage capacity from 67 pallet spaces to 207. Once complete, the entire system will run 62 meters down the centre of the factory and will be able to house in excess of 600 tonnes of raw material and WIP. Dedicated automated picking carts, strategically located in line with the overall logistics vision for the factory, will allow operators to call on any stored materials and have it delivered to them at the touch of a button. The system will also be integrated into all punch and laser/ punch combination machines, allowing raw sheet metal and part processed items to be delivered via input/ output carts. Once that process is complete, parts will be automatically put back into storage ready for the next process, without any manual handling.
This latest outlay concludes Alpha's strategic 5-year investment plan, set out in 2015 and is the final step on the journey towards factory automation. The original STOPA system was installed back in 2016 and dramatically improved efficiency through better stock handling and easier inventory management, whilst reducing manual handling and movement of WIP around the shop floor. Since then, 4 automated Kardex shuttle vertical storage systems have also been installed around the factory to further reduce the amount of WIP on the shop floor. The new extension to the STOPA will completely eradicate this with all raw material and parts stored in an automated system. Unlike the original STOPA, which could only store flat sheet metal, the new installation is also capable of storing folded parts.
Managing Director Paul Clews, who has overseen the investment plan since 2015, is delighted with the progress made:
"We've achieved everything we set out to do and more, investing close to £4 million in the right technology and this final investment will take us to where we aimed to be in terms of automation and efficiency. We're not unique in buying the best machinery, a lot of companies also have high spec technology. Where we aim differentiate ourselves is in our operations, through the highest levels of efficiency and productivity. What this system gives us is the ability to Identify, locate and deliver any piece of sheet steel, punched/laser part or folded sub assembly to any given location by the touch of a button. In doing this we will dramatically reduce the amount of waste from our current processes in terms of both movement of people and transportation of parts."
Once completed in early 2020, Alphas key objective is to achieve total stock/material handling automation. Coupled with the recent introduction of our new group MRP system Sage Enterprise, Alpha aims is to also automate the replenishment of various types of stock, removing the requirement for the manual ordering process on certain lines of stock.
Alpha Say Goodbye to Long-Serving Amada TBZ
Alpha Manufacturing this week bid farewell to their trusty Amada TBZ Panel fold machine after 15 years of service.
The Machine was disassembled and loaded onto several heavy goods transporters, before being transferred to its new home, where it will continue production.
Having been an integral and reliable part of Alpha's production plant for a decade and a half, the TBZ has folded tens of thousands of parts since its original installation at Alpha. Although still in good working order, technological advances meant that there were more economical and efficient alternatives available in today's market.

Investment in the cutting-edge Salvagnini P4 Lean panel bender during 2019 meant that it was time for the TBZ to move on. The Salvagnini offers exceptional productivity, with like-for like parts once produced on the TBZ, now being completed in a quarter of the time and to exceptional quality.
Boasting a host of state-of-the-art features and automaton, the Salvagnini is the market leader in sheet metal panel folding and is already proving to be a sound investment. The TBZ now moves on to pastures new and with luck, the new owners will get another 15 years solid production from it.
Major Investment Sees Alpha Diversify Service

Alpha Manufacturing will offer fine-finished Stainless-Steel sheet metal fabrication services for the first time in their history, following major investment to diversify their offering.
A dedicated stainless facility has been designed to house production, which will be segregated from all other production areas to avoid contamination.
At the beginning of 2019, Alpha recognised the opportunity to diversify into stainless product manufacture with demand for stainless components increasing in recent times. A major enquiry from within the food production sector eventually gave Alpha the impetus to green-light a substantial investment into dedicated stainless steel fabrication equipment.
Due to the high level of finish and exacting hygiene standards required in food processing machinery, a sterile production environment was crucial. A self-contained cell was constructed inside the existing factory, utilising floor space vacated in late 2018, when Alpha's production office was relocated. Access to the area is restricted to the stainless-steel team only, to further reduce any possibility of contamination from mild steel or other materials.
The cell boasts a host of new machinery including a dedicated stainless only press brake, 4 x 6m bead blast room, ring roller, linishing and polishing facilities and manual weld bays. A new specialist team of stainless fabricators has also been recruited to work in the department, dedicated solely to stainless steel production.

Prototyping has been under way over the past few weeks as fabricators perfected and fine tuned their processes. Now, after official sign off from the customer, Alpha will begin full production of their first stainless steel components for supply into the food processing industry. In the space of a few months, Alpha have gone from having no facilities or experience in stainless steel manufacturing, to being capable of producing parts of the highest quality for a global food processing conglomerate.
This latest investment represents a bold step in a new direction for Alpha and again underlines their commitment to growing both the quality and breadth of their service, through investment in new technologies. These new capabilities open up a host of potential new markets and offer an exciting opportunity for Alpha to bolster their customer portfolio over the coming years.
Salvagnini P4 Begins Part Production in Earnest
Alpha Manufacturing's latest £1 million machinery investment is now fully operational following a three-month installation and training program.
Purchased as an upgrade to the existing Amada TBZ machine, the P4 Lean Panel Bender takes Alpha's folding capabilities to another level in terms of productivity, efficiency and flexibility. It also allows Alpha to offer a broader range of product options thanks to its many technologically advanced automated features.
The installation comes as part of a major restructuring of the Alpha factory layout which has also seen office staff relocated to a brand new, modern office and welfare facility. The previous office space, located within the factory has been re-purposed and will become a dedicated stainless-steel sheet metal department.
Other machines have been relocated to accommodate the Salvagnini with long term integration of the panel bender into the STOPA storage system in mind. Full factory automation remains the end-goal for Alpha, with the existing STOPA system set to be extended. The Salvagnini machine, along with various others, will then take raw materials and part-processed products form the tower system before returning it to storage once it's process is complete, ready for the next process.
Shop floor operatives have now completed an intense period of training, provided by Slavagnini, to ensure that the machine is able to run at maximum capacity. With plenty of new work secured already for the machine, the investment is already beginning to pay dividends.
Alpha Featured in Manufacturing Today Europe Article
Alpha Manufacturing have been featured in the latest issue of industry magazine – Manufacturing Today as part of a series of articles which have tracked the company's rapid progression since 2016. 
The last Manufacturing Today article to focus on Alpha manufacturing was back in July 2017 and took an in-depth look into the company's robust investment and innovation strategy, set out in 2015. Coincidentally, the timing of the article came exactly at the half way point in a 5-year plan to double turnover by 2020.
The article covered Alpha's vision of a cutting-edge automated factory and the machinery investments that had been made to date in order to achieve the goal. A state of the art STOPA storage system had been installed early in 2017 along with a TruLaser 2020 fibre laser machine and TruPunch 5000s CNC punch machine. Alongside the investment plan, Alpha had set out 5 key indicators to measure the success of the plan – Safety, quality, cost, delivery and people.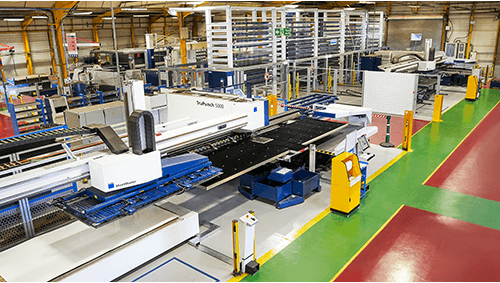 Another article followed in May 2018 where Alpha's Commercial manager Rob Eley explained the positive impact of the new investments and innovations, which by this time also included a TruBend Cell 7000 robotic folding machine.
"We have been very successful in terms of winning new business. Within a three-to four-month period we won long-term contracts to supply three new customers, each from different sectors and each with significant annual spend. The set up for these new customers was challenging from an operations perspective as they were all relatively complex products, which required high levels of assembly."
Now, almost two years on from the original feature and approaching the end of the 2020 plan, Manufacturing Today Europe have revisited Alpha to see how the precision sheet metal fabricator's project has progressed. Much has happened in the time since the first article. Not least the appointment of a new Managing Director, Paul Clews in January 2019.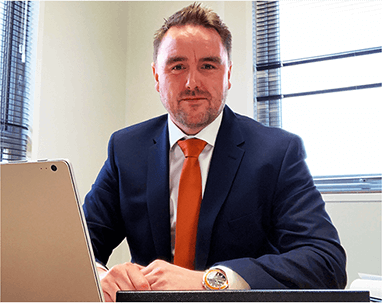 Paul reflected on the current position of the company and his vison for the future: 
"We are presently operating at industry-leading levels in terms of our key performance indicators – quality, cost and delivery – and we continue to win large new customers, including two from within the construction sector – each of which is involved in pre-fabricated, modular assemblies – and one within the IT sector, specialising in commercial server cabinets."
At the time of the latest feature, a number of exciting developments had either been recently completed or nearing completion. Alpha's staff had just relocated to a brand new, purpose built, £800,000 modern office and welfare facility. The old office space, located on the factory shopfloor had been earmarked for a dedicated stainless-steel department and work was progressing well on it's build. This isolated cell would open up new potential markets for Alpha, as it would be the first time the company could offer specialised stainless-steel capabilities. Further investment 0f £1 million had seen a state-of-the-art Salvagnini P4 Lean Panel Bender installed, vastly increasing Alpha's folding capabilities through huge increases in efficiency, flexibility and automation.
Currently, Alpha are working to complete the stainless steel cell, with new specialist stainless customers already secured and products assigned to the area. The Salvagnini is currently running and taking on more and more fold work. Training of Alpha operatives is nearing completion and the Salvagnini will soon be operating at full capacity. With the end of the 2020 plan nearing, Alpha are on target to achieve their initial goals and with exciting new enquiries arriving during early 2019, the future again looks bright for the precision sheet metal fabricators.
Alpha Manufacturing Announce Latest £1 Million Machinery Investment
Alpha Manufacturing have an announced the latest in a series of manufacturing machinery investments, which will see a brand new £1 million Salvagnini P4 Lean panel folder added to their existing CNC folding department.
This latest investment is a continuation of Alpha's long-term investment strategy which has seen installations of a STOPA storage system, TruPunch 5000 S12, TruLaser 3030 and Trubend 7000 machine take place over the past 18 months. It also comes shortly after work began to build a brand-new office and canteen facility on their 35-acre Hixon site.

Why Invest in a New Panel Folder?
The P4 Lean will replace the outgoing Amada TBZ panel folding machine which has been in operation for 15 years and will hugely increase Alpha's sheet metal folding capabilities. A host of additional features and systems have been specified with the P4 to maximise productivity and efficiency, including Salvagnini's latest interactive programming suite – Streambend, which allows programmers to run a virtual simulation of the part in a 3D environment before any material is processed. Alpha will be one of the first sheet metal fabricators in UK to use this software.
Streambend offline programming software, combined with the P4's ability to integrate with Solidworks CAD software will dramatically increase Alpha's panel folding capacity. By moving away from manual shop floor programming to offline office-based programming, Alpha will now be able to offer a much more efficient panel folding service.
Key Features of the P4 Lean:
The ABA blankholder automatically changes its configuration and its length according to the dimensions of the panel to bend without any input from an operator.
The CLA tool allows the P4 to make multiple positive and negative short bends to the same part, engaging and disengaging quickly and automatically between the blank and bending blades. This function is ideal for creating upward and downward tabs.
The P tool allows for the handling of very narrow profiles and creating tubular, hidden or radiused bends. It also allows for preformed parts to be folded easily and automatically.
MAC 2.0 (Material Attitude Correction) detects any material variations by the panel bender and, if values are outside the tolerance range, automatically compensates by adjusting the blade movements.
An automated loading/ unloading carriage positions the raw sheet in the machine whilst simultaneously pushing finished parts towards the unload conveyor.

Thanks to Salvanini's clever automated tools, the p4 is able to fold much more intricate and complex parts, where limitations to the TBZ had previously seen these types of components folded manually on press brake machines. Complex parts with details such multiple positive and negative bends, tabs or embossing have until now been manually re-positioned by an operator for each bend. The P4 however,  enables all of these to be achieved in one seamless process, dramatically reducing processing time and manual handling.
Long Term Plan
As with all of Alpha's recent investments, the P4 forms part of a long-term factory development plan which will eventually see it integrated into the STOPA storage machine. This will further automate panel folding capabilities as raw material is fed into the P4 and removed once processed without any manual handling.
 "The TBZ machine had served us well but the time came to replace it and as with all of our recent investments, we looked at the bigger picture when choosing a new machine. We don't just want a like like-for-like replacement but an upgrade which opens up new capacity and opportunities for us whilst also fitting into our overall long-term plan for the business. The P4 ticked a lot of boxes for us in terms of its capabilities and what this allows us to offer our customers."
Paul Clews – Alpha Manufacturing Operations Director
Installation of the Salvagnini P4 is scheduled for early 2019 and will take around 6 weeks to complete. In the meantime, Alpha's panel bend operatives and programmers will undertake intensive training on the new machine. Programs will be created well in advance of the machine installation so that production on the P4 can begin immediately.