Bri-Stor Group Apprenticeship Open Evening 23rd January
This year's Bri-Stor Group apprenticeship open evening is fast approaching and preparations for the event are well underway.
The annual open evening gives local students interested in a career in engineering the perfect opportunity to find out what an apprenticeship has to offer.
Starting at 5.30pm on 23rd Jan, the event is always well attended and gives prospective apprentices the chance to take a guided tour of both the Bri-Stor Systems and Alpha Manufacturing facilities, followed by a Q&A with expert engineers. Previous apprentices, many of whom are now full-time employees, are also on hand to share their first-hand experiences of the Group and to answer any questions.
Will Davies-Hill, Bri-Stor Group apprenticeship manager said of the event:
"The evening gives young people a chance to see the scope of the factory and meet the management team. Whilst on the guided tour they have the chance to decide which business would best suit their goals and set them on the career path they want. Overall a good evening and a vital first step towards employment for potential new apprentices".
If you're interested in a career in engineering and want to find out more about how an apprenticeship works, the Bri-Stor Group open evening is the perfect event for you.
Register your interest today!
Simply complete the short form  below and we'll see you on the 23rd January.
Alpha Apprentices Exhibit at Cannock Chase Technology College

Alpha Manufacturing apprentices were at Cannock Chase Technology College Careers fair last week recruiting for the next intake of engineering apprentices for the Hixon based sheet metal fabricator.
Corey Hammond and Reece Smith, who are in there first year of an engineering manufacturing apprentices at Alpha, were on hand to answer any questions that students might have.
The Cannock Chase careers fair marks the beginning of a busy period of recruitment for Alpha and the Bri-Stor Group, with a busy calendar of events, culminating in the Bri-Stor Group apprenticeship open evening on the 23rd Jan 2019.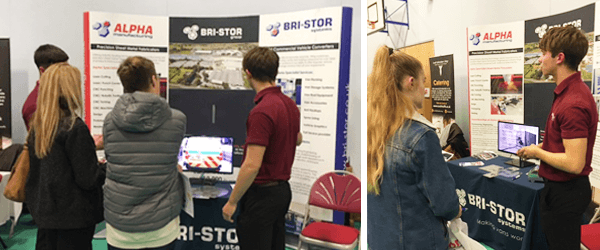 Group apprentice manager William Davies-Hill was at the Cannock Chase College and was impressed with the young apprentices he took along.
"It's great to see these young guys talk so confidently and positively about their experiences throughout their apprenticeships so far. It's far more effective for young people to hear it from their peers who are currently living the apprenticeship than from myself. They do a great job whenever they represent us and it makes me proud."
2018 was the most successful apprenticeship recruitment drive in the Bri-Stor Group's history, with a record number of apprentices joining either the Alpha Manufacturing or Bri-Stor Systems programme. This year, the Group are looking to recruit a further 15 across the two companies.
The Bri-Stor Group apprentice open evening is open to student who have an interest in an engineering apprenticeship, along with their parents. The evening will be held at the Group 's Hixon site on January 23rd and will consist of a meet and greet, factory tour and Q&A sessions. If you'd like to attend, please complete our short registration form.
Bri-Stor Group Apprentice Training Facility Completed
A brand-new apprenticeship training facility was completed this week after a 6-week project to build the dedicated learning centre, which will be the home of all Bri-Stor Group apprentices during their studies.
The new facility will provide the perfect environment for the young engineers to complete any theory-based aspects of their NVQ work, receive internal and external training and work on group projects such as the soapbox and Caterham projects. Equipped with network and internet access, computer work stations and projectors, the facility has everything needed to give Bri-Stor Group apprentices the best opportunity to learn and succeed throughout their training.

Previously, group apprentices had utilised various facilities and meeting rooms around the Bri-Stor site to complete training and coursework. The obvious logistical issues of sourcing these facilities within a busy working environment meant that a dedicated space was required. The next intake of young apprentices, due to join from the JCB academy during September will now benefit from a dedicated quiet space to learn.
Bri-Stor Systems apprentice manager William Davies-Hill commented:
"This new facility will give the apprentices a hub to conduct all non-practical elements of their studies, so any presentations, training or project work can be completed here. It's going to be really beneficial to future apprentices in terms of their learning and development and personally I'm delighted to have the facility."
The Bri-Stor Group apprenticeship scheme has grown form strength to strength since its inception in 2010 with a year on year increase in both applications and course completion. Today, 42 apprentices are studying toward an NVQ qualification across the group, including several higher apprentices in both  Alpha Manufacturing and Bri-Stor Systems.
Alpha Apprentices Visit Wolverhampton University School of Engineering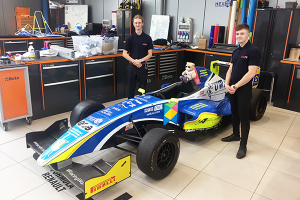 Alpha Manufacturing apprentices Sam Weaver & Owen Jones were last week invited to Wolverhampton University for a tour of their school of engineering and UWR Motorsport facility.
With both Owen & Sam soon to start further education in the form of Mechanical & Manufacturing Engineering and Electrical Engineering courses respectively, the visit gave them valuable insight into a wide range of advanced manufacturing techniques.
The two young engineers where given the opportunity thanks to the ongoing relationship between the Bri-Stor Group, of which Alpha are a part and the UWR team. Over the past few years the group has supported both F3 and formula student teams with graphics supplied by Hex Signs & Graphics and various vehicle components manufactured by Alpha.
The UWR programme offers young engineers a unique opportunity to combine theoretical studies with real world, hands on engineering within a competitive environment. Competing in a range of championships including the F3 cup, Formula Student Cup, AR Morgan Challenge and British Hill-climb Championship, the UWR team relies heavily on sponsorship and support from companies such as the Bri-Stor Group.
Alpha Apprenticeship Programme Developing Young Talent.
Alpha's commitment to developing young engineering talent through our apprenticeship programme continues to pay dividends as apprentices from the 2016 intake begin to make a real impact within the business and build solid foundations to their own careers.
As Alpha's 2016 group of apprentices complete their official training and move into full time employment with the business, they begin their career in earnest as they start to develop individual skillsets and specialise in specific areas.
Some, for example have shown an aptitude towards programming and are set to begin RADAN training which will equip them with the skills needed to work within the office programming team. Others, such as Faisal Kahn will take on greater responsibilities within specific departments. Faisal spent time working alongside Alpha's dedicated Robotic fold programmer on the TruBend 7000 machine and will now take on greater responsibility in this area, able to run the machine solo going forward thanks to his rapid progression.
Two members of the class of 2016 will go one step further, undertaking additional education alongside their work with Alpha to achieve extra engineering qualifications which will help them further specialise in their careers. Owen Jones will be attending Stafford College as of August this year, where he will be studying towards a level 3 NVQ in electrical engineering over 3 years. During his apprenticeship with Alpha, Owen has developed impressively, showing particular potential in electrical engineering having worked alongside Alpha's maintenance manager for the past 6 months in tending to Alpha's machinery and systems repairs.
"I've really enjoyed working on all the different machinery around the factory and learning how different things work. Once I finish my college course I want to take different courses specific to each machine so I know them inside and out. My ultimate goal is to become an Alpha maintenance manager and be responsible for keeping the factory working."
Sam Weaver will also be undertaking further education at Derby University, where he will take a 3-year foundation degree in mechanical and manufacturing engineering which will see him progress onto a masters degree in manufacturing and production. Sam has already begun to make an important contribution to Alpha's operations by creating a 5S implementation plan which he's delivering to all departments through a series of 1-hour training sessions. Once training is complete, Sam will be responsible for ensuring that 5S disciplines are implemented and adhered to around the factory shopfloor regularly, with the aim of improving organisation and ultimately productivity.
 "The training has been really well received so far and people seem enthusiastic to improve their organisation and efficiency. I'm looking forward to seeing the work I'm doing at the moment start to take effect within the company over the next few months. Once I've completed all the training sessions, there'll be a series of shutdown days where we can really start to implement the changes."
The impressive progression of these Alpha apprentices is further vindication of the company's commitment to training and development, with young engineers already showing the promise that they can contribute positively to the business. With the 2018 intake just recently beginning the theory portion of their apprenticeships with the JCB academy, Alpha are already anticipating another fresh influx of raw engineering talent ready to be moulded when they begin their practical training at the manufacturing facility.