The first units of a new range of integrated sanitisation stations were produced this week, ready for distribution into the stores of a leading UK retail brand. 
The products, which are an evolution of the sanitiser units manufactured by Alpha for a POS supplier in recent months, combine sanitiser dispenser, paper towel unit and waste bin into one convenient hygiene station. Manufactured primarily from 1.2mm steel, finished in the brand colour of ultra-marine blue and fully decaled, they offer a durable, smart looking hygiene solution for supermarkets.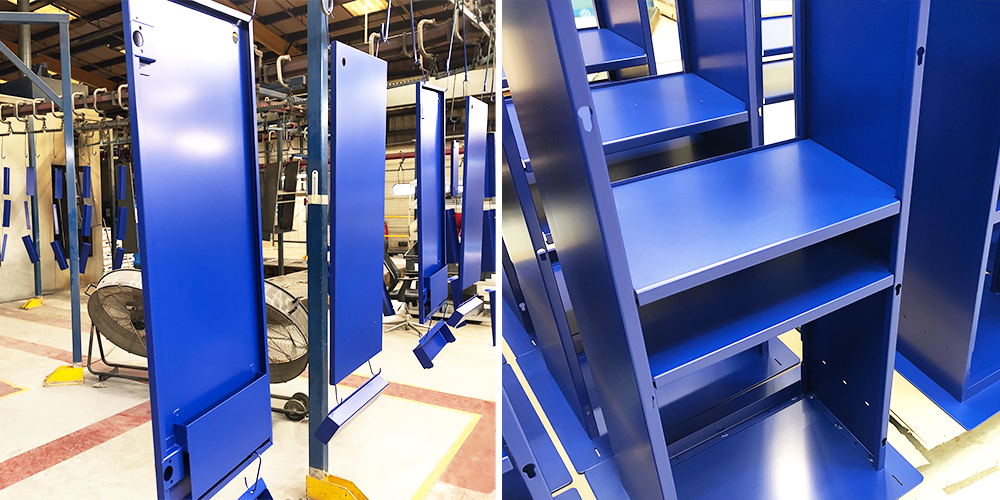 Alpha's customer, a leading merchandise and Point of Sale supplier, originally got in touch in the summer of 2020 amid the first UK lockdown as demand for COVID-19 protection products surged. The initial order saw Alpha produce 3500 hand sanitisers predominantly for the leisure and hospitality sector as the UK Government planned its re-opening of UK pubs and restaurants. Alpha quickly stepped-up operations to meet the unprecedented demand and at peak production, 450 units per day were rolling off the production line.
Since then, Alpha's relationship with the customer has developed as demand for COVID protection products has remained high, with organisations from all sectors taking action to make themselves COVID-secure. With retail brands now looking for more permanent, functional hygiene solutions for their store entries, this new unit will start to be distributed across the UK, helping shoppers stay safe.
With the first samples now signed off by the customer, Alpha's assembly teams are ramping up production and will be completing 100+ units each day, with thousands required in total. Be sure to make use of them as they appear in your local supermarket in the coming weeks and stay safe.