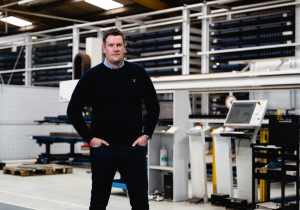 Neal Lafford has been promoted to the role of Operations Director at Alpha Manufacturing, after joining the business 10 years ago as Business Improvement Manager.
After starting with Alpha Manufacturing in 2012 Neal has been instrumental in helping the business expand its capabilities, in fact it's Neal's process improvement expertise that was the catalyst for his promotion to Operations Manager in 2018. In this role, Neal oversaw all areas of production quality and engineering and his many and continued successes have led him to this new directorship.
As Operations Director, Neal will work closely with Commercial Director Robin Eley, and Managing Director Paul Clews to continue to bring operational excellence to Alpha and to bring the business closer to its industry 4.0 goals.
Speaking about Neal's promotion, Paul Clews said: "This move to directorship is well deserved and recognises Neal's dedication in his role as Operations Manager.
"Neal is someone who in the past 10 years, has worked tirelessly to expand our capabilities, improve processes and used his expertise in lean manufacturing and process improvement to oversee the implementation of key machinery as well as lead a large, expert team.
"In his new role, I look forward to working with Neal on strategy creation and implementation and our industry 4.0 objectives. I have no doubt that Neal will achieve great things in the role and continue to take the company from strength to strength as we continue to grow, with the opening of our new Chemical Technologies development opening next year."
Neal said: "My time at Alpha has been full of career defining moments, and after starting almost 10 years ago as Business Improvement Manager, I have learnt so much and feel I have grown with the business. I still get a buzz every time we implement a new process or expand our capabilities with new machinery, and I am proud of my contribution to Alpha's continued success.  I look forward to developing new strategies that will further enhance our reputation as a world-class manufacturer."