Joining us back in 2015, Lewis Grant is a perfect example of an apprentice success story.
Lewis completed his apprenticeship with The HEX Group in 2019 and has since been working as a key member across a wide range of areas of Alpha Manufacturing.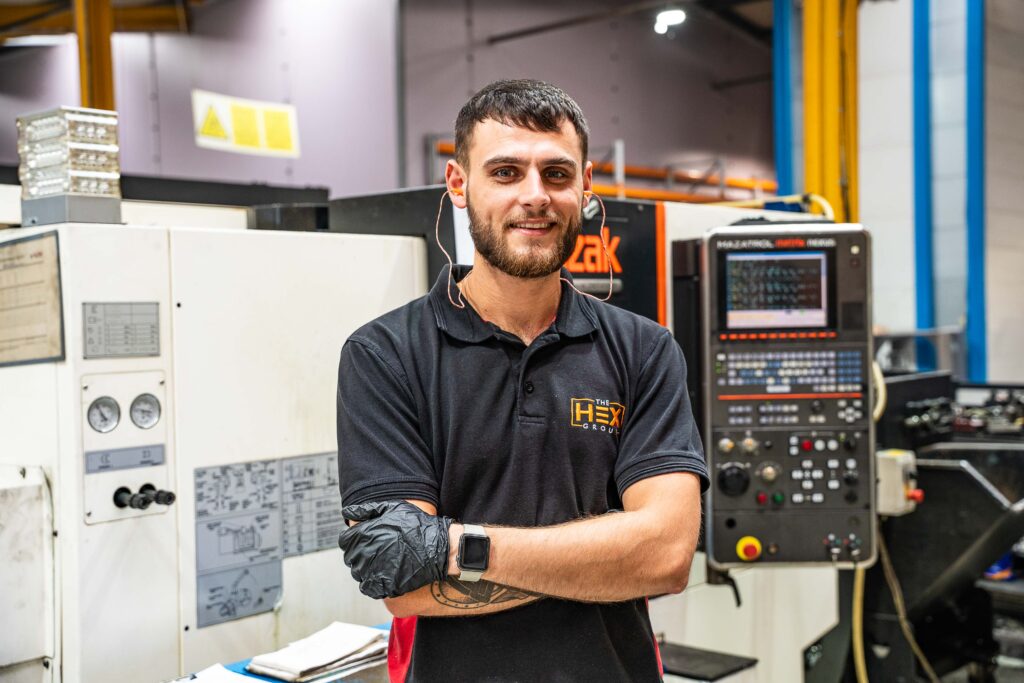 From quality control, robot welding, assembly, welding, and lathe and miller work, Lewis has learned skills during his time here that have set him up to be able to work on virtually any project at hand. He thrives on a challenge and enjoys taking on new projects that require new skills that he can learn, making him such a valuable member of our team.
Currently, Lewis works as a machine operator and programmer in our lathe and miller area. Here, he takes pride in keeping his area tidy and safe whilst setting up the machines and changing the tooling for each different project. To ensure that the work produced in the area is up to scratch, Lewis also runs his own inspection against specified drawings.
Looking to the future, Lewis has his sights on continuing his progress within Alpha Manufacturing and The HEX Group. Currently, his goal is to work up to taking on a team leader role and eventually progress to management.
The team within The HEX Group and Alpha Manufacturing are here to help Lewis along the way; speaking about his team, Lewis said:
"I feel I am supported quite a lot, especially by my manager. Having a good relationship between managers and employees on the shop floor is so important. It encourages all to go that bit further when we feel we are appreciated. I find nothing I ask for is too much, and they're always willing to help and understand situations, which in return makes me want to be an adaptable employee."
When he's not at work, Lewis spends his time staying active by going to the gym and playing for a football team. His goal for the future is to go travelling and see as many countries as possible.
Thanks for all the amazing work you do, Lewis, from all of us here at Alpha Manufacturing and The HEX Group!