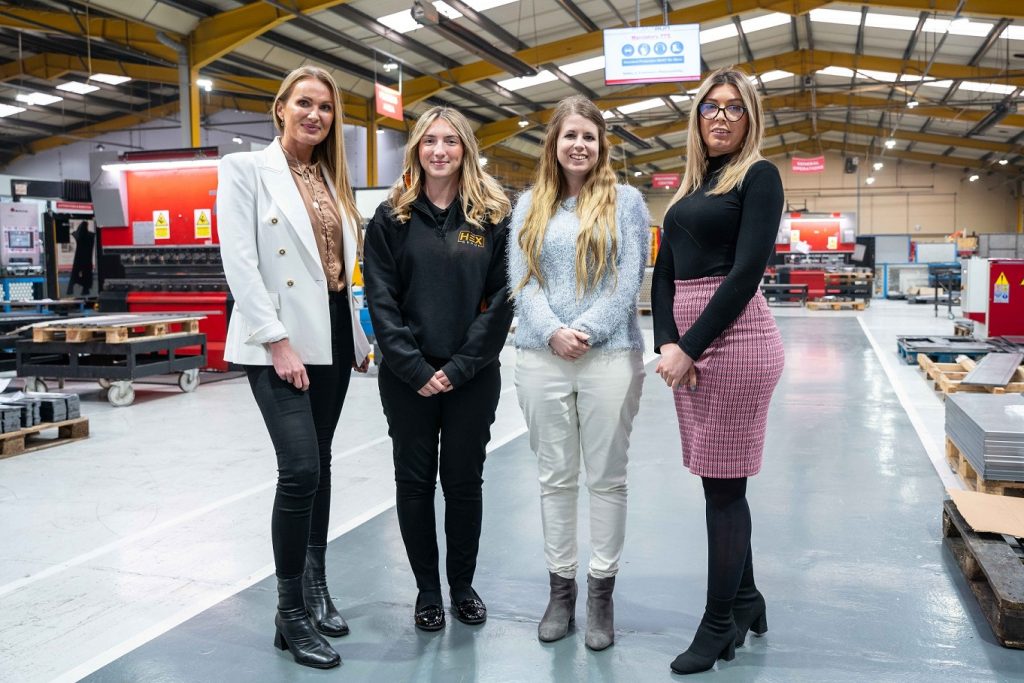 Meet the Alpha Manufacturing Planning team, which plays a crucial part in the smooth running of the business, and working closely with other divisions within The HEX Group to make sure customer orders are processed accurately and on time.
Promoted to Planning Manager in September 2022, Joanna Sitek leads the team, and they're a force to be reckoned with. Initially joining the business in 2007 as a CNC Machinist, she has tackled many roles, from operating machines on the shop floor to working in the planning department.
Now responsible for planning all of the Alpha Manufacturing order book, including external sub-contract work and inter-company orders for the Bri-Stor Systems division, Joanna has to work closely with several other teams internally to ensure required deadlines are met. Alongside estimating and planning orders, she sets up bill of materials and routings as per technical drawings and releases works orders ready for production. She's also working on few projects at the moment, which should automate some of the current manual processes and hopefully significantly improve on time efficiency.
Joanna says, "I am really enjoying my role as Planning Manager, but it can sometimes be challenging. Now responsible for a team, I have to ensure I'm supporting them while completing my work."
In her spare time, Joanna loves to travel. Born in Poland, Joanna returns home five or six times per year to visit family. She looks forward to holidays in Italy and Cyprus later this year. Also big into her fitness, Joanna loves to train when she has the time.
Ancuta Bosioc is Planning Production Assistant. Initially joining the business in 2019, Anca worked in product assembly on the shop floor before moving into the Alpha Manufacturing office and working in Planning. Her role includes placing orders on the system, creating part numbers, scheduling jobs and releasing paperwork for production.
Born in Romania, Anca came to the UK in 2015 to work as a strawberry picker. She fell in love with the country and has never looked back. She loves hiking with friends and is currently studying for a Business Management degree, attending Bedfordshire University every week.
Also, part of the team is Lizzy Graham, Data Entry Clerk/Planning Admin. She came into the business via an agency in January 2021 before taking a permanent contract in April 2021. Responsible for entering purchase orders, setting up parts and updating the order book, she ensures that admin duties are conducted accurately and efficiently.
Lizzie says, "I really enjoy my job, especially setting up multi-component assemblies which I find very interesting."
With a love for creative writing, Lizzie has written three adult fiction books and currently working on number four. Published herself on Kindle Direct, you can check out Lizzie's books called Survival. In her spare time, she also loves to listen to music and designing houses and clothes.
And finally, we have Charlotte Allen, a Level 3 Support Technician Apprentice who is supporting the team with a special project to improve processes and automation within the function. Primarily helping with administration, Charlotte is working closely with the rest of the team and learning a lot about the planning operation along the way.
Charlotte joined The HEX Group in 2021 after spending one year at JCB Academy doing an apprenticeship. She says, "Being at The HEX Group feels like a family. There is always someone to help and support me."
Charlotte has a keen interest in moving into sales or marketing upon completion of her Level 3 apprenticeship and would love to study for a degree in one of these disciplines.
In her spare time, Charlotte enjoys spending time with her friends, listening to Indie music and travelling. She has a few holidays planned already but is excited about a Christmas trip to New York with her family.