Alpha were recently approached by Synetica – a leading UK wireless monitoring and analysis company, to produce a new range of high-end stainless-steel sanitizing units.
The units were required to help combat the ongoing COVID-19 crisis and have been designed specifically for higher specification environments such car showrooms or retail environments. The customer required a durable, yet aesthetic product which would fit well within a sleek setting.
For this reason, the units were manufactured by Alpha's dedicated stainless-steel department, in a sterile environment, from grade 304 stainless steel before being bead blasted to a high-quality matte finish. The completed unit will be fitted with motion sensitive sanitizer dispenser for contactless use, making them as hygienic as possible for the user.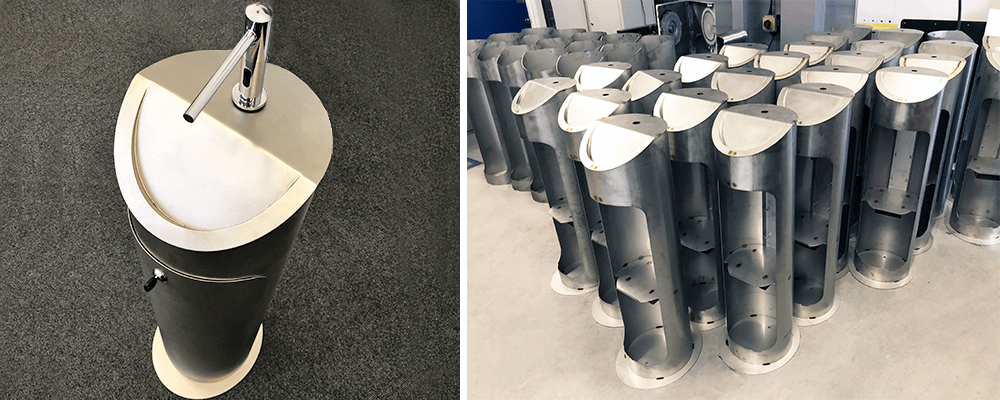 An initial 100 units have been manufactured, with potential for more, dependent on demand from the retail sector. As COVID-19 prevention becomes part of the "new normal" many businesses are looking for solutions which not only address the issue but can actually enhance the customer experience. Increasingly, companies are realizing that a stylish, well designed hygiene station can add much more in this respect than randomly placed santizer bottles at the door, for example.
This latest project follows an influx of orders for sanitizing and social distancing products form Alpha as a result of the Coronavirus pandemic. These include commercial vehicle interior protective screens, queuing screens and one huge order of 3500 hand sanitizing units for the leisure & hospitality sector ahead of the recent reopening of pubs and restaurants.