In July 2003, Craig Gadsby joined Alpha Manufacturing as a Punch Operator whilst studying Mechanical Engineering at college one day a week.
Craig's career began when the business was based on the Hixon Airfield estate, but due to expansion in 2006, Craig played a crucial role in the business re-location when they moved to their current location on Pasturefields Lane. Alpha Manufacturing is a division of The HEX Group, employing over 500 people.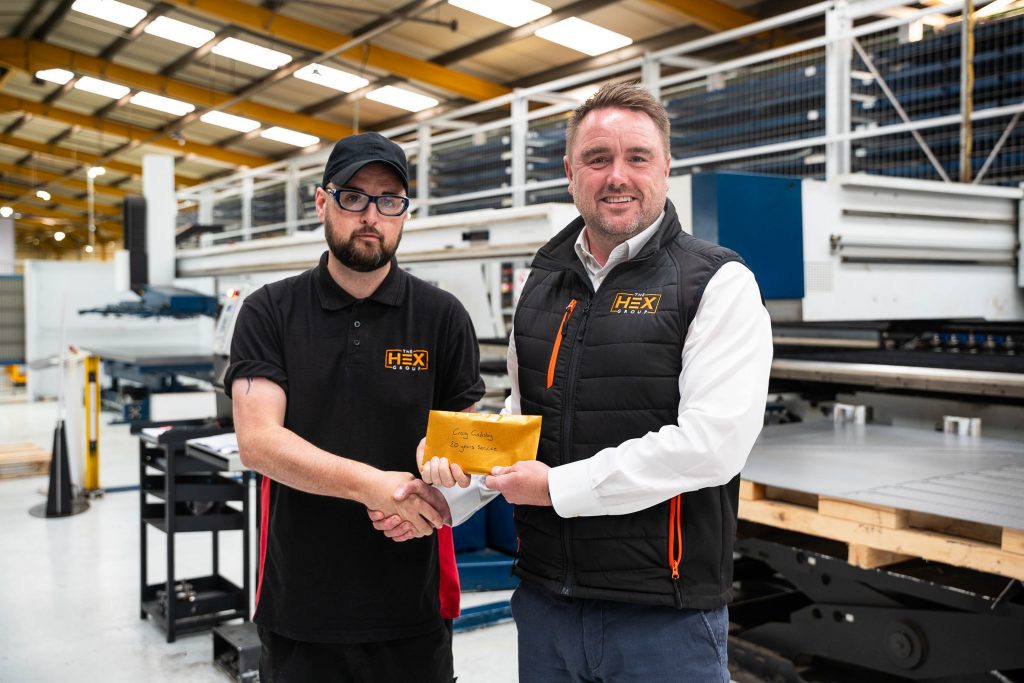 Twenty years later, Craig is the longest-serving Punch Operator with a mound of punch and lasering knowledge on some of the world's best-known punch machines, including Amada, Pull Max and Trumpf. His knowledge of these machines is second to none, and Craig is instrumental in training colleagues.
In 2017, Alpha Manufacturing invested in its first STOPA large-scale storage system, which Craig remembers well, commenting, "The STOPA system was a significant investment to the company and made a massive impact on the punching process. We now have an automated system for part-picking material in and out of the machines instead of manual feeding. This took our manufacturing capabilities to another level and improved efficiencies massively. It was an exciting project to be involved in".
Over the years, Craig Gadsby has been at the forefront of witnessing the business grow and grow with it. Craig comments, "With every new work contract obtained you automatically adapt – the development in machine technology, the progressive training and the additional responsibility. Sometimes, until you stop and step back, you do not realise how far the business has come".
Craig works on a continental shift pattern, four on, four off, 6 am – 6 pm but has worked various shift patterns over the years.
Outside work, Craig enjoys 5-a-side football once or twice a week when he's not on shift! Socialising with friends and family is also at the top of the list for Craig.
Congratulations on your 20 years of service, and we look forward to celebrating the next 20!