The Group is supporting Staffordshire company Robust to take on its first ever apprentices
Staffordshire manufacturing and engineering company, Bri-Stor Group, is expanding its successful apprenticeship programme by preparing to take on a record number of apprentices and higher apprentices as well as opening its doors to train and support other local companies' apprentices.
The Group, which includes companies; Alpha Manufacturing, Bri-Stor Systems, Atlas Coating and HEX Graphics, has invested in
its apprenticeship scheme for over 10 years, with a 100% pass rate upon completion of the course for the over 100 apprentices. This is largely due to its investment in a dedicated on-site learning suite and the appointment of an experienced Apprenticeship Manager.
Building on this success, the Group is now looking to expand its apprenticeship offering to include Level 2 and 3 engineering apprenticeships, as well as level 3 apprenticeships in other sectors and business roles from around the business including marketing, signage and graphics as well as Higher or Degree Apprenticeships, all of which they will be recruiting for 2022 intake.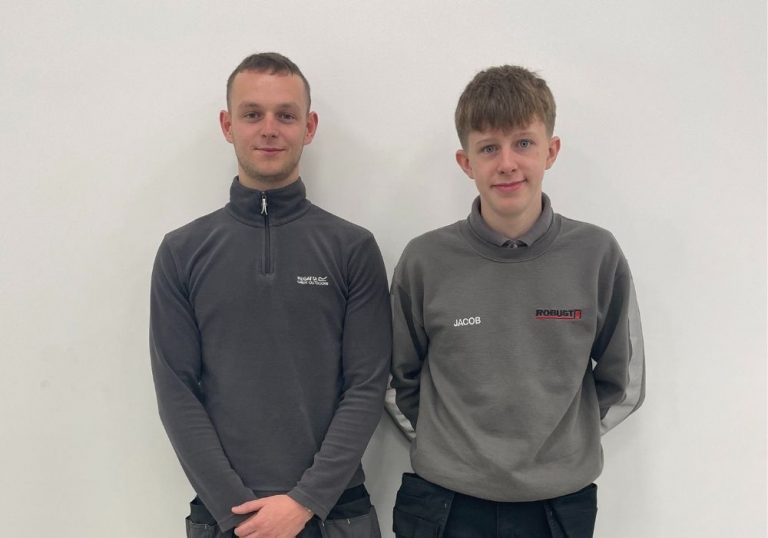 As a part of this growth, the Group has already supported local steel fire and safety door manufacturer Robust to take on two of its first apprentices this September. Bri-Stor Group Apprenticeship Manager Will Davies-Hill will be supporting these apprentices throughout their three years training, as they take part in the Groups Apprenticeship Scheme, working in collaboration with The JCB Academy. The Group now hopes to be able to offer this training and support to more companies wanting to take on apprentices for the first time.
Robust Managing Director David Lycett, said: "As our business continues to grow, it is top of our strategic agenda to invest in young talent. We turned to the Bri-Stor Group for advice and felt immediate synergy, sharing the same growth ambitions, equally committed to creating opportunities for young people seeking an ambitions and exciting career in manufacturing.
"With the support of the Group, we have managed to onboard our first two apprentices and already have plans to take on more in 2022. Having access to the expertise of Will Davies-Hill, and utilising the collaboration with the The JCB Academy for the classroom aspect of the course, has been invaluable to us. We hope that with our continued collaboration, we will be able to grow our apprenticeship programme and therefore our workforce with driven and skilled young people."
Group Apprenticeship Manager, Will said: "It is always an honour to support young talent through the apprenticeship programme and to see
them move on to reward and exciting careers within the Group, many of whom end up in senior management roles within our company.
"As we grow our operations, it makes sense to share the apprenticeship expertise we have accumulated in the last decade with other firms that share our passion and energy.  As we get through the pandemic, never before have we been so committed to supporting other firms looking for ways to futureproof their workforce.  Over time, we hope to be able to offer our experience and expertise to other local businesses.
For companies interested in finding out more about Bri-Stor Group Apprenticeship Programme support, contact apprenticeships@bri-stor.co.uk