Leading Staffordshire manufacturing business Bri-Stor Group, consisting of companies; Bri-Stor Systems, Alpha Manufacturing, Atlas Coating and HEX Graphics, has made a Christmas donation of £6,560 to its charity partner Katharine House Hospice.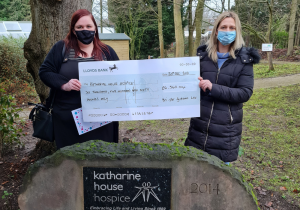 The money has been raised throughout the year in a variety of fundraising activities, such as the most recent Christmas Jumper Day and Bake Off.
Katharine House Hospice provide a range of services which offer holistic care and support for people with advanced life-limited conditions across mid-Staffordshire and has been Bri-Stor Group's official charity partner since 2020, chosen through an employee nomination process, and since then Bri-Stor Group has donated hand sanitiser units to the hospice as well as completing fundraising events such as a Unicycle Challenge.
On Monday 20th, the donation was handed over by Group HR Officer Jordanna Renshaw to Katharine House Hospice Senior Fundraiser Kelly Day. Kelly Day said: "As a hospice that does not charge for our care services, we rely on the kindness and generosity of the local community to help generate 2/3rds of the funds needed, almost £3m each year, to continue our care.
"It is businesses like the Bri-Stor Group which enable us to be able to continue to deliver the support that our patients really need. This generous donation will go towards continuing to provide our care services, such as patient at home visits and in-patient care at our 8-bed unit. We can't thank the team at Bri-Stor Group enough for their continued support."
Jordanna Renshaw said: "It was an honour to be able to deliver this donation to the charity today. Katharine House Hospice is close to the hearts of many of our employees, and it's through them that these funds have been raised. A special thanks to Production Manager Rob Waterman and Key Account Manager Hannah Adams who have been instrumental in raising these funds.
"We hope our donation helps the charity in continuing it's vital care services across mid-Staffordshire."