The Alpha Manufacturing production team has grown again with the appointment of Nick, who previously worked at JCB for 11 years, most recently as a Manufacturing Group Leader managing a large team in the load-all division.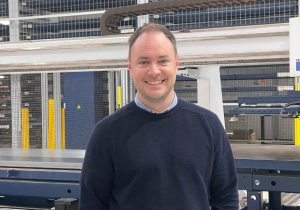 Nick's new role involves him overseeing all aspects of manufacturing operations and production processes, working with Operations Manager Neal Lafford, to ensure smooth production of parts and operational functions.
Nick's appointment comes at a busy time for Alpha, as the company continues to grow its order book, expand its processes with new technology investments, and with the opening of two new sites, including the latest development in build, Alpha Manufacturing Chemical Technologies.
About his new role, Nick said: "I'm someone who continually wants to grow my skills and learn, so  I'm really looking forward to getting to know this new business. Having worked in the manufacturing industry for many years, one thing I have never worked on solely is sheet metal, so it's the perfect challenge for me to get to know these new processes and machinery.
"One of the things I am already enjoying about Alpha is the variety of our customer base and the scope of innovative projects the company is working on. There's a real family feel about his company that is unique, and I'm already proud to be a part of it."