Production Engineer Gemma Smith also awarded Young Employee of the Year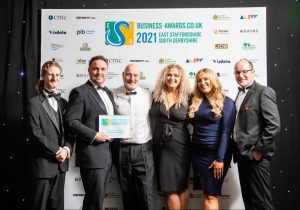 Staffordshire sheet metal manufacturing company Alpha Manufacturing is celebrating its achievements after being named 'Manufacturer of the Year 2021' at the East Staffordshire and South Derbyshire Business Awards. Commended at an awards ceremony held on 11th November at the Pirelli Stadium in Burton, the fabrication company was recognised for its innovation during the pandemic, where the business quickly geared up its operations to support production of Covid-19 safety products, including hand sanitiser stations and protection screens used in NHS testing centres across the UK.
Alpha Manufacturing Production Engineer and former Higher Apprentice, Gemma Smith was also recognised at the awards evening, taking home the prestigious Young Employee of the Year award. The judges commended Gemma for her many achievements which include inspiring the next generation of engineers, raising awareness of women in engineering and apprenticeship routes, as well as her charity work which includes climbing Mount Kilimanjaro to raise money for an African children's charity and taking on a Unicycle challenge to raise funds for Alpha Manufacturing's charity partner and local hospice Katherine House, all whilst completing her degree.
Not only did the company take away these two awards, but it was also recognised as Highly Commended in the Best Use of Innovation or Technology category for its work towards Industry 4.0 Smart Factory goals, including implementing new technology and machinery such as the STOPA storage system which is the longest in the UK.
Talking about the win, Alpha Manufacturing Managing Director Paul Clews, said: "This award is a testament to the hard work and dedication of our team. It's the people that make a business and without them, we wouldn't be winning this award.
"During the pandemic, we kept production moving on essential items and within three months had the whole workforce back working within regulations, namely on Covid-19 safety products. To think that the products made here in our Hixon facility have helped to keep the UK safe as the country opened up again, and to continue to see these products helping to keep the country moving, makes me incredibly proud.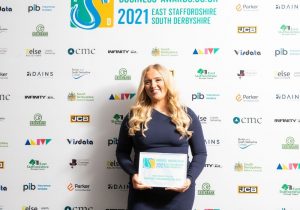 "A massive well done to Gemma too, who was our first ever Higher Apprentice here at Alpha, and who has continually pushed herself to be an exceptional role model to other young engineers. She always goes above and beyond in her role and is a real asset to our team."
On winning the Young Employee of the Year award, Gemma Smith said: "I was totally speechless when they announced my name – I just couldn't believe it. All of the other finalists were so worthy of winning, and so I was glad that I was able to share the stage with them.
"I just hope with this award I can show other young people, especially young women, what can be achieved through apprenticeship routes and to inspire people to go into engineering. I'm so lucky to have had the support of Alpha Manufacturing who not only funded my education but helped me every step of the way."