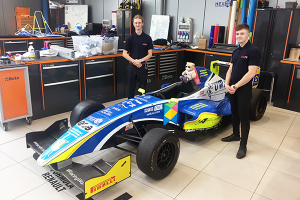 Alpha Manufacturing apprentices Sam Weaver & Owen Jones were last week invited to Wolverhampton University for a tour of their school of engineering and UWR Motorsport facility.
With both Owen & Sam soon to start further education in the form of Mechanical & Manufacturing Engineering and Electrical Engineering courses respectively, the visit gave them valuable insight into a wide range of advanced manufacturing techniques.
The two young engineers where given the opportunity thanks to the ongoing relationship between the Bri-Stor Group, of which Alpha are a part and the UWR team. Over the past few years the group has supported both F3 and formula student teams with graphics supplied by Hex Signs & Graphics and various vehicle components manufactured by Alpha.
The UWR programme offers young engineers a unique opportunity to combine theoretical studies with real world, hands on engineering within a competitive environment. Competing in a range of championships including the F3 cup, Formula Student Cup, AR Morgan Challenge and British Hill-climb Championship, the UWR team relies heavily on sponsorship and support from companies such as the Bri-Stor Group.