Alpha Manufacturing apprentices were at Cannock Chase Technology College Careers fair last week recruiting for the next intake of engineering apprentices for the Hixon based sheet metal fabricator.
Corey Hammond and Reece Smith, who are in there first year of an engineering manufacturing apprentices at Alpha, were on hand to answer any questions that students might have.
The Cannock Chase careers fair marks the beginning of a busy period of recruitment for Alpha and the Bri-Stor Group, with a busy calendar of events, culminating in the Bri-Stor Group apprenticeship open evening on the 23rd Jan 2019.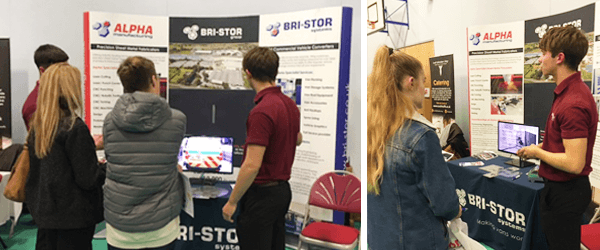 Group apprentice manager William Davies-Hill was at the Cannock Chase College and was impressed with the young apprentices he took along.
"It's great to see these young guys talk so confidently and positively about their experiences throughout their apprenticeships so far. It's far more effective for young people to hear it from their peers who are currently living the apprenticeship than from myself. They do a great job whenever they represent us and it makes me proud."
2018 was the most successful apprenticeship recruitment drive in the Bri-Stor Group's history, with a record number of apprentices joining either the Alpha Manufacturing or Bri-Stor Systems programme. This year, the Group are looking to recruit a further 15 across the two companies.
The Bri-Stor Group apprentice open evening is open to student who have an interest in an engineering apprenticeship, along with their parents. The evening will be held at the Group 's Hixon site on January 23rd and will consist of a meet and greet, factory tour and Q&A sessions. If you'd like to attend, please complete our short registration form.