For businesses, as with every aspect of day-to-day life, the COVID-19 pandemic brought many unavoidable challenges, the like of which had never been seen before. Yet, there were opportunities scattered amongst the trials, some of which as a business, Alpha Manufacturing was able to adapt and rise to within mere weeks.
As lockdown took force, Alpha Manufacturing kept essential work moving while still enforcing safety regulations by reducing to a skeleton shift on the factory floor, and with office staff working from home to safeguard our employees. As the situation developed, demand for COVID-19 protection products soared and we adapted our manufacturing approach rapidly to meet the surge in demand for our expertise and capability.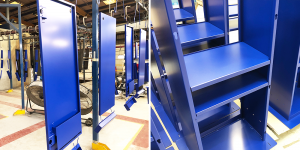 Within weeks of the first UK lockdown, the Commercial Team were approached by a retail display company who had an urgent demand for 3500 hand sanitization units for the leisure and hospitality sector. We were able to quickly set up production lines to manufacture and assemble 450 units per day. Since this initial project, Alpha has built a relationship with this customer, collaborating to develop the design of a second-generation sanitizer and combined cleaning unit at a rate of 150 per day.  The end-client is a leading UK supermarket with c.7000 stores nationwide.
Another customer win during the UK lockdown was a Staffordshire-based internal partition screen supplier who was struggling to meet the surge in demand for their products. An initial requirement of 1250 COVID screens were produced at a rate of 300 per week and again, the relationship has developed since, with further screens produced by Alpha for various purposes including NHS testing stations.
We maintained a supply to those customers connected to healthcare and when required, quickly implemented robust safe working practices so that we could quickly up-scale operations in line with our customers' demand.  We are an agile business and there is no better illustration of this than our ability to 'gear-up' and switch our focus towards supporting new partnerships while maintaining momentum and supply certainty with our existing customers.
A year later, and we are still working hard on multiple orders of the COVID safety products for these customers and new ones, with new orders coming in all the time. Working closely with our customers, we have designed and developed updated versions of the product with our in-house team of innovators.
Commercial Director, Robin Eley heads up the team who are the first point of contact for our customers: "The events of the past year have
allowed us to forge even stronger relationships with new and existing customers, supporting with urgent requests to keep essential services moving, such as hand sanitisers and vehicle partition screens.
"During this time, our team worked tirelessly to design, produce and deliver these critical items for our customers. Throughout the whole process, we worked hand in hand with our customers, making sure the products were to the top quality they could be, even whilst working with the reduced staff and with supply chain issues brought about by the pandemic.
"Now, a year on, after building strong relationships through this difficult period, we are still the trusted partner for our customers. Every day we receive orders for the COVID safety products first produced last year, from new and loyal customers."