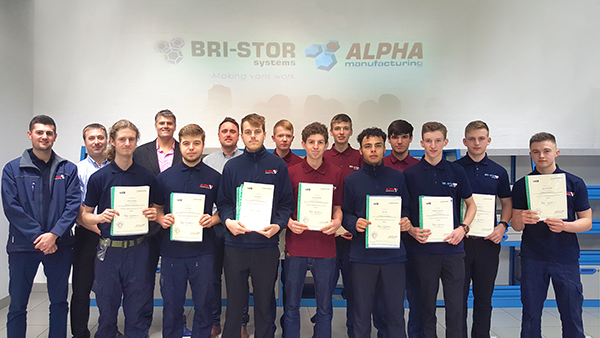 The young group gathered at Bri-Stor Group offices to be handed their certificates by Group Director Martin Smith, proudly watched by apprentice managers Stephen Bowen and Will Davies Hill who have mentored the group since they first arrived.
Martin commented afterwards:
"They have all worked really hard so far, taking on everything we've asked of them and should be extremely proud of themselves today. For me it's also a proud day as I know that the future of our business depends on young engineers like these and it makes me certain that we're heading in the right direction"
Both Alpha Manufacturing and Bri-Stor Systems apprentices were all awarded the same NVQ Level 2 in Performing Engineering Operations award. Alpha's second year apprentices: Josh Boothroyd, Owen Jones, Faisil Khan, Alex Lewis, Ashley Roadley, Sam Weaver and Ryan Yates. Bri-Stor System's group consisted of: Christopher Golding, Adam Goodey, Joshua Lammond, Reuben Murcott, Alex Orme, Lewis Parker, Tayler Renshaw, Sam Thompson and Harry Wright.