Gemma Finally Completes Her UNI Challenge.
6 months after first committing to her incredible challenge, Gemma Smith has finally been able to complete it following the UK lockdown.
Back in February, Gemma was set a unique challenge, as a joint celebration of her University graduation and a fundraising activity in support of the Bri-Stor Group 2020 charity partner – Katharine House Hospice. The UNI Challenge was set; Gemma would learn how to ride the Unicycle over a three-month period, before completing a 600-meter journey through the Alpha and Bri-Stor factories.
From shaky beginnings, Gemma gradually started to master the Unicycle, practicing at home with friends over a two-month period. By late March she was nearly ready to take on the factory challenge but as the COVID-19 situation developed and the UK lock-down subsequently came into place, plans were put on hold. Following Alpha's return to work after the lockdown, Gemma dusted off the Unicycle, re-started practicing and was soon ready to take on the challenge again.
This week, the whole of Alpha and Bri-Stor downed tools briefly to support Gemma as she glided gracefully (ish) around the gangways of the respective factories on her red unicycle. Starting at the entrance to Alpha, she travelled through the laser department, passed the CNC folding machines, through the turning & machining area, up a long ramp into Atlas Coating, past the assembly department, up another slight ramp into Bri-Stor and passed row after row of light commercial vehicle conversions, finishing, finally at Bri-Stor prototyping department – 600 meters from where she'd begun and very out of breath.
Speaking shortly after, Gemma described how she felt on completing the incredible feat.
"I was so emotional straight after; it was like a relief. Everybody followed as I went and were all at the finish line applauding and cheering. I'm really proud because at the beginning of practice I couldn't even get on the Unicycle! Now I just want to get to my fundraising target because it's such a good local cause. I'm really close and I'll definitely be chasing people up for promised donations because that was really hard work."
This is the first of many planned fundraising events that the Bri-Stor Group have been able to complete this year for Katharine House due the events of 2020 so far. However, we're still committed to supporting the incredible work they do locally providing vital holistic care and support services for people with advanced life-limiting conditions across Staffordshire.
If you'd like to support Gemma and Katharine House, please click below to visit her JustGiving page and make a donation.

Hand Sanitiser Units Donated to Katharine House Hospice
Alpha Manufacturing recently donated these hand sanitisation stations to charity partner Katharine House to help them safeguard patients, staff and visitors.
COVID-19 prevention products have been in high demand of late as the country adapts to the "new normal" and business from all sectors implement safeguarding measures. Alpha have produced various sanitisation products as well as vehicle partitions and a range of internal safety screens. These hand sanitisers had been produced for a leading UK retail display supplier who had an outsource manufacturing requirement due to the unprecedented rise in demand for sanitisation products.
With the customer's consent, Alpha manufactured these additional units and with the help of Hex Signs and Graphics, who supplied vinyl graphics and JR Industrial who provided sanitisation liquid, donated them to Katharine House. The Stafford based hospice have been charity partners of Alpha since the beginning of 2020 and like many charitable organisations, have been heavily affected by the pandemic.
Alpha and sister company Bri-Stor Systems had planned a series of fundraising events and activities throughout the year to support Katharine House. However, the pandemic and subsequent UK lock-down, meant that many of these had to be postponed. With restrictions now easing, plans are being made to complete events such as Gemma Smith's UNI-Cycle challenge.
The donation of these units is a small gesture but one which will hopefully help Katharine House to continue operating safely during these challenging times and to continue the valuable work they do in and around Staffordshire. Their holistic care and support services are vital for people with advanced life-limited conditions across mid-Staffordshire and they rely support of local people and businesses to operate. From the Alpha team, thanks to everyone who helped make this donation possible.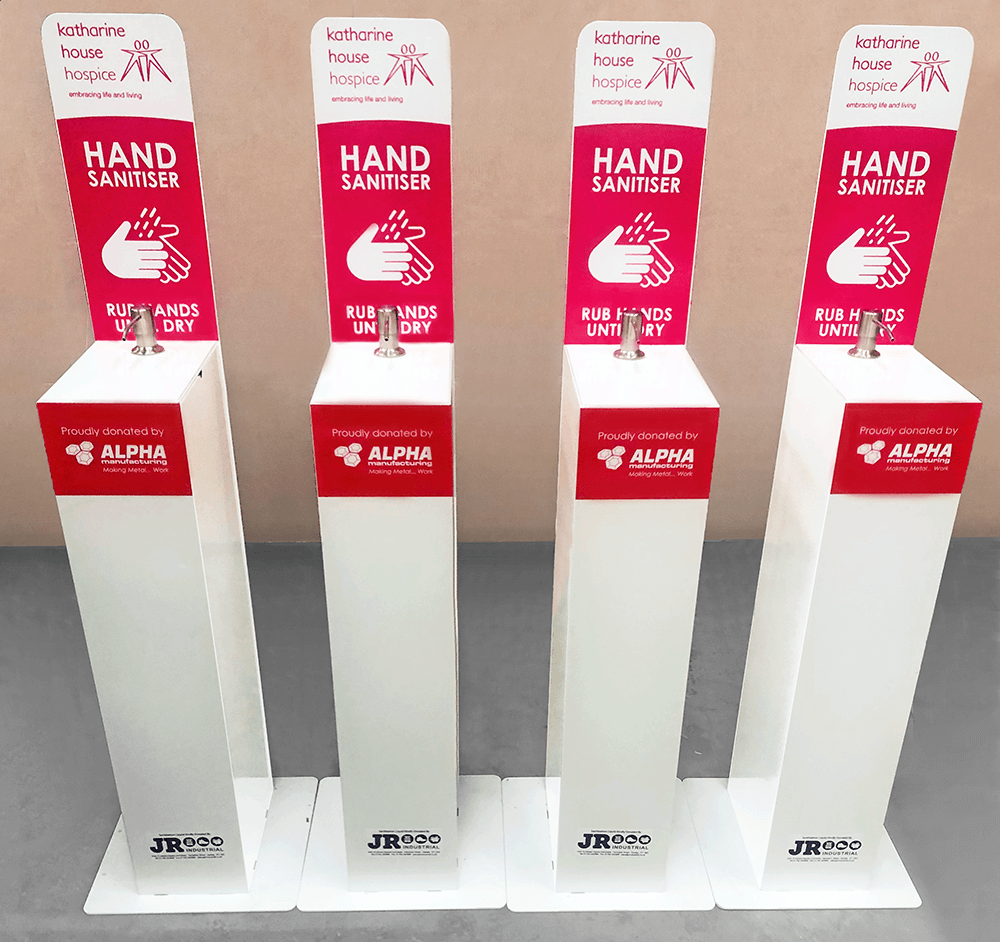 Gemma Smith to Complete Challenge for Katharine House
Gemma Smith has dusted off her Uni-Cycle following the UK COVID-19 lock-down and is now more determined than ever to complete her unique challenge in support of Katharine House Hospice.
Way back in February 2020, Alpha Production Engineer Gemma committed to learning how to ride the Unicycle from scratch, before completing a 600-meter circuit through the Alpha Manufacturing factory. She had been due to complete the challenge in May and having put in hours and hours of practice, had nearly mastered it by Early April.
Unfortunately, the COVID-19 outbreak and subsequent UK lock-down meant that the challenge had to be put on hold. However, Gemma hasn't lost her determination to complete the challenge and raise some much-needed funds for Katharine House. The Stafford based Hospice are one of many UK charity organisations heavily affected by the pandemic as lock-down and social distancing severely hindered planned fundraising events.
Research from the Institute of Fundraising earlier in the year found that one in four UK charities have seen their finances affected by the virus with projected losses of 48% to voluntary income and a third wiped off from their total income. Government grants have been crucial in helping many charities to survive and continue to offer much needed help to the most vulnerable in society.
For this reason, Gemma is committed to completing her challenge and doing her bit help Katharine House to continue their great work locally, offering holistic care and support for people with advanced life-limited conditions. The challenge will now take place at the end of September, giving Gemma a few more weeks to perfect her technique.
Here's Gemma's latest progress video, filmed this week after 3 months without practice:
Coast to Coast Sign Up

The Coast to Coast Challenge will take place over the weekend of 18th Sept (Fri) – 20th Sept (Sun). The ride will follow the Hadrians  cycleway and is approximately 125 miles from Siloth to Tynemouth. The route dictates that riders will need to on either a mountain or hybrid bike. Accommodation is yet to be confirmed but participants will be required to pay a £20 deposit to confirm their place. A maximum of 10 places are available and will be allocated on a first come first serve basis. A suggested minimum of £100 per rider to be raised for Katharine House.
Date: 18th-20th Sept
Route: Hadrians Cycleway (Siloth-Tynemouth)
Bike: Mountain/ Hybrid
Accommodation: TBC
Deposit: £20
Minimum Raised Target: £100
Sign Up
Coast to Coast Challenege
As Part of a busy 2020 calendar of fundraising events for the Bri-Stor Group, a team of cyclists from Alpha Manufacturing and Bri-Stor Systems will be taking part in a Coast to Coast Challenge.
The event, scheduled for September, will see the group travel up from Stafford to Siloth on the East Coast near Carlisle, where they will set off on a 125 mile journey along Hadrian's wall all the way to Tynemouth on the West Coast.
The ride is planned over two days, with a stop off over night along the route. A support group of Bri-Stor Group employees will also follow in a Bri-Stor Systems Welfare vehicle and will be on hand to supply refreshments and support throughout.
The event is open to all levels of experience and experienced cyclists and novices alike have already signed up to take part.
As with all Bri-Stor Group fundraising events this year, all proceeds will be donated to the nearby Katharine House Hospice, who offer crucial care and support for people with advanced life-limited conditions across mid-Staffordshire.
If you'd support the Coast to Coast event, visit the just giving page and click donate.

Gemma Takes on UNI Challenge in Aid of Katherine House
Alpha design engineer Gemma Smith is celebrating her upcoming University graduation by taking on a Unicycle challenge in support of local Hospice Katharine House.
Gemma has been studying manufacturing production engineering at Derby University for the past 4 years whilst also working at Alpha as part of thee design team.
With her studies due to come to an end this year, Gemma has decided to take on a unique fundraising activity – The UNI Challenge. With no prior experience, she has committed to riding a Unicycle the entire combined length of both Alpha and Bri-Stor's factory's (around 600 meters.)
"I'm always up for a challenge and especially something funny or unique. It's going to be a real challenge though as I've never ridden a Unicycle in my life. I think it will definitely make the end of my degree memorable and hopefully we'll raise plenty of donations for Katharine House!"
The Katharine House Hospice was chosen as the Bri-Stor Group's charity partner for 2020 following an employee nomination process. Based in nearby Stafford, they off crucial and valuable holistic care and support for people with advanced life-limited conditions.
Over the next 12 months, employees from across the Bri-Stor Group will be participating in a host of fundraising events, with all proceeds passed on to Katherine House.

Alpha Get Festive for Local Hospice

Alpha employees turned out for work in their festive best today in support of the local Katharine house hospice.
Donations were taken throughout the day around both Alpha and Bri-Stor Systems as the whole Bri-Stor Group embraced the seasonal cheer with their cheesiest Christmas jumpers. All funds will be donated to nearby Katharine house.
The Hospice, based in Staffordshire, do valuable work in the local community, providing free hospice care services for those with terminal illnesses. The Bri-Stor Group are proud to be supporting Katherine House during 2020, following a recent employee nomination process. Throughout the next twelve months a series of fund-raising events will take place across the Bri-Stor Group, with all proceeds donated in support of Katharine house.
The 2019 Christmas jumper day was the first of these events and was a great success.