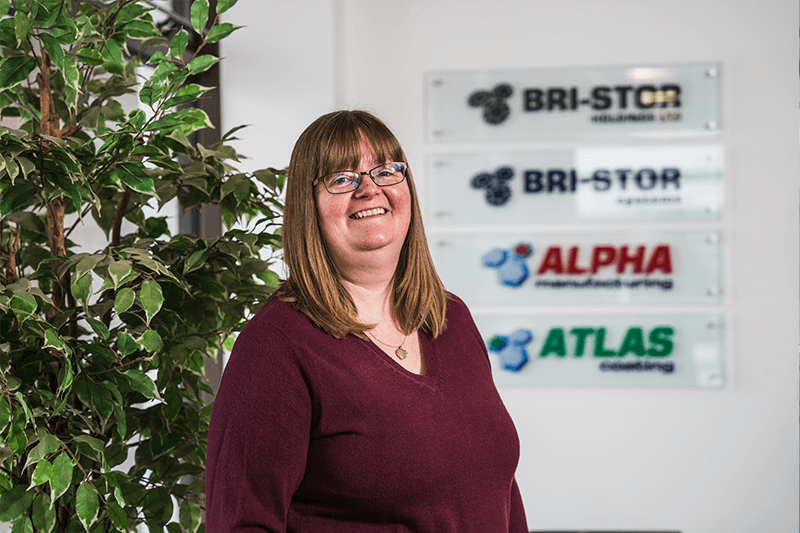 At just 17, Karen joined the Bri-Stor Group as a receptionist. Unsure of her career path at that point, she loved the vibrant atmosphere of the Bri-Stor Group. Today, almost three decades on, Karen holds the most senior HR position across the Group, looking after the employment rights and welfare of almost 500 people as well as leading on recruitment and the Group's career development programme.
Working closely with the senior management teams across all three of the Bri-Stor Group businesses and also supporting Apprenticeship Manager, Will Davies-Hill, Karen never takes for granted the opportunity she has to positively influence the career path of people joining the Group.
Karen tells us more about her role and her passion for people development: "When I joined the business, I guess I wasn't really sure where I was heading. I loved the 'front of house' part of my job and engaging with colleagues and visitors and in many ways my role in the business naturally evolved. Back in the 90s the company was very different to the Bri-Stor Group of today and people often 'flexed' in their positions to fulfil a range of duties. My HR role started just like that. Initially I got involved in admin work, supporting with some payroll duties but I quickly realised that I loved the HR element of my role and that's how my career kicked-off."
Recognising Karen's natural flare for HR, the business sponsored her to complete the CIPD Human Resource Management qualifications which, along with an ongoing programme of professional development, has resulted in Karen becoming a highly accomplished and skilled HR practitioner. Yet, setting aside the essential work she completes to keep the Group's HR function operating at extremely high standards, Karen remains personally and professionally committed to the development of every colleague in the business, including the Apprentices.
Karen continues: "When I joined the business, I was given every opportunity to advance my skills, and therefore my career and I feel passionate that every member of the Bri-Stor Group family can access the same opportunity. I work very closely with Will Davies-Hill to ensure that our Apprenticeship Scheme meets the needs of young people coming into the workplace and I take this responsibility very seriously. In truth, you're in work for a very long time and as I know from personal experience, the opportunities you seek out in your early career-years really shape your future."
In 2021, the Bri-Stor Group will recruit 15 Apprentices across Bri-Stor Systems and Alpha Manufacturing and Karen has these words of advice: "The Group is a dynamic, pacey environment where you'll learn fast and get maximum support and opportunity. That said, you'll be expected to bring your 'A Game' every single day – but the rewards are there for those Apprentices seeking an exciting future in engineering. We're looking forwarding to meeting you."