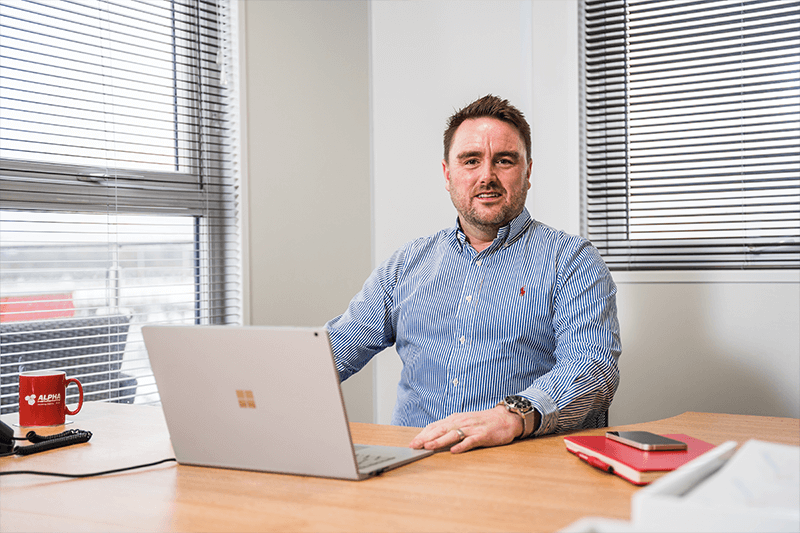 When Paul Clews started his career at 16 as an Apprentice Engineer little did he know that by 43 he'd be the Managing Director of two of the region's most dynamic engineering businesses – Alpha Manufacturing and Atlas Coatings. With a career very much grounded 'on the tools', Paul's hard graft and determination has earned him immense respect from colleagues across the Bri-Stor Group.
This is Paul's story. A bright lad with big ambitions, Paul had a passion for mechanics and design engineering. Completing his GCSEs, he had every option open to him to advance his education but struggled to see how A Levels and a degree would suit him. Paul shares his thoughts on his early career choices and how it has influenced his career today: "Right the way up to the completion of my GCSEs I thought I'd take the A Level and Uni route – I was pretty committed to an engineering degree, but something didn't feel right. It was through talking to a neighbour that I heard about an Apprenticeship Scheme at Belle Engineering and the penny dropped – the opportunity to earn money and gain engineering skills sounded like the perfect combination."
Gaining an Apprenticeship at Belle Engineering with just two places available and 30 applicants was gruelling and Paul, tenacious even back then, gave it his all to secure a valuable place, Paul continues: "I worked hard to get onto the Apprenticeship, and this really spurred me on, I thought if I can be successful doing this, what else can I achieve? The next four years were hard graft splitting my time between work and studying for my BTEC National Diploma in Engineering, but everything started to click. Learning while working gives you such a solid grounding and I embraced every opportunity to learn all the shopfloor skills.
"In year three and four of my Apprenticeship I moved into office functions which really whet my appetite for all things design, it was in these two years that I really decided that I wanted to focus on becoming a Design Engineer. By year four, I'd achieved my HND in Engineering and if I'm being brutally honest the only poor choice I've made in my education and career was not grasping the opportunity to complete my full engineering degree. I think by that time I was really ready just to focus on work."
For the next 10 years Paul progressed rapidly through his career from Tooling Design Engineer to Production Manager in just a few years. It's in his role as Production Manager that Paul cites the implementation of Lean Manufacturing principles as a career highlight – an accomplishment that is considered world-class amongst the manufacturing community. In 2010, Paul makes his move to Alpha Manufacturing as Production Manager and it's here his career advances even further. Paul continues: "I've got so much respect for Belle Engineering; at the time I was there I was given every opportunity to further my career and that's what drew me to the Bri-Stor Group and the role at Alpha Manufacturing. The opportunity to grow and achieve your full potential is a value that really stands out in this business."
Today, Paul retains the same strength of character that spurred him on in his early career days as a 16-year-old Apprentice, and while he carries the huge responsibility of leading a team of over 200 people, he remains committed to the professional development of the people around him, he concludes: "Everybody deserves a chance to succeed and achieve their ambitions if they're prepared to put the hard work in. I look back on my own career and I'm thankful to all the people that took the time out of their own day to show me the way. Now, almost 30 years on, I take every opportunity to nurture the Apprentices in this business, this really is my opportunity to give back."