What is sheet metal insertion?
Insertion is the process of pressing a stud, fastener or other component into sheet metal through a pre-cut hole. A vast range of different insert types are available depending on the use of the final product.
These may be captive male or female threads for future assembly, rivet nuts or tap tight nuts depending on the requirements of the finished product.
The insert is often designed with flanges to clinch to the sheet metal surrounding the pre-formed hole when pressed in position.
Example of a clinch stud inserted box: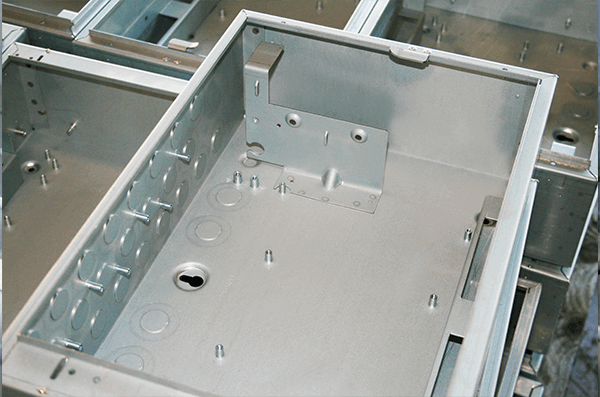 What machinery is used for sheet metal insertion?
A specialised hydraulic press machine is used to push in various inserts such as:
Floating Nuts
High Torque Studs
Self-Clinching Nuts
Self-Clinching Studs
At Alpha Manufacturing, we use a Haeger insertion machine which uses a hydraulic system with adjustable force. It also features an automatic feeding system to reduce labour and improve efficiency.
Want to find out more information about the processes that take place here at Alpha Manufacturing? Click here to see what we can do for your business today.
If you have a question regarding insertion or any other sheet metal processes, please get in touch