Alpha's Factory Re-vamp the Finishing Touch to Investment Plan.
Work has begun on a large-scale paint out of Alpha's factory this week, following the completion of Alpha's latest STOPA system installation.
The STOPA extension marks the end of Alpha's five year strategic investment strategy which was launched back in 2015 and has seen close to £4 million worth of state-of-the-art machinery purchased to elevate Alpha's factory to the forefront of sheet metal fabrication.
The finishing touch will be to refresh the entire factory shop floor with a paint out to reflect the high the machinery it now houses. A new modern colour scheme has been chosen with white and shades of grey selected to create a modern, clean look. This replaces the traditional, red, green & yellow palette used for years. The new design should better reflect the high-tech status of the factory.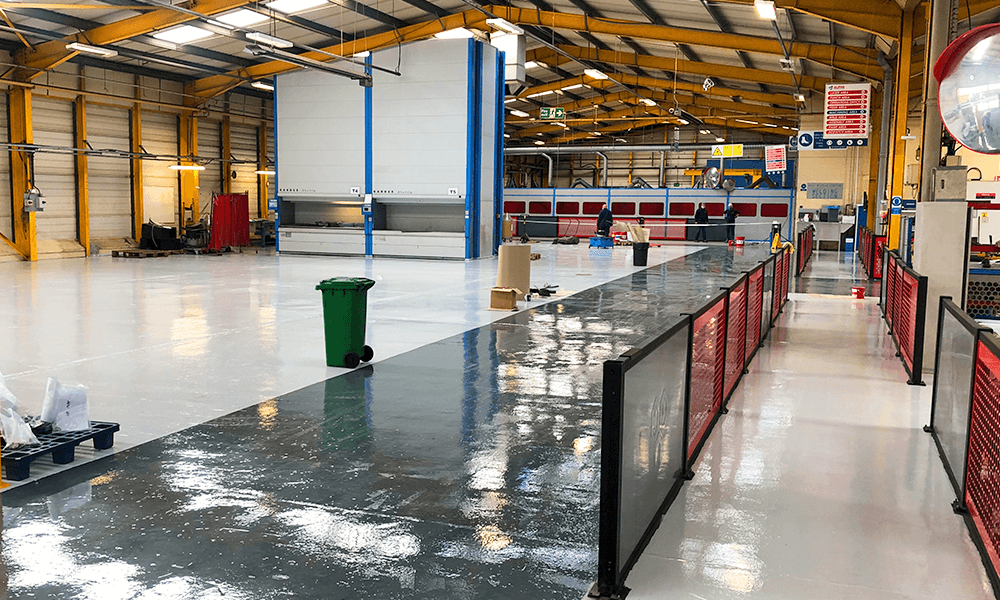 The paint out, which is usually an annual event, is an important process in terms of maintaining health and safety standards, with clearly designated walkways, storage spaces and restricted areas crucial to employee and visitor safety. This also helps in terms of maintaining Alpha's 5S standards, which in turn, improves efficiency and productivity across the factory.
Once the process is complete later in the week, Alpha will boast a truly industry leading manufacturing facility, both in terms of capabilities and presentation.
Alpha Say Goodbye to Long-Serving Amada TBZ
Alpha Manufacturing this week bid farewell to their trusty Amada TBZ Panel fold machine after 15 years of service.
The Machine was disassembled and loaded onto several heavy goods transporters, before being transferred to its new home, where it will continue production.
Having been an integral and reliable part of Alpha's production plant for a decade and a half, the TBZ has folded tens of thousands of parts since its original installation at Alpha. Although still in good working order, technological advances meant that there were more economical and efficient alternatives available in today's market.

Investment in the cutting-edge Salvagnini P4 Lean panel bender during 2019 meant that it was time for the TBZ to move on. The Salvagnini offers exceptional productivity, with like-for like parts once produced on the TBZ, now being completed in a quarter of the time and to exceptional quality.
Boasting a host of state-of-the-art features and automaton, the Salvagnini is the market leader in sheet metal panel folding and is already proving to be a sound investment. The TBZ now moves on to pastures new and with luck, the new owners will get another 15 years solid production from it.
New Year Makeover for Alpha's Manufacturing Facility
Alpha's 2019 began with an annual paint out as part of a continual improvement program centred around Kaizen principles of organisation, standardisation and cleanliness.
As part of the process, all working, pedestrian and storage spaces are redefined and clearly marked with designated colours. The entire factory shop floor is re painted with hard wearing industrial paints – around a 65,000 square feet area in total. The process is an important factor in maintaining standards both in terms of lean manufacturing practices and health & safety.
In addition to the paint out, work has begun on improving factory lighting through cleaning of skylights throughout the entire factory. A major undertaking, the project will be ongoing over the coming months, resulting in a much better working environment for shop floor operatives.
As in previous years, 2019 will see some major developments to the Alpha factory as work continues towards the 20/20 vision outlined back in 2015. Building work has begun on a brand-new stainless-steel processing cell, while preparations are ongoing for the installation of a Salvagnini P4 Lean panel folder, announced by the company late in 2017.