Building a Career in Manufacturing – Sean McColl
An Insight into the Career Journey of a Production Manager
I started my career in sheet metal when I was 19, starting out as a welder with a leading Turf machinery manufacturer in 2008. This is where I learnt the basics of metal fabrication, welding various turf machinery products every day and developing my skills. It was here I discovered a passion for manufacturing and particularly the processes involved.
From there, I moved around different areas of production, spending time as a Laser Operator and Press-Brake Operator. Eventually I moved into design as a CAD (Computer Aided Design) Engineer and here I saw the other side of Manufacturing – the work that went into the concept of a product and its pre-production. I learnt all about design for manufacture principles and value engineering which gave me a better understanding of the end-to-end manufacturing process.
Around this time, I started studying for a Higher National Diploma in Mechanical Engineering and moved into production scheduling, responsible for co-ordinating the production of new orders and planning capacity. The knowledge and understanding I gained here was priceless and I soon became a Production Manager for a Laser Cutting company. I loved the role and the responsibility of orchestrating people, material and capacity to achieve strict deadlines. The fast-paced nature of production is what really excites me.
The move to Alpha Manufacturing as Production Manager was a big one for me in 2019 and now, two years on, I can honestly say I love my job. Being a target driven person, I thrive on seeing my team hit our KPI's and achieve deadlines. I love the dynamic nature of the work too – our portfolio of parts and assemblies is ever changing as new customers come on board and this keeps things fresh. Every day is different and presents its own unique challenges.
My next career goal is to become Senior Production Manager responsible for all production departments. I'm really ambitious and the good thing with manufacturing is that there's always more to learn. The production challenges of today are the engineering knowledge of tomorrow. Ultimately, I'd like to become an Operations Manager and hopefully with experience and continued hard work I'll get there.
If I were to give any piece of advice to somebody just setting out in a manufacturing career, it would be to let curiosity be your compass and gain inter-departmental experience to understand the varied perspectives of production. I would also stress the importance of being hands on and accepting that success isn't the perfect narrative; plenty of failures will occur.
ABOUT THE AUTHOR

Sean McColl has 13 years' experience in engineering with a wealth of knowledge in all departments of sheet metal fabrication. Sean is responsible for overseeing Alpha Manufacturing's production team, ensuring deadlines are met and quality remains high across the board. He's ambitious about his career and aims to eventually become an Operations Manager. Outside of work, Sean has recently become a proud dad and loves spending quality time with the family.
Women in Engineering – 5 Minutes with Chloe Sales
Fresh from her trip to Sheffield where she was invited to talk a group of young girls by welding equipment supplier Lincoln Electric UK, Chloe Sales sat down to discuss the topic of Women in Engineering.
Welder-fabricator Chloe won Stoke on Trent College Apprentice of the Year in 2019 and has since been subject to widespread media attention, giving interviews to local and national newspapers, appearing on BBC Radio and attending STEM careers events such as the one held by Lincoln Electric recently.
Chloe is a passionate advocate for more women taking the Engineering career path and uses her own journey and experiences to demonstrate what girls can achieve in a traditionally male dominated industry. She is driven by a desire to break the traditional gender stereotypes, particularly in her work life. "I want to show that I can do everything a man can do… and more" Chloe has often stated.
Outside of work, she takes this one step further, by actively encouraging other like-minded young girls to take the leap into Engineering careers themselves. She offers insight, support and advice through educational and careers events and by regularly communicating her message through social media.
In this short interview Chloe discusses life since joining Alpha, the topic of Women in Engineering in general and how she hopes to make a positive impact on the subject.
First Week Completed for Alpha's New 1st Year Apprentices
Alpha's latest intake of young engineering talent last week completed their first week as Apprentices with the company.
First year Apprentices of both Alpha Manufacturing and Bri-Stor Systems spent the beginning of the week at Bri-Stor Group training partner JCB Academy where they completed a series of team building activities, focusing on problem solving, design & build and communication skills. During their first year, the group will spend four days per week at the Academy working on engineering principles and theory, with one day per week spent with their respective companies. During the second year, this will switch, with the majority of their time spent in the work environment and only one day per week at the Academy.
The second part of last week for the group was spent on-site settling in to their new companies, adjusting to the new surroundings and learning processes and procedures. They were introduced to their programme of study in detail for the coming year and beyond, including team projects and events such as the annual Elan Valley trip and Soap-Box Derby event. The young engineers were keen to get stuck into life with the Bri-Stor Group and were full of questions about the business as they soaked in their new surroundings.
This year, twelve apprentices were accepted across the Bri-Stor Group from over one hundred and fifty applicants from the Staffordshire area. The Bri-Stor Group apprenticeship programme grown considerably over the past 10 years to become one of the most advanced and sought-after Engineering Apprenticeships in the Midlands, with many former Apprentices now in key positions within the business.
Applications for 2021 apprenticeships will soon be open for both Alpha and Bri-Stor, check back here for further updates and information.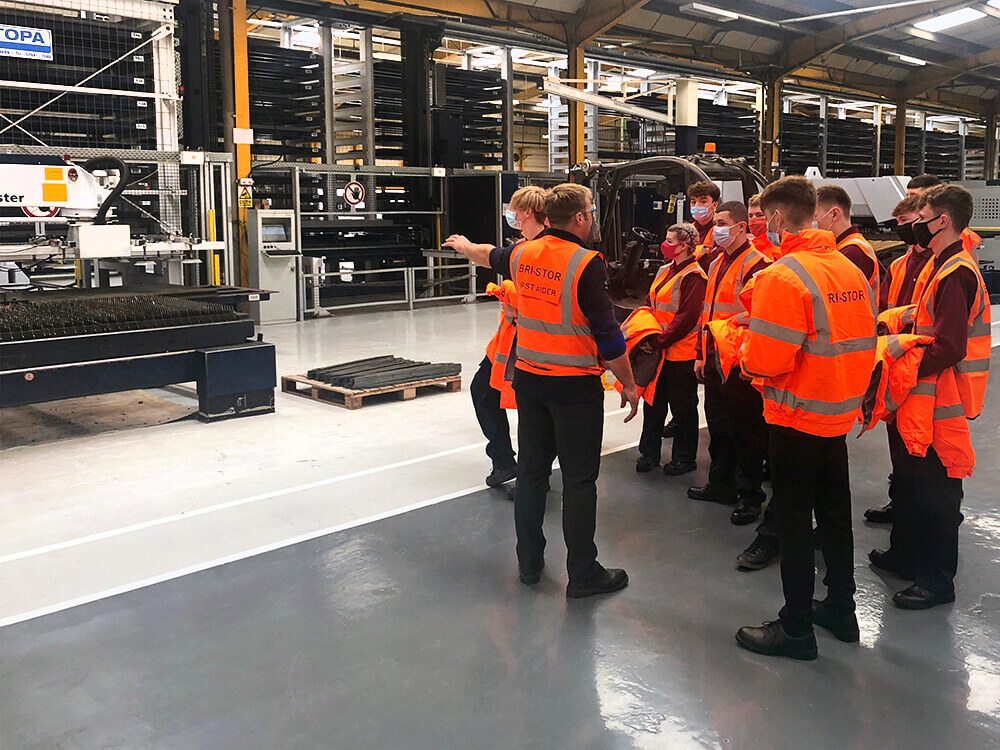 Alpha's Next Generation of Engineering Apprentices Inducted
The next intake of Alpha Manufacturing and Bri-Stor Systems Apprentices were on welcomed on site last week to be given their programme of study for the next three years and to receive all relevant work equipment, PPE and safety instructions.
Despite the current uncertain climate surrounding the COVID-19 pandemic, the Bri-Stor Group apprenticeship programme continues as usual, with the new starters joining during September. This underscores both Alpha and Bri-Stor's long term commitment to developing young talent and investing in the future, despite the short term turbulence being experienced across all industries.
Having worked hard to pass the rigorous interview process, these 12 young engineers were selected over one hundred and fifty other potential candidates. As of September, they will begin one year of studying at JCB Academy four days a week with one day per week with their companies. Following this first twelve months, they will switch to four days with their respective companies and one at the academy for another twenty four months.
The JCB academy have been training partners of the Bri-Stor Group for the past five years, providing the ideal setting to nurture local young engineering talent. The majority of those who have passed through the academy and onto either Alpha or Bri-Stor are now employed full time and making important contributions to their businesses. Others have gone on to further education alongside their employment, supported by the company, such as Gemma Smith – Design Engineer, who recently completed her level four NVQ in advanced engineering at Derby University.
Gemma discussed her apprenticeship experience in a recent interview:
"I first heard about the Alpha Apprenticeship while at the JCB academy. I did my sixth form there and the Apprenticeship Manager told us about Alpha Manufacturing and that there was a job offer/ apprenticeship available. The reason I chose an Apprenticeship over University was because it seemed more practical. I'm more of a practical person anyway so the though of being able to do actual work and get training at the same time was kind of a no brainer."
Having completed their inductions, the newest intake of apprentices have a full schedule of activities and events to look forward to as part of their studies including the annual soapbox derby, race car build project, Elan Valley team building trip and much more.
From all at Alpha Manufacturing, welcome aboard!
Another Great Turn out for the Annual Apprenticeship Open Evening
The Bri-Stor Group held its annual Apprenticeship Open evening last week, with record attendances once again from local students and parents.
In total, around 60 visitors came to have a look around Alpha and Bri-Stor's facilities and see what the Bri-Stor Group apprenticeship programme has to offer. They were also given a presentation by group apprentice manager Will Davies-Hill before taking a guided tour of both factories. Current and former apprentices were on hand throughout the evening to answer any questions and offer insight into their experiences with the company.

On display during the evening were several examples of Bri-Stor Systems products and Van conversions, Alpha manufactured products and creations of apprentice projects, including the ever-popular Caterham race car. Following the open evening, applications for the apprenticeship preprogramme have been trickling in in and we look forward to welcoming potential candidates for interviews in the near future.
Interested in an Alpha apprenticeship?
Apply Today
Bri-Stor Group Preparing to Welcome Local Students to Annual Apprenticeship Open Evening
This year's apprenticeship open evening will be held on Thursday 13th Feb 5.30 -7.30 at the Bri-Stor Group manufacturing facilities in Hixon.
The ever-popular event offers young people interested in an engineering career the opportunity to discover what vocational options are available to them. In attendance will be current and former apprentices from both Alpha Manufacturing and Bri-Stor Systems, team managers and even company Directors to answer any questions on the night.
The evening will begin with a welcome by group apprentice manager William Davies-Hill before a full tour of Bri-Stor and Alpha facilities. This gives the young visitors and their parents the chance to see first hand the processes that take place, the machinery employed and the facilities as a whole. Following the tour, visitors are invited to attend a Q&A session where they can discuss in more depth the options available to them after school.
Many of Bri-Stor Group's current and former apprentices visited the open evening before deciding to take an apprenticeship at either Alpha or Bri-Stor. They discuss this and much more about their experiences in the video below. Gemma Smith was one such apprentice, she discusses her reasons for choosing an apprenticeship over other options.
"The reason I chose to do an apprenticeship over University was more of the fact that it's more practice. I'm more of a practical person anyway so the thought of being able to do actual work and get training at the same time was kind of like a no-brainer and I think it's a no brainer for anyone who wants to work in engineering, or business or anything really."
If you're interested in a career in engineering, or even if you're not sure what you'd like to do following school, simply register here and come along to our open evening at 5.30 on Thursday 13th Feb and see what a Bri-Stor Group apprenticeship has to offer!
Alpha Apprentices on the Road for 2020 Recruitment Drive
Current apprentices from Alpha Manufacturing and Bri-Stor Systems have begun the process of recruiting the next generation of young engineers to join the apprenticeship in 2020.

The 1st year apprentices will be accompanying apprenticeship manager Will Davies Hill as he visits various local schools to introduce them to the Bri-Stor Group. Presenting to year 11 students, they will discuss their experiences during their first year, covering training, projects, events and their studies so far.
This gives students who may currently be considering their post-high school options a unique insight into life at Alpha from an apprentice's perspective. It also clearly shows the path for career progression with examples of past apprentices who now have important full-time roles within the business.
Over the next few months, Will and his young colleagues will visit as many of the local schools as possible, encouraging students to visit the annual apprentice open evening in February and to apply once applications open in the new year.
Next Generation of Bri-Stor Group Engineers Begin Their Studies
First year apprentices from both Alpha Manufacturing and Bri-Stor Systems have spent the last few weeks settling into their new surroundings as they began their studies.
The first week of the programme was spent at the JCB academy where the group completed their induction and were introduced to the subjects that they'll be studying over the next twelve months. During this time, they will spend four days per week studying at the academy and one day with either Alpha or Bri-Stor Systems.

Their study programme will be divided into three-week modules where they will focus on a particular area of engineering. Their first three weeks was spent studying the basics of sheet metal fabrication, providing a solid foundation in understanding manufacturing and engineering processes.
Having hit the ground running, all apprentices have already achieved a level 1 qualification in Health & Safety, following internal training sessions by Bri-Stor Group Head of Health & Safety. They have also spent time learning the fundamentals of business improvement activities with their respective companies, which will eventually see them complete a week long project, implementing changes around the business.
Eight apprentices have joined the Group this year, with an equal split of four for each company.  Now in its ninth year, the programme continues to grow year on year and has so far seen a total of ninety-seven young engineers begin their careers with the Group since its inception back in 2010.
Another exciting calendar of projects and events await the first-year apprentices again this year, including the annual Stone Soapbox Derby and another kit-car build. Make sure to check back here for updates on their activities and progress.

Bri-Stor Group Future Apprentices on Site for Induction Day
The next intake of Bri-Stor Group Apprentices were on site last week to complete their induction day ahead of their official commencement of studies in September.
The young engineers spent the day familiarising themselves with the Bri-Stor and Alpha facilities and apprenticeship programme in general. Having received their PPE and work equipment, they were given a full guided tour of the site by group apprenticeship manager Will Davies-Hill.
They were also given their induction packs and a breakdown of all the upcoming events and activities that they can expect in their first year, including a week long team building trip to Elan Valley in Wales, as well as the annual Soapbox derby project and other charity events.
The group now have a few weeks to prepare for the beginning of their course, before the official start date of 2nd September.
Bri-Stor Group Apprenticeship Open Evening 23rd January
This year's Bri-Stor Group apprenticeship open evening is fast approaching and preparations for the event are well underway.
The annual open evening gives local students interested in a career in engineering the perfect opportunity to find out what an apprenticeship has to offer.
Starting at 5.30pm on 23rd Jan, the event is always well attended and gives prospective apprentices the chance to take a guided tour of both the Bri-Stor Systems and Alpha Manufacturing facilities, followed by a Q&A with expert engineers. Previous apprentices, many of whom are now full-time employees, are also on hand to share their first-hand experiences of the Group and to answer any questions.
Will Davies-Hill, Bri-Stor Group apprenticeship manager said of the event:
"The evening gives young people a chance to see the scope of the factory and meet the management team. Whilst on the guided tour they have the chance to decide which business would best suit their goals and set them on the career path they want. Overall a good evening and a vital first step towards employment for potential new apprentices".
If you're interested in a career in engineering and want to find out more about how an apprenticeship works, the Bri-Stor Group open evening is the perfect event for you.
Register your interest today!
Simply complete the short form  below and we'll see you on the 23rd January.