More COVID-19 Prevention Products Produced by Alpha
Demand for COVID-19 protection products remains high as more and more businesses across all sectors are taking action to keep employees, customers and suppliers safe.
These protective screens have been produced for a leading internal screening supplier who requested Alpha's support in order to keep up with the extraordinary increase in demand for their product bought about by the pandemic.
Alpha quickly set up an assembly line to produce the screens at a rate of 300 per week. To date, 750 have been manufactured, assembled and delivered to the customer, with a further 300 currently in production.
The screens will be used primarily within retail or office environments to create safe socially distanced spaces or to segregate areas of high footfall. Consisting of a plastic box section frame held upright by metal feet, PVC inserts and clear poly-carbonate top section, they offer a simple, lightweight, hygienic solution.
Demand for these type of products remains high as businesses from all sectors across the UK focus on implementing social distancing measures. Alpha have responded to requests for a wide range of COVID-19 prevention products including commercial vehicle partition screens, hand sanitising units and these internal screens.
Alpha Meeting Demand in the Fight-back Against COVID-19
Alpha Manufacturing have recently completed a project to rapidly manufacture and assemble 3500 hand sanitizer stations destined for pubs and restaurants across the UK.
The enquiry came to Alpha from a retail POS manufacturer who was struggling to meet the unprecedented demand for the units from the leisure and hospitality sector as a result of the current pandemic.
In terms of sheet metal fabrication, the units required laser cutting, CNC folding, welding and powder coating before being assembled complete with dispenser and internal fixings and finally branded with vinyl graphics.
Since the order was placed, Alpha have produced around 450 per day to meet the demand with new production lines created and additional assembly operatives allocated to ensure a constant flow of finished units.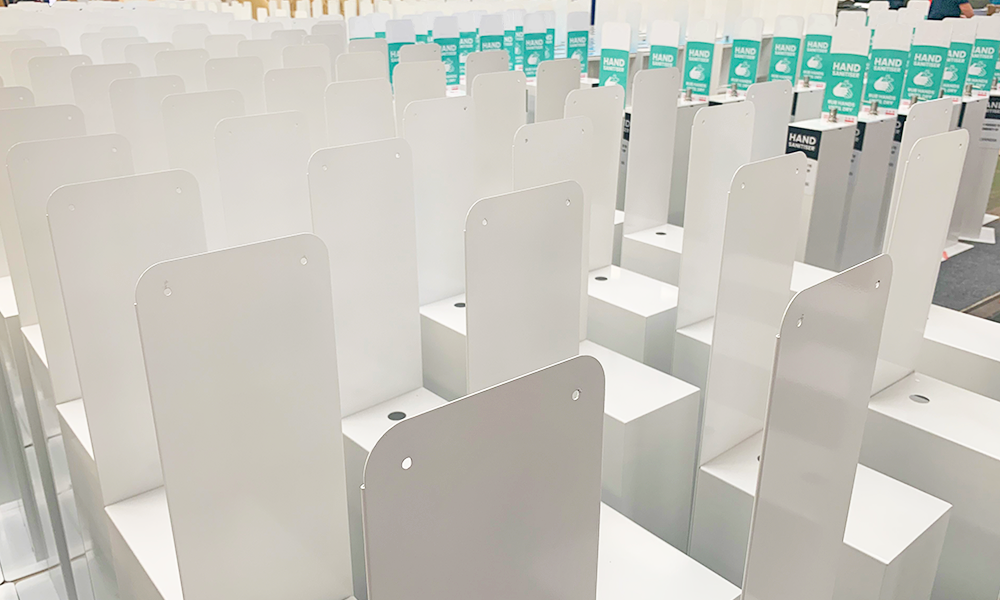 Glazed Balcony Assemblies for New Build Apartments
When a leading UK balcony supplier won a major contract, Alpha up-scaled assembly operations to meet a demanding schedule.
Customer: A Leading UK Balcony Supplier
Sector: Construction
Product: Glazed Balconies
Quantity: 100
Duration: 5 Weeks
Project Background
This client, a leading UK balcony supplier, conducted an extensive procurement process before choosing Alpha as their chosen precision sheet metal fabrication partner for the manufacture and assembly of their products.
Having won a contract to supply and fit 100 glazed balconies to new build apartments, they placed their order with Alpha.
The project required Alpha to manufacture, assemble and store 100 unique, patent protected glazed balconies, before delivering all balconies to site in one.
Project Challenge
Initially, Alpha's customer required a complete prototype including timber decking and glazing, with Alpha's design team working closely with the customer initially. Once signed off, full production began with all 100 balconies required within 5 weeks of order.
The glazing element of the project was a new challenge for Alpha, having never worked with glass panes previously. Glass handling equipment was acquired and training quickly implemented.
New assembly and storage facilities were also quickly secured to accommodate the project and Alpha's assembly teams were expanded.
Project Outcome
Alpha completed the initial prototype ahead of project commencement, working closely with the client to value engineer the design. Once the prototype was signed off, manufacturing of components began with new assembly areas set simultaneously up in preparation.
Having not produced complete balconies prior to this project, Alpha put in place several new resources to ensure the successful completion of the project.
A new dedicated assembly area was put in place, with Alpha acquiring new premises specifically for balcony build projects.
Assembly teams were up-skilled and trained in glass handling, using new lifting and handling equipment.
Both the implementation of the assembly resource and the build plan were carefully managed to ensure that all agreed deadlines were met, adhering to the delivery schedule.
What our Customer said…
"As the UK's leading balcony specialist, we were looking to take our supply chain to the next level. I visited numerous factories across UK and Europe, following which we chose to form a partnership with Alpha. We chose them because we were very impressed with their lean set up, substantial investment in excellent equipment, and a consistent culture across all those we spoke with which was passionate about creating quality products. We are looking forward to a long partnership together."