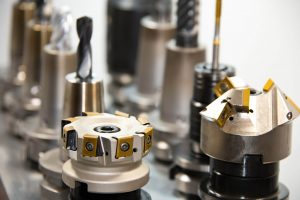 Fabrication and manufacturing are industrial terms linked to the process of production or construction. Often, the two processes are confused, yet they are very different from each other. This article explores the meaning of both fabrication and manufacturing in industrial processes.
What does fabrication mean?
Fabrication is the process of constructing products by combining typically standardised parts using one or more individual processes. For example, steel fabrication is the production of metal structures using a range of processes such as cutting, bending and assembling. Metal fabrication will often form a complete assembly made from smaller sub assemblies for use with readily available standard sections. This is achieved with computer-aided designs (CAD) that are often programmed using computer numerical control (CNC) technology which communicates directly with machinery on the factory floor. By using these technologies, the quality standards of production are increased and higher quality assemblies are produced. This ensures a more accurate and quicker steel erection time on site, which is vital in high volume production, reducing cost for the customer through better material utilisation and faster assembly times.
Alpha Manufacturing has a team of design experts, experienced in creating fully assembled prototypes for prior sign off. This, alongside access to the best in machine and tooling technology, gives our customers peace of mind and expertly crafted end products. Some areas of expertise include:
Various pre-assembled balcony units for new build apartments

Modular utility rooms

Powered wheelbarrow chassis

Mini dumper components

Commercial computer server cabinets

Integrated touch screen terminals
You can read more about sheet metal fabrication here.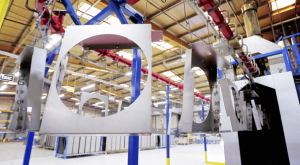 What does manufacturing mean?
Manufacturing is the process of converting raw material into a finished product. Essentially, it is producing something from start to finish. The manufacturing sector involves large scale production with the use of machines, tools and chemical/biological processing. It is the course that raw materials have to undergo before being considered a final product. There are many different sectors that fall into this category, including:
Apparel

Chemicals

Electronics and electrical equipment

Fabricated metal

Food and kindred

Leather

Lumber and wood

Petroleum refining

Printing and publishing
Alpha Manufacturing is able to offer a start to finish process to suit virtually any sheet metal requirement. From design to CNC machining, assembly to delivery, a full service is available.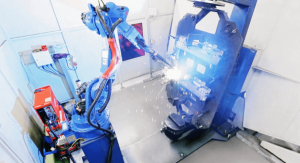 How the manufacturing and fabrication processes differ
The key difference between manufacturing and fabrication is how much of the process a job involves. Fabrication involves the assembly of standard or specialised parts to form parts of a product to be used in the manufacture of the finished piece. Manufacturing, however, is a start to finish movement, from the creation of parts through to the final assembly to produce a finished product, often using areas of fabrication within the manufacturing process.