The all new Alpha Manufacturing website went live this week after months of design and development work to bring the company's online presence up to date.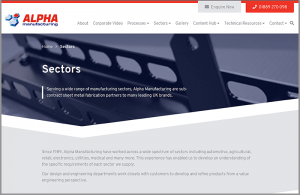 Why Launch a New Site?
Following a sustained period of success and growth for the Hixon based precision sheet metal fabricator, the decision was made to refresh the company's online presence. The previous Alpha website had served the company well since it's launch back in 2012 and had become a useful knowledge source for designers and engineers looking for technical manufacturing information.
Having invested heavily in machinery, facilities and technology over the past 2 years, this latest investment to the website now means that Alpha's online presence accurately reflects the progression of the company as a whole.
What's New?
The new online platform retains the same level of technical manufacturing expertise as the previous site in the form of case studies, in depth FAQ's and expert blogs but makes accessing, interacting and sharing content much easier.
Designed with the customer in mind, the site makes it as easy as possible for visitors to access relevant information and importantly, make quick enquires. Within a few clicks, visitors cand find themselves watching any one of Alpha's various sheet metal processing machines in action, reading insightful manufacturing blog pieces or even walking around the Alpha factory via a 3D virtual tour.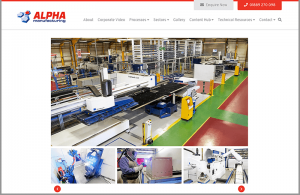 Rob Eley, Alpha's Commercial Manager, explains the reasons for the update:
"Increasingly, potential customers are finding us online and it's important to make sure that what they find when arriving at our website accurately reflects the type of company that we are. This new site will hopefully give visitors an overview of our cutting-edge facilities and expert approach, whilst also offering some useful insight into sheet metal fabrication in general."