TIG Welder Sean Atkinson originally joined Alpha Manufacturing on a temporary contract but after showcasing his excellent skills and abilities, Sean quickly secured a permanent position and has been a valued member of the team for over a year.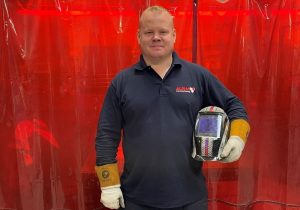 Sean originally began his career as a plumber, but when looking for a change in career path, he decided to pursue his passion for TIG Welding, having previously achieved welding qualifications at college.
Sean tells us about what it's like to be a TIG Welder at Alpha: "I work in the stainless steel department here at Alpha, mainly welding specialised parts for the food manufacturing industry.
"My day usually starts with my pre-checks, inspecting my welding set-up and ensuring that my materials and tools are in good working order. After this, I check the job list, looking specifically at the dates and priorities of each, in order to organise my work for the day.
"Before I start a job, I will need to thoroughly check the engineering drawings for the specifications. This can sometimes lead me to working closely with team members from other departments such as CNC folding or laser, to liaise on the fabrication of parts.
"I TIG weld a variety of parts throughout my day, sometimes using specialist techniques such as more complex purging to provide the upmost quality and uphold customer specifications. I then work with our linishing team on parts that need their services, and then quality inspect each part before it is delivered to our customers.
"What I really like about my job is the variety of work that I do, each part can be different which means I am constantly evolving my skills and learning. I am especially excited about the next phase of my role that comes with the opening of the new Alpha Manufacturing Chemical Technologies facility. Here, there will be specialised welding of exotic metals and my role will see me helping to co-ordinate and set up operating processes for the new factory.
"It feels fantastic to have been given the opportunity to be a part of this exciting development for Alpha, and that our TIG welding team will be growing with a new team based at the Chemical Technologies site next year. I look forward to my future here at Alpha, I hope to keep progressing my skills and knowledge and to eventually manage a team."