25th June 2018 Help for Heroes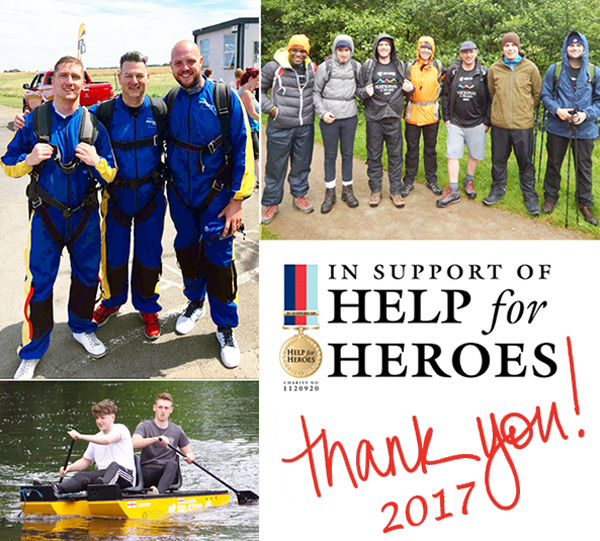 Bri-Stor Group's fundraising year kicked off in May, as two apprentice teams took part in the local Stone Festival Soap Box Race in a racer they had designed and built. The Alpha Manufacturing apprentice team aimed to raise awareness of Help for Heroes, taking part in the event in a tank soapbox and taking donations on the day.
During June, Bri-Stor Group were at White Pump Farm in Aston bright and early on a Saturday morning for a day of Clay Pigeon shooting, paying an entry fee to take part and donating proceeds to Help for Heroes. June also saw Bri-Stor Group Directors don their aprons and spend a day flipping burgers at the BBQ for employees and a further £750 was raised through donations on the day.
Next up was a trip to Langar Airfield in July, Nottingham where a group of 6 employees completed a nerve racking skydive, raising around £4,000 in sponsorship.
During 2016 Bri-Stor Group employees had managed to complete the Yorkshire 3 peaks challenge in support of Help for Heroes. The natural progression for 2017 was to tackle the National 3 Peaks and July a group of 18 set off to Ben Nevis in Scotland to begin the 377-mile round trip, which would see them also climb mount Snowden and Scafell Pike. 23.5 hours later, the challenge was completed and the group were delighted to have raised £1000 towards the total.
September saw the beginning of a Group wide "CUBE" inspired competition which featured various tests of balance, memory and logic. Around 60 employees from across the group each donated £30 each to Help for Heroes to take part in the three-month long event.
A Christmas jumper day, held during December was the final fundraising activity of a busy 2017 at the Bri-Stor Group. Some superb efforts from employees of Alpha Manufacturing and Bri-Stor systems saw a final £200 added to the Help for Heroes pot.